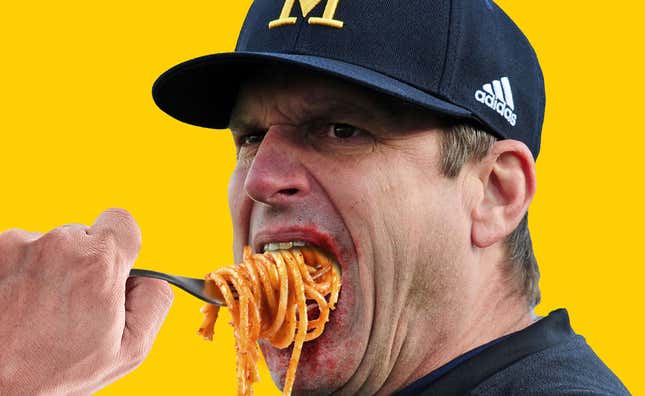 We all know big boy Jim Harbaugh loves a tall glass of whole milk. Questions remain. Some, like How much does he love milk? are perhaps unanswerable. Others, though, like How much does the highest-paid public employee in the state of Michigan's milk lust cost taxpayers?, aren't. In an attempt to find answers, Deadspin filed multiple public-records requests with the University of Michigan dating back to May of last year, asking for itemized expense reports, credit card statements, and any and all reimbursement requests filed by Jim Harbaugh. After months of back-and-forth, Michigan's FOIA office released Harbaugh's expenses to us yesterday.

How running an NFL team is like running a restaurant | Chef Emeril Lagasse
While Harbaugh did not expense any milk or khakis, his spending—steak, spaghetti, big-ass SUVs from Enterprise Rental Car—is still very on-brand for Ann Arbor's beloved lunatic. I should mention here, from the outset, that there is nothing nefarious in these expense reports (apart from the fact that they exist because taxpayers inexplicably underwrite the University of Michigan's minor-league football team). They are, in the context of the multi-billion dollar college football industry, pretty lame! There is no petty cash for strippers, and no redacted receipts from, like, LIV in Miami for "recruiting purposes." Rick Pitino, Harbaugh is not. He does fly first-class, per his contract (as does his wife when she's accompanying him for business purposes), and he did take a bunch of people out to dinner at Morton's when the team was in Orlando for the 2016 Citrus Bowl. But that's about it.
I'm relieved I've never been a public employee, because when I worked at Conde Nast I expensed all sorts of things a reporter would certainly have found deeply stupid and unnecessary. (Honestly, though? Fuck Conde Nast. I worked there full time and I didn't even get health insurance.) I'm sure the accounting folks at Gizmodo Media Group might wonder why my fearless editor took some jamoke freelancer out for a few Two Hearteds in the middle of a workday. The answer is research and development.
People who work for companies, all of this is to say, expense a lot of dumb shit, but when you're a public employee, those expenses are, rightly, subject to scrutiny (in most states). That means the public gets to sift through your expenses and laugh at you—or question why you're spending hundreds of dollars of public money on Desmond Howard's car service—in the name of accountability. Here are our favorite of Jim Harbaugh's stupid receipts.

$490.15 At The Old Spaghetti Factory In Indianapolis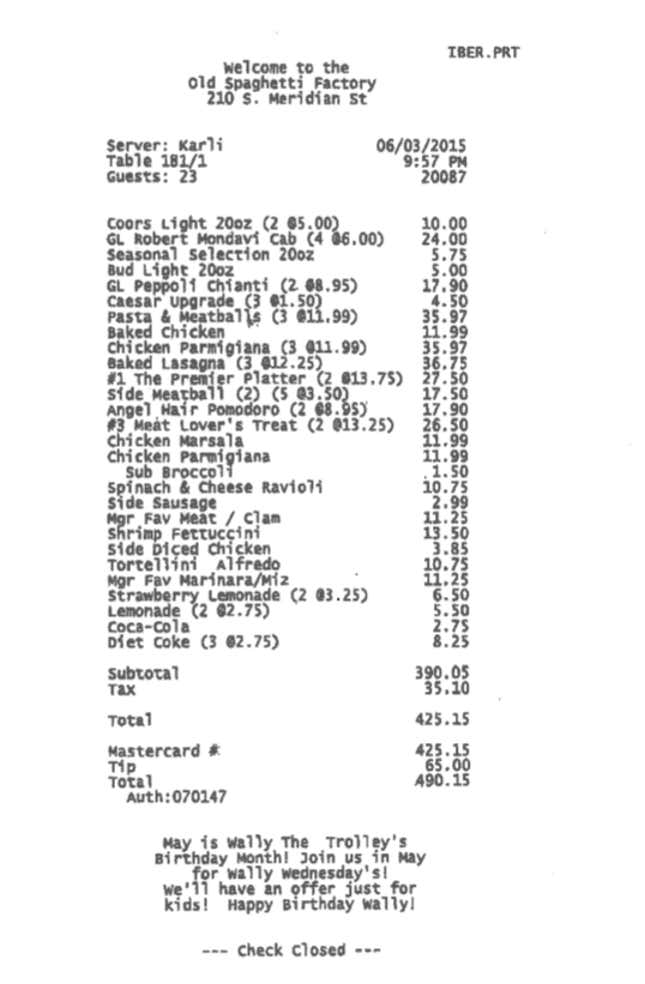 While Harbaugh was on his 2015 Summer Swarm Tour—the satellite camps that enraged SEC coaches—he took 23 people to the Old Spaghetti Factory in downtown Indianapolis for what the expense report called a "Meal for 23 people on satellite camp road trip."
No milk here, just two 20 oz. Coors Lights, four glasses of the Robert Mondavi cab, two glasses of the Peppoli Chianti (unclear what vintage), and a bunch of generic Italian American dishes. What do you think Harbaugh had, the #1 Premier Platter or the #3 Meat Lover's Treat? My money is on the Meat Lover's Treat.
The most noteworthy thing here is that the poor server Karli—if you're out there, Karli, please get in touch—got stiffed! On a $425.15 bill, Jimmy only left a $65 tip, which comes out to 15.3%. I can picture Harbaugh pulling a calculator out of his pocket to calculate the tip, like a stingy old grandpa at the Elk's Lodge staring through his reading glasses.
[chugs glass of milk] "Outstanding spaghetti dinner, men!"
A Night Out At Morton's In Orlando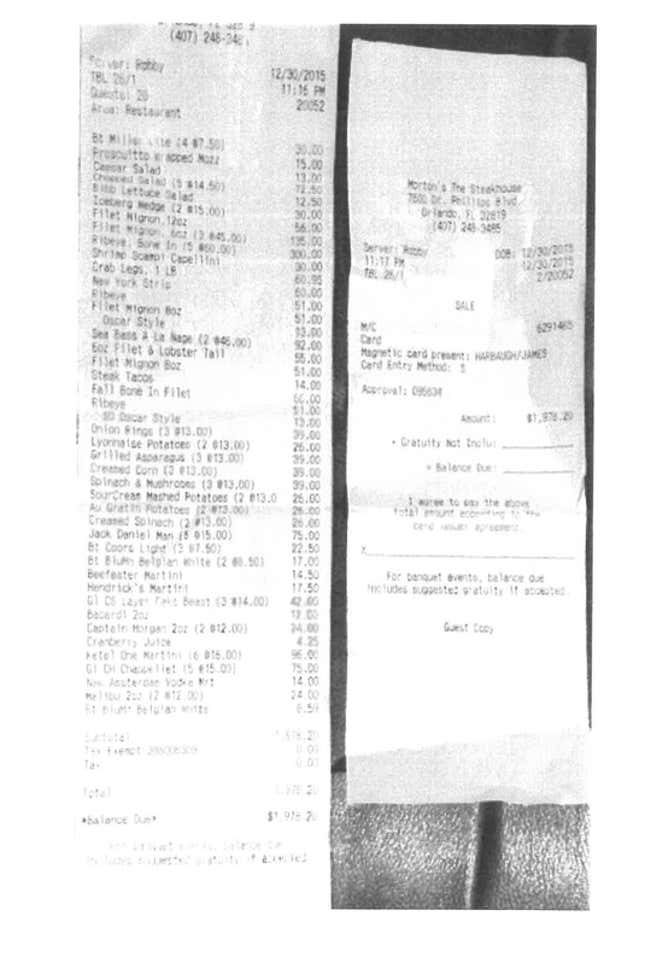 Michigan beat the pants off Florida, 41-7, in the 2016 Citrus Bowl. But, two nights before the New Year's Day bowl game, Harbaugh and the coaching staff hit up Morton's for a nice steak dinner. The drinks tab, classified as "Hosting Alcoholic Beverages" was $472, and the dinner tab ("Hosting/Business Meals") was just shy of $2,000 at $1906.40.
Pretty standard steakhouse fare here: Ribeye, filet mignon (Oscar Style!), onion rings, asparagus, caesar salad, creamed spinach. But I really want to know who ordered the $14 steak tacos—you're on an expense account, milk it!—and Malibu. And, more importantly, was the double order of Malibu shots of Malibu, or does someone on Michigan's staff drink Malibu on the rocks? Or even worse, neat? There also appears to be a gin discrepancy on staff, as one of the dinner guests ordered a Hendrick's martini and another ordered a Beefeater martini.
$338 For Desmond Howard's Car Service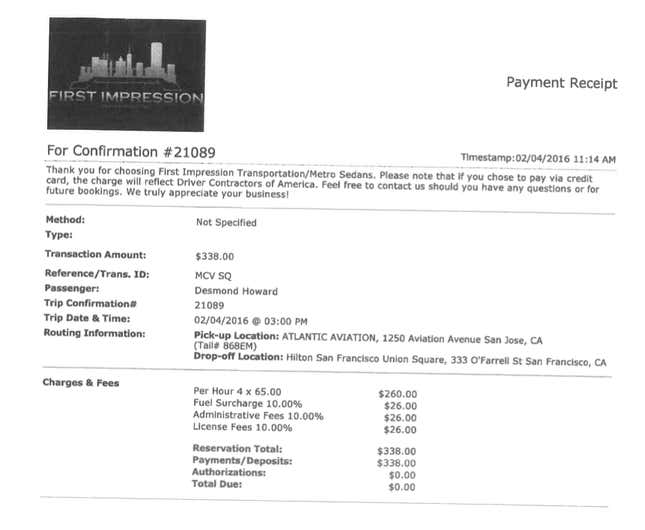 On February 4, 2016, Harbaugh expensed a $338 car service for Desmond Howard from the San Jose Airport to the Hilton San Francisco Union Square. The dates line up with Howard's appearance at Michigan Football's completely insane Signing With the Stars national signing day event on February 3, 2016—which Howard attended alongside Ric Flair, Derek Jeter, Tom Brady, Jim Leyland, Migos, and a roster of weirdly awesome stars and alumni—and Super Bowl 50, which was at Levi's Stadium in Santa Clara.
James Earl Jones's Voiceover
Yes, that James Earl Jones. In the summer of 2015 Harbaugh spent $293.28 on various expenses related to meetings with James Earl Jones, who did the voiceover for the football team's hype video.

Rental Car Refueling
You know how they charge you extra if you don't fill up the tank before you return your rental car? Apparently Harbaugh and his staff are too busy Attacking the Day With Enthusiasm Unknown to Mankind to stop for petrol en route to the airport. According to the records we received, he paid $465.26 in airport refueling fees.

Some Random Redacted Hotel Suite

In early December 2015, Harbaugh expensed two nights of a one bedroom suite at a redacted hotel for $550 a night, totaling $1100, classified as "football recruiting confidential." It's listed on the expense report as "Confirmation of bank wired deposit for a suite reserved at REDACTED." But the invoice, which also had the name of the hotel redacted, said the suite "Includes 2 daily spa passes, complimentary valet parking, 2 pool chairs." Pool chairs, eh? Sounds nice!

You can read the records in their entirety, as Michigan sent them to us, below.
Bill Bradley is a writer and reporter living in Brooklyn. His work has appeared in GQ, Vanity Fair, and many other publications. Follow him on Twitter @billbradley3. Know anything he should know? Drop a note at w3bradley@gmail.com or DM him on Twitter for a way to securely contact him.