Soon after we learned about the Booty Lounge, the mobile strip club that's been idling near Detroit's Ford Field during every Lions tailgate for the past decade or so, we heard from a few former patrons. And after finding the priceless Yelp review from a former scorned freelancer for the club that you'll see below, we thought it would be wise to gather some more honest appraisals of the place—especially since its future is now in peril.
Jokic? Embiid? The NBA MVP is obvious... right? | Keep it a Buck(et)
Here's the abridged review, from "Brittany E." of Kalamazoo. It was posted on June 18, 2011 [sic'd]:
Booty lounge SUCKS!!!! The owner is a lying scam artist scumbag! I was asked to work for him and was told they would make us girls a ton of money. So as a dancer I did, hell ya money, why not? This is why not, its a dive, a joke, and he literally robbed us girls of hundreds of dollars... Don't waste your money or time here, because likely you will end up getting kicked out by cops after you pay big cover charge and spend money, not worth it, big black school bus with a sign on front says 'show me the booty' if you see it, walk away...
G/O Media may get a commission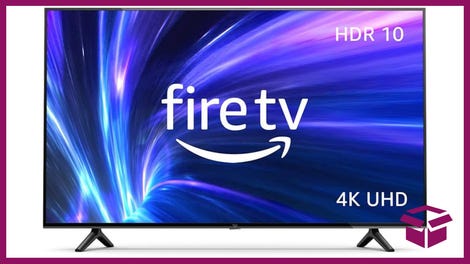 42% Off
Amazon Fire TV 50" 4K Smart TV
Brittany gave the Booty Lounge just a single star out of five.
This seemed like an unfairly biased review for the public record. So when we heard from P.J. from Detroit and David from Canada—two former patrons with rather differing opinions on the place—we asked them to share their own honest assessments of the establishment. The Booty Lounge, it turns out, is a polarizing place.
The Ambiance
P.J: "The Booty Bus has been around forever—since '02 or even longer. Ever since Ford Field moved down near Eastern Market. It's just an old converted school bus, painted red and black on the outside, and it's all black on the inside, with blue lights and everything. It's a stripped down bus with this cheap bench seating around the perimeter, made of plywood. The seating surrounds a hardwood floor, and there are a couple poles for dancing."
David: "I went back in 2007 or 2008, must have been. We'd always go to the Thanksgiving game. We were in Eastern Market tailgating, and the bus showed up, so we went over to check it out. You could see it pulling up, you know—it's a big black bus with 'BOOTY LOUNGE' on it. That obviously draws your attention... It's a small space. There's a pole or two, and a little fake stage. The scene is basically girls dancing, music playing, and drunk guys watching."
P.J: "They pack the bus full, and there's almost always a line of guys waiting outside. They seat you shoulder-to-shoulder next to guys. You're close enough that when a guy next to you is getting a lap dance, it can be kinda bizarre. The guy who owns it rents the bus out as a limo service, too. One year a friend of ours, without knowing, booked the Booty Lounge for her own birthday party. She had no idea what else it was used for. It was weird to go bar-hopping in it. It felt dirty."
The Value
David: "So we went up to the guy standing out front, and he told us to come inside and take a look. I was 23 or 24 when I went, but they definitely checked IDs at the door. They had a $10 cover charge, and they'd give you a bracelet so you could walk in and out all day. It was a great deal. You could go out and refresh your beer whenever you finished."
P.J: "It's just a bizarre setup. We went to waste time and check it out back then, but now, I'm a few years older and it just seems kinda gross. I'm pretty sure they checked IDs at the door, but I don't quite remember. If you were holding a can of beer in your hand, they'd let you go in with it... In the bus, there'd be two to four girls dancing. And they'd have them walk around the tailgate, too, attracting clients. But there was nothing sexy about it. We were packed in like sardines, you know? It was absolutely bizarre."
David: "It was about as clean as a strip club can get. I thought it was legit, and that's about it."
P.J: "I haven't been in about five years. It's been there since the Market tailgate started, which must have been eight or nine years back. There's still always a line waiting to get in. When I went as a paying customer, I thought it was as clean as that kind of thing can possibly be. But when we used the bus for that bar crawl night... It felt gross."
Ed. Note: We've also heard one unsubstantiated second-hand story concerning 15 college friends and a "white, tatted stripper." The tipster, who'd heard the story from a friend present for it, wrote: "The pregame began as you would expect it, with the guys taking shots, funneling beers (they brought their own keg), making merry—pretty standard stuff. That is, until the stripper started giving one of the guys a lap dance, which spontaneously turned into her whipping out his dick and giving him a blowjob in front of the entire group of dudes. I don't think he finished but I'd say they got their money out of the experience." We did not hear back from the young man who was (allegedly) present for it.
The Dancers
P.J: "The first time I went I was totally convinced the girls were straight up prostitutes. They were awful. And, I know, they were just there trying to make some extra cash... They were grotesque-looking girls. They always looked all drugged out, you know? They've gotten a little bit better. But it's nothing special."
David: "There were two to three girls dancing. I'd say they were definitely local girls, no question. They were good-looking girls. They weren't, like, ugly, fat strippers. I'd put them in their early 20s."
The Legality
P.J: "The first couple of years they came to the lot, they'd do a couple laps around Eastern Market so that people would see it was there. And then they'd park right in the middle of Eastern Market. Now they tuck themselves away from the crowds."
David: "There were definitely cops all over the place around Eastern Market. I went there two years in a row, and cops were everywhere."
P.J: "There were always cops patrolling around the bus. They knew it was there. I mean, it's a big old school bus that says 'BOOTY LOUNGE' on the side. It's funny that [police are investigating now]. We've known about it for years."
David: "I thought it was definitely legal... I mean, there was nothing wrong with that thing. I was there for six hours—because we never went to the game, we just tailgated the whole time. So you'd go in for 15 minutes, then leave and get another beer. People would tip if they got a lap dance, but that's about it."
The Verdict
P.J: "I give it 1 or 1.5 stars. The booty lounge is like going to a movie that you know is going to suck. But you like the genre—the strippers—so you go anyways. The ticket [cover charge] is overpriced, if you want any concessions [lap dances], you have to pay more money, and the theater [bus] is uncomfortable and dark. So watch the second-rate movie [strippers] then leave disappointed. You knew what you were getting yourself into, but you had to see it for yourself. So after a couple of not-so-great experiences, you learn your lesson and stop going to see dumb shit.
The half star is because they at least they let you bring your beer in."
David: "I'd give it 4.5 or 5 stars. It served its purpose for kids like me. It was fun and harmless. I mean, it's the cheapest strip club on earth."
The Detroit Police Department's formal investigation is now underway.
Photos via Facebook.