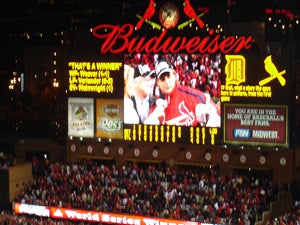 • Hey, the Cardinals won the World Series. And, amazingly, we were there.
• Ben Roethlisberger is wisely keeping his distance from the motorcycles.
• Whoa. The Knicks won.
• Harold Reynolds is coming, ESPN, he's COMING! So be ready. We went in depth on his suit.
• GARRRRRRRRR!
• Eagles fans are having a hard time of late.
• Shawne Merriman is full of it.
• Closing the doors on Stop Shuler]
• Oh, yeah, Mr. Balk from Gawker took the reign
OK, that'll do it for us. Enjoy, as always, The Mighty MJD this weekend. We're going to enjoy a baseball-free weekend and just kinda relax a bit. Oh, and Illinois is taking down Ohio State this weekend, totally. Be safe out there, and we'll see you Monday.