Major-league umpires are kind of the worst. Blown close calls we can grudgingly abide, but blown not-all-that-close calls punctuated by ego trips, well, not so much. And yet that's what umpires do! Jordan Baker, a minor-league umpire who has filled in on Dana DeMuth's crew over the past week, keeps it in the family.
He first reached the national radar by yelling at C.C. Sabathia in May—"I'm a grown man, and I didn't say nothing to him, and he came back from behind the plate, so of course I was animated," Sabathia said—but that evidently didn't do enough for his profile. (Perhaps he's miffed over having to fight for Google turf with Elizabeth Debicki, the Aussie ingenue who played Jordan Baker in the latest Great Gatsby movie? She's bound for stardom.)
So in San Diego this weekend, when Baker umpired the Friday and Saturday games, he captured some more attention. How? He chewed a new piece of gum every half-inning, and then heaved it into left field. Really. He did this. Because Jays-Pads went 17 on Friday, he earned the notice of the blogger behind Lob Shots, who had crept up to the front of the section after many innings. He gave Baker the business:
But how did Baker respond? He just threw more gum. He even enlisted the help of his colleague Angel Hernandez—himself an unrepentant mess of an umpire—to screw with the fans.
G/O Media may get a commission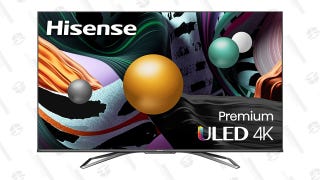 Save $350
Hisense ULED 65" Android 4K HDR Smart TV
Baker popped up again Tuesday night. He was stationed at third base for Diamondbacks at Cardinals, and the D-Backs' broadcasters took special note of his gum-tossing tendencies:
Notice the barely concealed contempt? You can credit a call Baker had blown two innings prior, one that went against the Diamondbacks and resulted in the ejection of bench coach Alan Trammell. Their crew knows what's up. And the viewing public is meant to read between the lines: Baker is a showboat of an umpire, and he is bad at his job. Oh, if only those weren't the traits MLB seemed to treasure.
H/T Glenn.