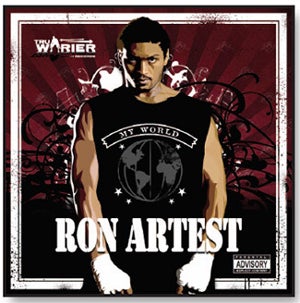 You might have missed it with all the business of watching parades of sexy nurses/witches/superheroes/hockey players pass by, but on Halloween, the new album from Ron Artest "dropped," as they say. It's called "My World," and it is apparently not inspired by the weird song Axl Rose put on the end of "Use Your Illusion I" without telling Izzy Stradlin, ultimately causing him to quit the band and just screw everything up. (Side note: A friend of ours is seeing Guns 'N' Roses in concert on Sunday; we remain far from convinced the show will actually happen.)
Anyway, Artest's album gets the SLAM review treatment, and they recount some of the great moments. HIghlights include:
• He talks about how he used to hit the liquor store at halftime of games. Which we totally understand.
• He says Matt Lauer "talks like a girl."
• There's a skit where Artest hosts a conference at the United Nations.
• Actual line: "I don't think I'm insane / I think the world is crazy."
Damn straight, Ron. DAMN STRAIGHT.
Music Review: Ron Artest's "My World" [SLAM Online]