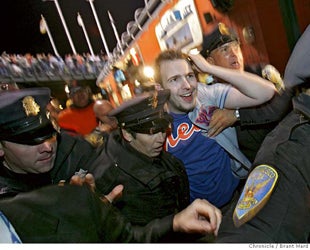 If it were possible to open the human mind and step inside, to shine a flashlight into the dark corners of the psyche and root around in our deepest anxieties, then you might possibly see what occurred in the left field bleachers of AT&T Park on Tuesday. Mets' fan Matt Murphy, as we all know by now, came up with Barry's 756th home run ball, after surviving what surely was the 10th Circle of Hell.
An eyewitness report on SFGate: Randy Finley of Mountain View, just behind Johnson, said he touched the ball, too. Then he watched in horror as a woman got knocked over and her husband disappeared into the scrum, leaving their 4-year-old son to cower with his teddy bear. Finley said he never found out who they were but that it did not appear to be the pinnacle of responsible parenting. The bleachers during a home run ball scramble are truly a barbarous land, where the laws of human nature are broken down to their most basic, primordial components. There was plenty of heartbreak to go around. One young fan, 15-year-old Mark Jackson of Philadelphia, said he was sure he was the guy with the ball. But Jackson had fallen for the fake ball trick — during big home run scrambles, mischievous fans are known to toss other balls into the area to watch the resulting chaos. I had no idea. Anyway, Barry hit No. 757 in the Giants' 5-0 win over the Nationals on Wednesday, but the battle for that ball was much less chaotic ... the sphere landed in the bay, and a man paddled up to it in a kayak and gently scooped it out of the water. Now that it's all over, sanity and dignity seem to have been restored. Until the next time.
• The Day Boston Won The East. When Red Sox fans look back and discuss the 2007 season — and they will — let it be known that Dustin Pedroia was the hero who staved off the Yankees' final troop surge. Sure it's far from over, but the Sox's current 6-game lead in the East looks a lot better than a 5-spot, or even a 4, which could have happened on Wednesday. Pedroia's tiebreaking home run led a 9-6 win over the Los Angeles Angels. Mike Lowell went 4-for-4 with three doubles and Hideki Okajima (3-0) went 1 1/3 hitless innings for the win. The Yankees, sans A-Rod, lost 15-4 to the Blue Jays, who had a team-record nine doubles. Oy.
• Veni, Vidro, Vici. Meanwhile, Seattle slid ahead of Detroit and New York into first place in the wild card race, as Jose Vidro homered and drove in four runs to lead an 8-4 win over the Orioles.
• Billy Wagner, All-American Hero. With the Mets clinging to a one-run lead, Billy Wagner escaped a bases loaded, nobody out jam in the ninth as New York beat Atlanta 4-3. Moises Alou had a tiebreaking homer in the eighth. It was Wagner's 350th career save and extended his scoreless streak to 21 innings.
• Boom Goes The Dynamite. The Rockies had 23 hits — including four hits and six RBI from Garrett Atkins — in a 19-4 win over the Brewers.