By our rudimentary calculations, new Page 2 columnist Jemele Hill, who made her debut on the site today, will write roughly 92 columns for the site during her two-year deal. (We assumed two a week, with at least six weeks off for vacations and holidays; we're probably being too generous.) As reported by The Big Lead, she will make $400,000 during her stint, which, as we punch up the numbers, comes out to $4,347.83 a column. If her first column, which runs 1,422 words, is any indication — and it's probably a little longer than they'll usually be — that's gonna come down to about three bucks a word. See, math is fun!
(Yes, yes, we know, she'll be doing more than just writing columns for ESPN, just play along, OK? It's an exercise.)
Hill's debut column is clearly cut from the Here Comes A Personality Simmons/Easterbrook/Scoop mold rather than the Just Reporting Out Here On The Edge, Where Pop Culture And Sports INTERSECT! Hruby/Alipour/Keri school. It's theoretically all about who she is, what she thinks, what you should know about her, so on, and it's well-written enough, if oddly defensive: Most people, presumably, have no idea who she is and have to be wondering why she's choosing to introduce herself by claiming that your perceptions of her are skewed. We have perceptions? Hey, lady, we just met!
Honestly, we wish Ms. Hill good luck with her new post and sincerely hope this is the last one titled "Me On Me."
G/O Media may get a commission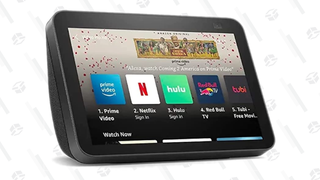 Me On Me [ESPN]
Page 2 Hands Out The Lucre [The Big Lead]