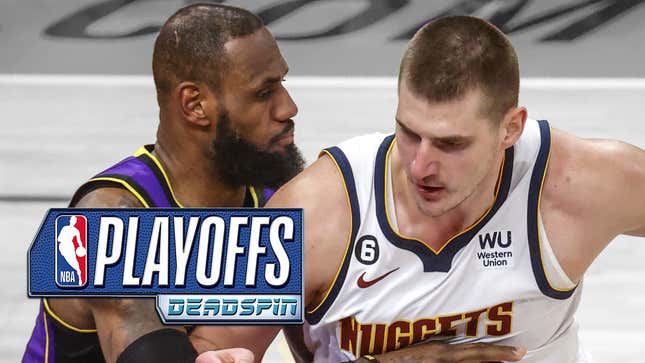 The NBA is down to its final four as this year's conference finals have brought about Déjà vu, although this isn't an illusion of the mind. Less than three years ago, we saw the same teams representing the NBA's Eastern and Western Finals. In the west, we've got the Lakers and Nuggets in a rematch from the 2020 Orlando bubble that one would've predicted three months ago.
Nikola Jokić is your 2023 NBA MVP... right?
Denver has been toward or at the top of the west for most of the second half of the 2022-23 season. Regardless of what may have been thought of the Nuggets, no one should be shocked that the No. 1 seed led by two-time defending MVP Nikola Jokić is back in the WCF. There's an argument for Denver being the most consistent and well-balanced team remaining in the postseason, and that's not a stretch.
After being dethroned as reigning MVP of the association, Jokić now sets his sights on the King and his men. LeBron James and the Los Angeles Lakers have pulled off "upsets" in the first two rounds of these playoffs. The Lakers have beaten the higher-seeded Grizzlies and Warriors and vanquished both in under seven games.
For the Lakers, it'll always come down to what they get from AD and the others. James will do what he does, and he's gotten so good at pacing himself in the postseason, as witnessed against Golden State. Davis played his most consistent series since the bubble championship. In the six games against the Warriors, Davis only had one real stinker in the series, which was in a game two blowout loss by 27. The brow scored just 11 points in 32 minutes of game two, but aside from that performance, he was a problem for the Warriors all series.
Now Davis will need to repeat that performance against Jokić and the Nuggets. These teams split their regular season series but haven't played since Jan. 9. Russell Westbrook was still a Laker then, and this team looks, and plays much differently than it did four months ago. Some people get upset when Westbrook is blamed for LA's sluggish start to the season, but he wasn't a great fit for this squad. If that trade had never happened and the Lakers had moved forward with what they had, they would've been in Cancun already.
Denver should win, but...
There's no reason why the Nuggets shouldn't win this series, as they have the better, more consistent team, and a deeper roster. But with LeBron in year 20 and back on the cusp of another championship, it wouldn't be surprising to see more than one throwback performance by James in this series. He doesn't need to be 2016 LeBron the entire series, but a couple of big 30-point games could push LA past Denver. James is the model of consistency, but if the Lakers want to grasp title number 18, they'll need a few more of those big-game James showings.
On the Nuggets' side, it's pretty simple. Keeping AD and role players like Austin Reaves, Rui Hachimura, and Lonnie Walker IV at bay will be key. If James and Davis are allowed to get in a groove early, that opens everything up for their supporting cast, and that's not what Denver wants. Should the Lakers make it a point of emphasis to make Jokić work hard on the defensive end, the Nuggets could be in trouble. Defense isn't the strongest point of the Joker's game. Jokić will get his points regardless, but he really thrives when getting everyone else involved. Jamal Murray, Michael Porter Jr., Aaron Gordon, and Kentavious Caldwell-Pope are the real game-changers for Denver. Caldwell-Pope was part of that Laker bubble title team, so he knows James, and Davis well.
The Joker is the straw that stirs this Nugget cocktail, but when he gets at least two of these guys to roll along, it's hard to beat them, especially in the mile-high city.