In case you still think the Michael Phelps bong photo is an elaborate French conspiracy to bring down America's greatest hero, there is independent confirmation, via a band with a blog...so...deal with it.
Perhaps you've heard of a little music outfit called Holiday Parade (we haven't, but that doesn't mean anything) that just happened to be playing Columbia, South Carolina, on that fateful night. Their manager sent us this little tale and well, let's just let band member Andy tell the story:
Upon arriving at the house, we were stopped out front by a random dude, who kept saying "NO CAMERAS! NO CAMERAS!". I have been to college, and was totally caught off guard by this. I mean, seriously, what kind of college party restricts picture taking? Weird. Anyways, we didn't have any cameras on us, so we walked past him and went in.

Inside the party there were two groups of people, out of the 50 or so people at the party, 20 were in the living room passing around a bong (yes, the one from the pictures you saw), and watching tv. The life of the party however, was crowded around a beer pong table in the room adjacent to the smoke sesh. I decided to examine what was going on a little closer…

On one side of the table there were two standard looking fraternity guys. Polo's, visors, and a pitcher of beer (not to stereotype…but you get my point, ha). They were apparently part of a high stakes game of beer pong, which would explain the roughly $4000 in cash sitting in the middle of the table. As soon as I saw that, I knew something was out of the ordinary, to say the least. Then on the other side I saw Michael Phelps, smoking something (?) and drinking a beer. Not only was the man a 14-time olympic gold medal winner, but apparently he is also a frat star, hahaha.

We hung out at the party for a little while, gave Phelps a high five and then peaced out.
That's sounds like an open and shut case to me. Of course, I'd be careful about who I tell that story to, Andy. You don't want to get a visit from that tough law-and-order county sheriff. No one breaks the rules in his town and now that you're famous, well ... the law's the law.
G/O Media may get a commission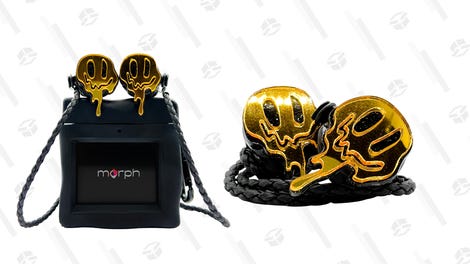 morph audio
Morph Earphones
That $4000 game of beer pong? Sounds like we can throw an illegal bookmaking charge at the whole lot of ya.
Michael Phelps... [Holiday Parade]