When news of The Ringer's investigation into burner Twitter accounts broke last night, it lit basketball corners of the internet aflame. Because the information tweeted by accounts like @Enoughunkownso1, @AlVic40117560 and @s_bonhams seemed to include things only a member of the Sixers' front office staff would know, it seemed very plausible these accounts were either Bryan Colangelo's or someone very close to him. Plus, they all went dark when Ben Detrick asked the Sixers about it. It's all very fishy.

The best sports movies according to Toheeb Jimoh
But could Twitter sleuthing alone confirm it? Several people got the idea to try to request resets of the accounts' passwords to see if any of the phone numbers match. Twitter only shows two numbers of the cell phone when you try to reset the password, but it might be a clue.
The Sixers confirmed that one of the accounts, @phila1234567, was Colangelo's. It had never tweeted. Additionally, it has a different cell phone number associated with it, one that ends in -75. It seemed like a red herring: The one confirmed account didn't match the phone number linked to the questionable accounts. But could we get more info on it?

G/O Media may get a commission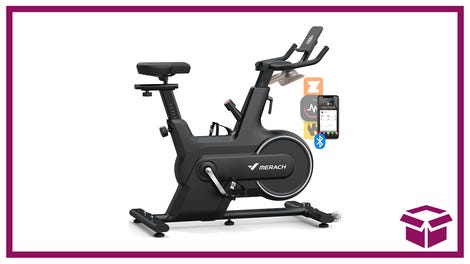 14% off + Coupon
Merach Indoor Cycling Bike
Thanks to Tom Moore, Bucks County Courier Times sports columnist and Sixers beat writer for nearly 30 years, we did. All five accounts named in The Ringer's article followed him. And he had more info, too.
Moore is saying the -75 number linked to the @phila1234567 account matches the number he has for Bryan Colangelo. Obviously, this proves nothing about the other accounts. But this is the internet, and people started running with it anyway, which led to a string of tweets that just made things awfully funny.
Moore is a solid reporter. So in a story where things seem fishy, we at least know one thing for sure: Bryan Colangelo's cell phone number ends in -75, not -91.
Moore also noted that neither Sam Hinkie's nor Jerry Colangelo's phone numbers end in -91, meaning they didn't set up the burner Twitter accounts either… unless there are burner phones involved here too. This thing has layers.