A lot of people think the man who calls himself Jungle Bird and wears a mohawked, Union Jacked knit cap and crashes sporting events for the purpose of cawing at the camera is crazy. He's not, we swear. He just wants to save the world.
Jokic? Embiid? The NBA MVP is obvious... right? | Keep it a Buck(et)
Jungle Bird told me so himself. I spoke with him not long ago. He was in a gloomy mood, having recently learned that he'd been banned from golf's U.S. Open, the site of his first big television moment. "Basically, for the golf tournaments, I'm a peaceful spectator," said Andrew Dudley, a 42-year-old social media consultant, speaking with the thwarted air of a child who can't fathom why anyone would think he'd misbehave. "With the USGA, I was gonna prepare to give them my word as a gentleman that I wasn't gonna get into any messing about with the protesting."
That's what it is, after all: a protest. But let's start at the beginning. Jungle Birds are made, not born. As lads growing up outside Liverpool, Andrew Dudley and his friends would disrupt class at St. Mary's with bird calls. Dudley's was a warbling trill, repeated three times. It became a recurring joke, to be used at pubs and restaurants, and Dudley quickly realized that his distinctive call was an effective way of seizing the attention of a room. But with great power comes great responsibility, and the question became how best to utilize that attention.
Dudley's pet cause—fighting deforestation—seemed natural, and so was born the Jungle Bird. He would give the call, and after the third screech he'd yell, "Stop deforestation."
G/O Media may get a commission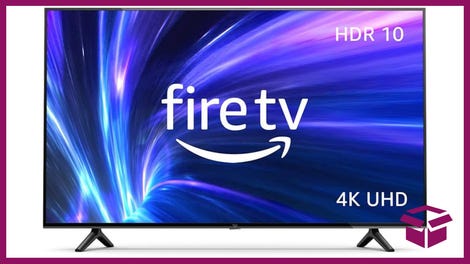 42% Off
Amazon Fire TV 50" 4K Smart TV
"So then," he told me, "it was a case of 'How do I get the message out there,' to make a bigger impact. And then I realized that if I could do it on live television, that would be a unique way to do it."
The world first met Jungle Bird at last year's U.S. Open. Just as the tournament ended, Dudley, the hat hidden in his jacket, made his move.
"I went through about 20 people," he recalls, "snuck under the rope, snuck over another rope on the green and then all of a sudden I was behind the press corps, and I was surprised it was going to be that easy. ... Someone said, 'You shouldn't be here.' I said sorry and then went under another rope."
As Bob Costas interviewed champion Webb Simpson, an out-of-focus Dudley hilariously popped up right in front of the camera and began squawking for a national audience. At the third squawk, USGA executive director Mike Davis yanked him out of frame, with Simpson dropping a bit of bad movie-cop dialogue: "Enjoy the jail cell, pal." The Jungle Bird never got to say, "Stop deforestation."
He was arrested and taken to a police station, but he wasn't charged; he was released by dinner time.
"When I turned up at the police station," he said, "they were making bird noises themselves and taking photographs.
"They just said, 'Don't do it again.'"
Other people invade sporting events because they want to be on TV, or because they're being paid by betting sites, or because Twitter told them to do it, or because they're shirtless drunk guys. Not Jungle Bird. His website features videos of Dudley visiting famous trees, like a 5,000-year-old yew in England, and the General Sherman sequoia, the largest known living tree. There's also an informative chat on reforestation with tropical ecologist Mike Hands. Jungle Bird is, in Dudley's phrase, "a streaker with a cause."
He was planning to attend this year's U.S. Open until he received a letter from the USGA. He was officially banned. Dudley swore he had no stunts in the works; he merely wanted to watch.
"It was a bit disappointing," he said, adding that his activism has made him a fan of the sport. "My intention at this event was not to protest in anyway, because I am obviously conscious that it could wear out. I don't want to be upsetting golfers. I think probably twice is enough to have done it."
Dudley has some fans on tour. Justin Rose appears in one of his videos. (Rose gets the "stop deforestation" line.) He's also won the endorsement of his patient wife, Kirsten, and his kids.
"She thinks it's a little bit crazy, but she's supportive of it," he said. "I have six children, and I think I'm the craziest one of the lot. The kids think it's fun as well."
Dudley won't be anywhere near this year's British Open, which teed off today, but that's by his own choice. He'll be in California, trying to drum up money for his latest project: a nonprofit aiming to prevent slash-and-burn farming by giving farmers profitable crops that can be grown for multiple seasons.
And in any case, Dudley is aware of the brief shelf life of Jungle Bird's semi-fame. He'll retire the alter ego when people start rolling their eyes.
"The response to this has been really, really positive," he told me. "When I meet with people, they are very supportive of what I'm doing. If they weren't, that would be the time to stop."