Folks, the NFL never sleeps. Even now, in the dog days of mid-May, as the league's news cycle yawns and feels its eyelids getting heavy, the continued unemployment of Colin Kaepernick is there to slap everyone awake again. There's been a lot of this and a lot of that said and written about Kaepernick in recent weeks. It can be a bit confusing. Let's try to unpack it to attempt to make some sense of Where Things Stand.
Why is Kaepernick still a free agent?
You had to start with the toughest question, didn't you?
It's the most relevant thing.
Fair.
So, like, why has no one signed Kaepernick?
There's nothing definitive to go on, but, boy, there sure is an awful lot to suggest Kaepernick is being blackballed because of his decision to protest police brutality last year by taking a knee during the national anthem. Pro Football Talk's Mike Florio, the San Jose Mercury-News' Tim Kawakami, and CBS Sports' Jason La Canfora have been pretty plugged in on this score; all three reported that until last week, no team had made a serious overture toward Kaepernick since free agency began more than two months ago—a detail Kaepernick later confirmed to Shannon Sharpe. Which seems ... odd.
Why is that odd?
Have you seen the list of quarterbacks who've signed free-agent deals this offseason?
G/O Media may get a commission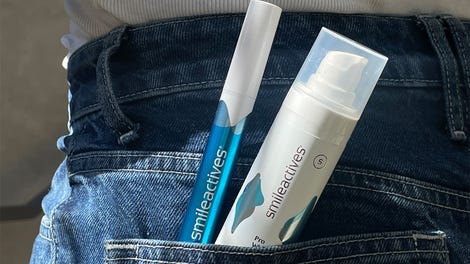 58% off
Whitening Powerhouse Pen & Gel Duo
I haven't. Is it bad?
Some names: Brian Hoyer, Mike Glennon, Geno Smith, Nick Foles, Matt Barkley, Ryan Mallett, Case Keenum, Josh Johnson, Blaine Gabbert, Matt Schaub, Josh McCown, Matt McGloin, Chase Daniel, Landry Jones, T.J. Yates, E.J. Manuel, Kellen Moore, Mark Sanchez, Matt Cassel, Kellen Clemens.
I think that covers it.
Didn't Gabbert get benched for Kaepernick last year?
He did.
Wow.
Yep.
But by saying "nothing definitive," are you implying there might be other reasons aside from a blackball? 
A bunch of possible explanations have seeped into the conversation. Albert Breer of The MMQB reported that teams think Kaepernick's skill set is too limited. Peter King of The MMQB wrote that he "spent a long draft weekend with the Niners in California, and there are those in the building who think Kaepernick might actually rather do social justice work full-time than play quarterback." Kaepernick's vegan diet has been questioned. He reportedly wants $9-10 million per year. Donald Fucking Trump has his own self-serving theory. Tony Dungy even called Kaepernick "a distraction" on the order of Michael Vick or Joe Mixon. Dungy also said Kaepernick would have signed somewhere already if teams viewed him as a starter. This is where I'm compelled to remind you Tony Dungy has a habit of saying some really stupid shit.
That's a lot of potential reasons. Are they all bullshit?
They seem to be, yeah. As Kawakami and La Canfora have pointed out, Niners brass has a rather sordid history of anonymously smearing Kaepernick. Also, Kaepernick's trainer has said Kapernick is in great shape, though that's pretty much what you'd expect Kaepernick's trainer to say. Two of Kaepernick's former head coaches, Jim Harbaugh and Chip Kelly, have gone on the record to emphatically deny that Kaepernick can't play anymore or that his work ethic is any kind of issue. And if Kaepernick hasn't had substantive talks with any teams, how does anyone know how much money or playing time he'd be willing to accept?
Good questions.
See?
What about—
Wait. Hold up. Kaepernick's girlfriend, a New York City DJ named Nessa Diab, hasn't been shy about letting the world know she thinks Kaepernick is being blackballed:
OK. You mentioned no team was interested until last week. What changed?
Seattle head coach Pete Carroll revealed on Monday that the Seahawks are kicking the tires on Kaepernick as a possible backup to Russell Wilson. And NFL Media's Mike Silver later confirmed that the two sides actually began talking last Friday. That news prompted Seahawks defensive end Michael Bennett to say Seattle would be "the perfect place for" Kaepernick.
Huh. Kaepernick would seem to be a decent fit there.
He would!
So what's taking so long? Why haven't the Seahawks signed him?
Negotiations can be tricky, and the Seahawks may have their reasons. But Florio thinks something stinks about word of the Seahawks' interest getting out. "The NFL," Florio wrote, "wants it out there that someone/anyone is talking to Kaepernick about a job."
Sheesh.
Yeah. Told you there's a lot going on here.
Has Kaepernick said anything publicly?
A lot of reporters have tried to get him to talk, me included. A spokesperson this week told me Kaepernick "will not be speaking to the media at this time." But other than than that chat he had last week with Shannon Sharpe, Kaepernick has been radio silent. Kaepernick could clear up a number of the questions in play, but he's choosing not to.
Can he still play?

Kind of, yeah? Look, no one's going to mistake Kaepernick for Aaron Rodgers, but check these out:
As Fahey further noted in his Pre-Snap Reads Quarterback Catalogue 2017:
One of the worst hot take examples against [Kaepernick] is an argument that is regularly used against quarterbacks who rely on running the ball as part of their success. It's the idea that he needs a specific type of offense to excel. That statement is true. One problem is that statement is true of every quarterback in the league. It only gets used with the guys who run the ball.
So...
So it's perfectly reasonable to conclude that NFL teams and the mossbacked men who own them are blacklisting Colin Kaepernick. Which doesn't mean that's what's happening, but it certainly makes more sense than any of the alternatives.