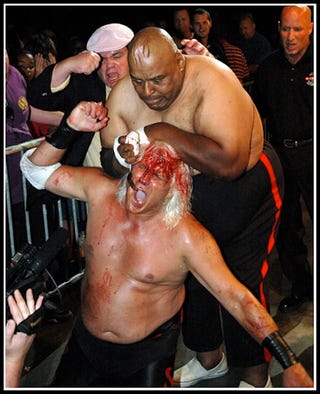 Graeme Wood over at The Atlantic wrote about a recent in-person interview he did with Abdullah the Butcher, whose wrestling matches have long been famous orgies of blood. Wood's story is worth a read because he lets the details tell the tale:
His weapon of choice is the fork, but he improvises when cornered. In Japan, where Abdullah is a beloved figure who visits retirement homes to cheer up the elderly, two skeptics once spotted him in a hotel lobby and remarked loudly that his shows were fake. Without hesitation, Abdullah shattered a glass against his scalp, then picked out the shards, produced a needle and thread, and stitched himself up.
Abdullah is now 71. He's being sued for allegedly giving Hepatitis C to a wrestler named Hannibal, who called him "a monster movie come to life." He owns a restaurant in Atlanta called Abdullah the Butcher's House of Ribs and Chinese Food. That's where Abdullah asked Wood to meet him, but that's not where the interview eventually took place. There was a car chase first, and then there was the actual sit-down:
He told stories merrily, clearly relishing the chance to confirm various extreme rumors. "What I do," he said matter-of-factly, "is stab people, and eat snakes and chickens onstage." Finally, he directed me to a briefcase across the room and told me to bring him one of the forks inside. The utensil's handle was wrapped in dirty athletic tape, and when I got close enough to hand it to him I immediately regretted the decision.
Seriously. Go read the entire story here.