The writers at Deadspin asked their moms and dads what they thought of the site in 2014. Here are their unedited responses.
Jokic? Embiid? The NBA MVP is obvious... right? | Keep it a Buck(et)
Diana's Parents:
Our thoughts on the matter are as follows:

Please add a search box to the website for easy locations of your articles.
A wider variety of articles
A chance to appear on TV (A lot of websites have people on TV)
Add a search box for Kinja. I typed in the website to see some of your article. The page came up not available

Keep up your terrific writing.
Burneko's Mom:
Deadspin is awesome. It's like the wild west of creative writing!
Harvilla's Dad:
This is our first year reading Deadspin/The Concourse. It's now become essential reading nearly every day. How else would we learn such interesting things as, best excuses for failing a breathalyzer test, how to properly clean your uh, testicles, etc. etc. etc.

We look forward to another year of inspiring stories and journalism excellence.
Billy's Mom:
I like the site. I enjoy reading the different articles. I like that it shows up my news feed, which gives me a chance to share it with my friends.
Billy's Dad:
Well, since I deal with web design, web marketing, and web content, I feel I can offer a little insight. Firstly, the home page needs to be updated. The feel of the page seems "bloggy" and simple. Maybe that's the feel you're trying to convey but seems rather bland with all the technology out there today that can enhance the readers experience spent on the pages. Your readers really seem to enjoy interacting with the team so maybe if you have set times for that ask the guys questions thing you guys do periodically.

When I think of other stuff, I'll send it to you
Tim Burke's Mom:
it's always a fun read. Dad & I really enjoy other people's comments on the writing. You could almost do a comedy routine based on some of the responses.
G/O Media may get a commission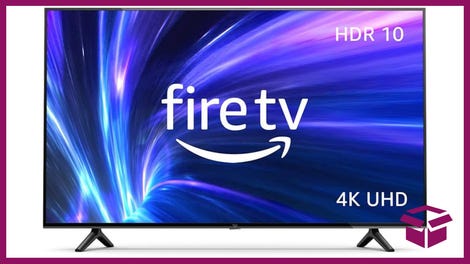 42% Off
Amazon Fire TV 50" 4K Smart TV
Tim Burke's Dad:
I think Deadspin has some great writers, but for me the highlights might just be the responses from the readers. I have also noticed many references to Deadspin in the past year, from Sports Illustrated to Golf Digest to our local newspaper. You are certainly being recognized! I still enjoy Deadspin a great deal.
Barry's Mom:
I'm glad it's successful and provides many jobs in this age of reducing journalism jobs.
Drew's Mother-In-Law (On the Williams-Sonoma Hater's Guide):
Geezzzz. I didn't know he writes that every year. Tell him that I am very proud of him. Read the whole thing and wasn't a bit offended.
Kyle's Dad:
I check it out almost every day. Love the articles.
Samer's Mom:
It's [Samer's sister]. I had mom go through the site and I'm writing down her exact words.

-I like the website but I don't like when they use foul language

- ... But I think that attracts certain people

-I like that they don't put strictly sports stuff on the site, so it's more fun for everyone

Also she liked the "cute-as-shit" panda gif
Samer's Dad:
Having lived on the East coast for a number of years, specifically in New England, I have a number of sports teams that I identify with. The New England Patriots have been playing well this year even though they started out questionably, some wondering if the combination of Belichick & Brady had finally derailed. Predictions of their demise were premature, see you in the "Superbowl"

keeps me in the know without having to search through piles on publications to follow my favorite teams, thanks deadspin!

Red Sox low balling Lester will prove to be a move they will regret.
Tom Ley's Mom:
I read Deadspin every day – accessing it a couple of times a day. I admit, I am partial to your postings – so if I am short of time – that's all I look at. If I have more time, I read more stuff and often hop over to Jezebel for something appropriately outrageous.

In some ways it feels like Deadspin kinda grew up this year. It is still funny and it is still on top of it – but there seems to be a feeling of more structure – maybe less risk? I think the whole Kinja thing contributes to that – that was a pretty major change and I think its reflected in the website. I would also attribute that to the very much increased number of times I have heard Deadspin cited by other media outlets as the source of their story – that certainly indicates a reliance on Deadspin's credibility

I am still proud as hell that you write for Deadspin – its such a good match for you and your personality and the way you view the world!
Craggs's parents:
Tommy, we have enjoyed reading the articles in Deadspin throughout the year. We are glad you all expanded to food, movies, and some gossip. We changed some of our recipes after reading the posts and they sure taste better. You, all the writers, have a way with words, making such boring subjects like cooking into good writing. We were at first shocked by the language used on Deadspin, but since then, we have learned a great deal about how language has changed since we were young.

One request, though. How about covering college sports more—especially your favorite team, the Fighting Illini? Selfish? We see you guys are writing about only good, top-ranked teams. Love, Mom and Dad
Draper's Mom:
I am probably the wrong person to ask about Deadspin. When I was in high school I was sent to a special room, where we hung out and listened to Leonard Cohen, for refusing to attend pep rallies. I have never seen a college or professional football or basketball game, in person or broadcast. I am probably the wrong person to ask what I thought of Deadspin this year or any year. That said, I have seen some posts there that I preferred to an article on why it's better to reheat lasagna in a frying pan rather than a microwave.
Draper's Dad:
Hi Deadspin,

So Kevin is bringing you for a "Meet the Parents" review. Well, look out Deadspin, 'cause I'm watching you!
As I write to you here in California, Pele the Cat, who Kevin talked us into rescuing from the shelter 10 years ago, (when he was in high school), has insisted on getting up on my lap. I mention this only because, as I told Kevin at the time, I never let him have a cat or dog in earlier childhood because I knew I would end up taking care of it. See! Pops is always right. Also, Deadspin needs more adorable cat pictures.
To be honest, I didn't think of Deadspin much at all until Kevin became involved with you as a writer a few months ago. I may have stumbled upon an article or two without taking notice of the Deadspin sourcing. I follow sports quite a bit, especially basketball and football. But most of my online sports reading is on Yahoo Sports and ESPN and links from there— pretty mainstream (which I'm sure you're trying to be). My other go to platform is Facebook.

So once Kevin started at Deadspin I went to Wikipedia to see what was the scoop on Deadspin.

I found out that Deadspin was one of Time magazine's 50 Coolest websites of 2006. But what have you done lately to stay cool? I hadn't known that Deadspin broke the story 2 years ago that the dead girlfriend of Manti Te'o never existed. That's pretty cool. And nobody ever produced a body to prove you wrong!

But what about that story on Cory Gardner's supposedly non-existent high school football career? You took that memory-lapsed Yuma teacher/statistician's word for it and then Gardner DID produce a body— cute football photos from high school. Well, I'm willing to give you a pass on that one. I too hate all those sports analogies spouted by politicians: "The Democrats are stuck running the single wing." Bwa-ha-ha-ha! What an ass! And if right wing shit-rags like The Washington Free Beacon go after you on this, you must be doing something right.

More recently I enjoyed Sam Eifling's story, "Thank God That Cardinals-Rams Game Finally Shut Up and Died." It had just the right amount of snarkiness. I didn't watch the game, but I had Saint Louis for my fantasy team defense and I don't know how those ass wipes couldn't score more than 5 lousy fantasy points in a no-touchdown game. I exclude the 5 Rams players who wore the "Hands Up" shirts in their previous game from the "ass wipes" comment. I was glad to see David Roth's article on that earlier game: "The Rams Have Nothing to Be Sorry For". Which they didn't. Until that god awful Thursday night game!

A few quick notes about other content: Your mashup "Falcon's-Bucs Highlights as Called by Wrestling Legend Jim Ross" was a great way to watch clips of a terribly played game. Kudos!

I always enjoy Miserable Shitehawk. He's not only profane, he's very insightful. Stories on Eric Garner and "Cops are Bad Because…" are a couple examples. Just one small knock. Sometimes he takes the use of rarely used "big words" to a verbal masturbatory level.

I noticed on Alexa.com that only .7% of your site visitors are logging in from India. I thought, "Aha, they're not publishing enough stories on cricket, the #1 sport in India!" So I checked it out. Nope. You have lots of stories on cricket. Hilarious stories. So I haven't got a clue after all.

I better quit now. But one last thing. I don't like your search engine. I can't just enter "Kevin Draper" and find all the material written by my son. I figured out that the only way to search for stories is to use the words they're filed under. Gotta say it sucks kids, if that's correct.