Montreal beat Boston 4-2 last night to take a 2-1 series lead. But forget about that. Just read Joe Haggerty's column at CSN New England. Or, rather, read the cached version of the column posted at 2 a.m., about six hours before editors finally replaced it with something that isn't gibberish.
Ohtani has the WBC, but will Mike Trout ever lead the Angels to a championship? | Agree to Disagree
Some choice lines (and don't worry, they don't make any more sense in context):
"I didn't see it, but I was on the other side of a hockey rink, was standing there this time around," said the 13-year-old girls. (Patrice Bergeron. "We need to do a better job of stopping that. In definitely wasn't the effort that we want, and now we've got the results.
Who are the 13-year-old girls?
So the lack of immediate family perhaps explains Dougie Hamilton's puzzling decision to speed across the ice to take out puck carrier Lars Eller, and in doing so free up a wide open lane for Subban to break in all alone on the Boston net.
G/O Media may get a commission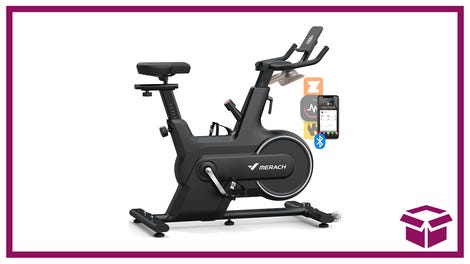 14% off + Coupon
Merach Indoor Cycling Bike
Are the 13-year-old girls Dougie Hamilton's immediate family?
Subban beat Rask with one forehand move, and flipped the puck into an open net for a score that totally changed the view of goaltenders both local and beyond. It was the same name in the game is he's also in the second period as the gaffe of Andrej Meszaros and Johnny Boychuk allowed Dale Weise to sneak behind them and pot his own second period goal.
Following the Weise goal things really tightened up for Montreal, and it seemed Boston was once again finding their way to a third period showdown with the help of the Habs goalie Carey Price. One would be expected as the Bruins go back to the drawing boast in Game 3, and Giardi potentially keeps along that roadway while Dan Roche isn't around to lay down his hammer on the league.
[Mike] Giardi works at CSNNE, while Dan Roche covers sports for CBS Boston. Roche has more power than you ever imagined.
The column that totally changed the view of readers both local and beyond is gone now, replaced by a heavily and awkwardly edited version that completely lacks the madcap charm of the original. I have to assume this was placeholder text that somehow made it online, but if so, I'm very worried about this peek into Haggerty's psyche.
Update: Haggerty explains—sort of—the column's genesis.
Bruins say 'effort isn't what they wanted' something something teens something family issues (cached version) [CSN NE]