Stop me if you've heard this one before, but FIFA has made a very strange decision, in secret, and at the moment the most compelling explanation for said decision is corruption.
FIFA announced earlier this week that they had awarded the American media rights for the 2026 World Cup to Fox (English language) and Telemundo (Spanish language). Back in 2011 Fox outbid ESPN/NBC and Telemundo outbid Univision for the American media rights to the 2018 and 2022 World Cups, so it's not altogether strange that they'd win the 2026 World Cup rights too.
What is strange is both the process by which FIFA awarded these rights, and the timing. Look at these very confused American soccer journalists.
G/O Media may get a commission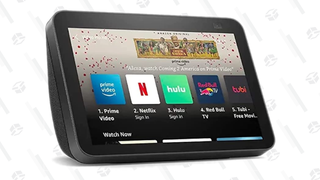 And read these corporate statements on the matter.
"We were not invited to be involved in this process. Considering the high quality presentation that ESPN demonstrated and the exposure we brought to FIFA events through all our platforms, it was surprising and disappointing to learn of this when the press release was issued."
We were not invited to participate in the FIFA process. We find it curious that FIFA would keep the #1 Hispanic media company in the U.S. out of a competitive bidding process. We find it curious that FIFA would think this is good for the growth of Soccer in the U.S.
As far as official corporate statements go, these are downright angry. I am no economist or expert on bidding, but I'd wager that FIFA would have gotten more money for the rights if they'd included all American media companies, especially when one of those American media companies is the largest media company on earth. By granting rights to Fox and Telemundo in relative secrecy, it seems that money-grubbing FIFA left piles of money sitting on the table.
The other strange thing is that the rights were awarded at this time at all. The American television rights to the 2018 and 2022 World Cups were awarded in October 2011, almost a year after FIFA announced where they would be hosted. But the host of the 2026 World Cup has yet to be chosen, and isn't expected to be until 2017. Fox and Telemundo bid on, and were awarded, these rights without even knowing where the World Cup would be played.
Now, no matter where it takes place, tens of millions of Americans will watch. But ratings—and thus how much they can charge advertisers—will be very different if it is held in Australia (where games will take place in the middle of the night) as opposed to, say, the United States.
Oh right, the United States! By 2026 it will have been 32 years since the World Cup was hosted in North America, having visited Europe (France, Germany, Russia), Asia (South Korea/Japan, Qatar), South America (Brazil), and Africa (South Africa) in the meantime. At the moment the United States is probably the favorite to host the 2026 World Cup, and it would stand to reason that all of those media companies would be willing to pay FIFA a lot more money to broadcast an American World Cup.
But if we assume that FIFA awarded the rights via this convoluted process for some reason, and not because they are 100 percent incompetent, what is that explanation? The current theory being bandied about is that this presages an announcement that the 2022 Qatar World Cup will be moved to the winter. The average summer temperature in Doha is around 95 degrees, with highs regularly hitting 120. While the Qatar bid promised the construction of stadiums with fancy air conditioning technology, FIFA put together a task force to study possible alternative dates.
When Fox bid on the 2022 World Cup rights, they assumed they were bidding on a marquee summer event, that would be up against only baseball on the American sporting calendar. Instead, if the World Cup is moved to the winter, it will be up against the NFL and NCAA football—both of which Fox itself broadcasts. There are a number of obstacles to a winter World Cup, including European leagues that don't want to either take a two month break or have dozens of players miss a quarter of the season, but Fox's concerns (and potential lawsuit?) are one of the biggest.
So did FIFA silver platter the rights to broadcast the 2026 World Cup to Fox (and Telemundo) in exchange for their silence when the Qatar World Cup is eventually moved to the winter? It seems a bit tin foil hat, but then again, tin foil hat is probably the right attitude to have when discussing FIFA.
Photo via Harold Cunningham/Getty