Ramirez embarrassed his team by jogging after a ball. His manager returned the favor, benching him immediately thereafter. Ramirez spouted off to the press about it. We've got a problem here that can't be fixed by the usual news cycle.
Ramirez fouled a ball hard off his ankle in the first inning, clearly hurting him. He ended the at-bat by not running out a double play grounder. But it was his Keystone Kops impression in the field the next inning that's drawing the attention.
Seriously, go watch the video right now. It's some of the worst lollygagging you'll see.
Manager Fredi Gonzalez confronted him in the dugout afterwards, and took him out of the game, citing a "lack of effort." Then he twisted the knife:
I told him that he needed to go inside," Gonzalez said. "We're going to run [Brian] Barden out there, who has a sprained ankle, by the way. He battled for eight innings with a sprained ankle. Probably killing him. But that's the effort we're looking at as an organization, as a team. That's that."
G/O Media may get a commission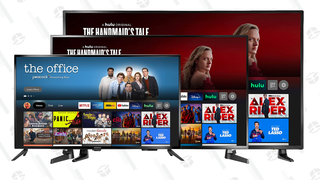 Up to 44% off
Prime Early Access - Insignia Fire TVs
And from the team's perspective, that was that. He would have been in the lineup today, and both he and Gonzalez would have forgotten about it, at least until the next time it came up.
But we, oh, we the media aren't done with this one yet. Papers and talk radio in Miami are going to be dissecting this one all day. Is Ramirez committed to this team? Does Gonzalez have the respect of his clubhouse? This'll be a big story today (though, as Brooks points out, no one gave Tiger or LeBron a hard time for their stealth injuries.) Media loves to pretend there's nothing more sacrilegious than failing to hustle in baseball. Since our home run records are tainted, hustle is the last connecting thread to the good old days!
Give it up. The Marlins aren't paying Ramirez $12 million to sprint after balls in the field. They're paying him that because he's a decent bet to lead his team in hits, home runs, RBIs, stolen bases, and name recognition. When Jeffrey Loria gives him a pendant with 394 diamonds spelling out his batting average, do you think Ramirez is worrying about his fielding prowess? Dude's a hitter. Hitters hit. I don't think Manny Ramirez had a second gear after "jog."
Now, the one thing Hanley could have done is to just shut up about this. As soon as they take the field tonight, everyone will have to scramble for a new news angle. But he's not going a great job of keeping his mouth shut. This morning, he had some choice words about his benching:
It's his team. He can do whatever he fucking wants."

"We've got a lot of people dogging it. They never pull guys."

"We've got 24 more guys out there. Hopefully, they can do the same thing I can."

When initially asked about Gonzalez's actions, Hanley answered: "Who?"

Fredi, he was told.

"Who's that?"

Your manager.

"Oh, yeah..."
So, instead of a mini-controversy, the kind that every team deals with multiple times each year, and generally lasts about 24 hours, it looks like we've got a live one here. And, of course, it's re-ignited by talking to the press about it. If you don't want a zoo, please don't feed the animals.
Oh, and Hanley finally reached the ball in the left field corner, just as I typed that last paragraph.
Hanley benched for lack of hustle [MLB.com]
Florida Marlins' Hanley Ramirez benched in loss to D'backs [Miami Herald]
Gonzalez benches Ramirez for lack of effort [South Florida Sun-Sentinel]
Hanley goes off on Fredi - Marlins have a problem [South Florida Sun-Sentinel]