AJ Daulerio's Cultural Oddsmaker runs every Friday. Email him to let him know what you think.
One of the funniest moments, in my opinion, in history happened at the ESPY Awards. In 1998, the ceremony was hosted by Norm MacDonald, post SNL, pre-Dirty Work, who spent most of the night dancing around controversial topics and went for the soft jokes until Peyton Manning won the award for college player of the year. After Peyton left the stage, MacDonald congratulated him and unleashed perhaps the gutsiest joke ever: Manning, he said, had won the Heisman Trophy which nobody could ever take away from him unless he killed "his wife and a waiter." Groans. Silence. The pan of the dumbstruck crowd (many of which would probably be considered O.J. Simpson's peers) was stunning. By his expression, it appeared that if Emmitt Smith had a gun, he would have shot Norm MacDonald right in the face at that moment — and he probably would've received a standing ovation.
Most of the time, the ESPYs don't run like this. They're a well-oiled combination of every major televised awards show, except most of its guests will be wearing Under Armour undeneath their tuxedos. (Click. Clack.) On July 15, ESPN will air the ceremony (that actually takes place on July 11) with Jimmy Kimmel and LeBron James hosting this year. One of these men is positioned to be the most recognizable face in professional sports; Kimmel, on the other hand, is known for his milquetoast talk show, inexplicably having regular sex with Sarah Silverman and indirectly launching the writing career of the floppy-haired Midwestern boy who oversees this Web site. Sure, Kimmel can be funny sometimes, but he's also been known to toe the company line when necessary. And most of this night will be centered around weak steroid jokes, a few minutes of self-deprecating fat-white-guy-hosting-a-sports-awards pap and wacky shoutouts to the athletes in the crowd. (Hey everybody, it's the Flying Tomato!)
But there are four full days in the editing room, so most of the really good jokes will be cleaned up and all of the gaffes will wiped away for Disney-fied consumption. Hey everybody, it's the Flying Tomato.
So this week, I'm putting on my Jim Valvano mask, sprucing up Dan Patrick's resume and placing odds on what will be cut from this year's ESPY Awards.
G/O Media may get a commission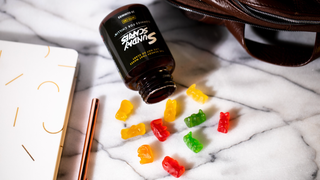 10mg CBD Gummies (22-Count)
In the midnight hour, she cried...
Protests of the Arthur Ashe Award Winner: 3/1
This year's Arthur Ashe Award winners are Trevor Ringland and Dave Cullen, two Northern Ireland fellas who somehow brought together Catholic and Protestant children and got them to play basketball without biting each other's noses off. I'm sure there are plenty of other worthy winners, all of whom thought their unifying sports team was a lock for the award. It wouldn't be surprising to see a front row full of Iraqi roller derby players or Haitian bocce ballers vocalizing their disgust. We may see them waving their flags in the front row and booing, but we will not see them being tazered by Norby's henchmen. (Ed. Note: Norby!)
Stage-Storming After the "Best Female Athlete With a Disability" Category: 5/1
This is sure to be one of the most hotly contested categories as Amy Palmeiro, Jessica Long, Stephani Victor and Esther Vergeer battle it out for both the award and the coveted Female Athlete With a Disability I'd Like to Fuck status. (FAWDILF, if you will.) Problem is, this is so emotional that one of these ladies will probably attack the stage decorations just like Timmy Commeford from Rage Against the Machine did after Limp Bizkit won the 2000 VMA for "Best Rock Video." Their legs may not work, but these gals can climb for days.
"We Are Marshall" Getting Snubbed for Best Movie: 3/1
Anytime an awards show is put in the hands of the voters, there's bound to be an upset victory. Will Ferrell's fans may come out in droves to vote for "Talladega Nights" or Vince Papale's Italian Army may completely put "Invincible" in the top slot. And you can't underestimate the power of Terrence Howard fans, as "Pride" could also sneak in this slot. (Whoop dat trick. Git 'im!). Any of these outcomes would completely screw up the plans for ESPN to have Matthew McConaghey get at least 14 minutes of screen time on this telecast. There'll be a recount and a reshooting of the awards so "We Are Marshall" can triumph and they can have McConaghey and the surviving members of the team come for the contrived emotional moment they so desperately desire. Picture McConaghey doing the "We Are!" chant the same way Jamie Foxx did his pukey Ray Charles "Heeey!"-thing after he won the Oscar.
Best Bowler Award: 1/1
Eh, I'm thinking they threw this in there because of the lucrative PBA contract ESPN signed, but I think the "Best Bowler" category probably had its own ceremony about a week ago — you know, like, how they do the Oscar's boring "Best Audio Mastering for a Short Foreign Cartoon" presentations in a remote location. Because of this, poor Norm Duke, Doug Kent and Pete Weber won't even be able to attend the ESPYs. It'll just be a taped broadcast from the ceremony that was held at a Roanoke Rodeway Inn with the award for Best Bowler being presented by ... Richard Karn.