The NHL's GMs kick off their annual meeting in Boca Raton today, and high on the agenda is what to do about the shootout—more specifically, how to stop it from happening so often.
The shootout's been around since 2005, and has provided a decisive—if never entirely welcome—winner in 13.3 percent of all regular season games. (That rate has remained remarkably consistent. Through Saturday, according to the Canadian Press, 12.57 percent of this season's games went to a shootout.) Pick your criticism: It's a skills competition, a sideshow, a coin flip, an unsatisfying end to 65 minutes of intensity. And it matters. As pointed out by the Sporting News, the Devils, with zero shootout wins, are a point behind the Caps, with eight, as they vie for a playoff spot.
The shootout doesn't appear to be going anywhere—though there's a large portion of fans who don't see what's wrong with ties—but there's growing momentum among GMs to institute some sort of rule change to at least decrease the frequency of them. And there seem to be two main options on the table.
The first is some version of three-on-three in overtime. Ken Holland's been banging this drum for a long time, and the logic is impeccable: Fewer players on the ice means more goals, and a better chance of ending the game in OT. Holland's long supported five minutes of four-on-four, followed by five minutes of three-on-three, but according to Bob McKenzie he's softened that to four minutes of each, perhaps as a compromise.
G/O Media may get a commission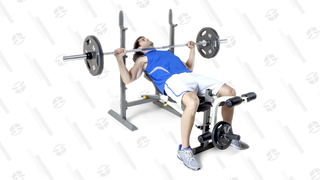 10% Off
Marcy Folding Weight Bench
Hurricanes GM Jim Rutherford believes a three-on-three segment is inevitable, and only the exact mechanics will have to be worked out.
"I think we're heading that way," Rutherford said. "It's been talked about a long time, this is not something new. I don't know how many minutes it'll end up being — the total minutes in overtime. That's really where the big discussion will come. But I think the fact that this has been discussed for a few years now, I think it's gaining some momentum going into this meeting."
Three-on-three is intense. The players are tired, each team ices just one defenseman, and just one mistake leads to a breakaway. Watch the two minutes of three-on-three the Devils and Kings played earlier this year:
It was end-to-end action, and I don't know how you can play five minutes of that without a goal being scored. (In that case, New Jersey scored the winner seconds after the return to four-on-four.)
It's not perfect. Three-on-three hockey has the potential to get ugly, with tired, desperate players grabbing and impeding and officials loathe to blow the whistle. You can make the argument that it's almost as far-removed from the game as is the shootout—but at least it's hockey.
The second option being considered by GMs is more subtle, and therefore more likely to be instituted: Switching sides for OT to make line changes more difficult. This is the pet project of Damian Echevarrieta, the league's VP of player safety and hockey ops, and he believes that forcing teams to make the long change will increase scoring by forcing players to stay out longer, and raise the risk of teams getting caught on a change.
Coyotes GM Don Maloney is a fan of this one.
"I would be a hundred per cent in support," Maloney said. "If you look at the second period and the (long) line changes how often mistakes are made, and bad line changes lead to rushes. All of a sudden you do that in overtime with four people and the tiredness of the game, I think that's a natural evolution, myself. I think that's the first step."
NHL data shows scoring is highest in the second periods of games, when the long change is in effect. There could be other factors at play, but after the USHL switched to the long change, that league saw 10 percent more games decided before the shootout.
Since no one invited me to the GM meetings, I'll have to inflict upon you my own favored solution to the problem of shootouts, one that with a single change in how points are awarded would instantly remove any incentive to play for the tie. The main problem is that shootouts are worth two points, the same as any other win. I'd love to see the NHL take a page from the CCHA, which awards three points for a regulation or overtime win, two for a shootout win, one for a shootout loss, and none for an OT loss. No more will both teams give up in the final minutes of regulation to ensure at least one point, no more turtling in overtime—and the shootout itself would be relegated to the status of a secondary competition, which is where it belongs.