The Celtics lost 116-102 to the Clippers last night, and after the game Celtics star point guard Isaiah Thomas was spotted doing that thing no team ever wants to see their star player doing: refusing to take off his uniform and staring into space.

From ESPN:
Nearly a half-hour after the final buzzer, Thomas was still dressed in full uniform with a white towel draped over his head. Thomas, who is typically one of the first players dressed and available for postgame media obligations, stared into his locker stall, and Stevens patted him on the back before departing.
Thomas eventually got dressed and made himself available to reporters, and he looked extremely pissed off while talking to them. More than that, he hinted at some issues he has with the way the team is being coached.
"We can't be experimenting in game 63," Thomas said. When he was asked to elaborate on what "experimenting" meant, he said, "Go watch film. You know what it is."
G/O Media may get a commission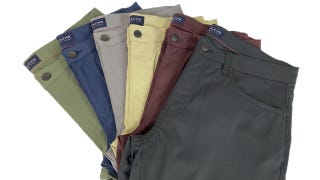 JACHS NY Fall Stretch Tech Pants
Thomas could be upset about a variety of things, but it's a safe bet that he was particularly annoyed at some of Brad Stevens's lineup decisions. The Celtics were without Al Horford and Jonas Jerebko last night, and Stevens adjusted by playing small, particularly in the second half.
Stevens leaned on Amir Johnson and Kelly Olynyk in the first half, playing both big men about 13 minutes apiece. But then he went small in the second half, giving Olynyk seven minutes and Johnson nine minutes, and that's when things unravelled for the Celtics. After building a 13-point lead early in the second half, Boston went through a brutal stretch in which they were simply overpowered by the Clippers' size. The Celtics got out-rebounded 21-11 in the second half and allowed the Clippers to shoot 62-percent from the floor while scoring 73 points.
Rebounding has been a problem for this team all year—nobody on the roster is averaging more than 6.6 rebounds per game and the team is only grabbing 75 percent of available defensive rebounds—and having Horford and Jerebko out of the lineup is a good way to turn a consistent but manageable problem into the kind of issue that leads to some postgame grousing from a star player.
As for what Stevens can do about this, the answer is pretty simple: Not much. Thomas may be right that game 63 is too late to start tinkering with lineups, but it's also too late to be hoping for the same old formula to suddenly start producing better results. Olynyk and Johnson are grabbing a combined 9.4 rebounds per game, and so it's hard to blame Stevens for wanting to go small last night. Maybe their size would have done a little more to bother Blake Griffin and DeAndre Jordan, but neither player is the bruiser this team needs. If your big guys play small, why not do some experimenting and go even smaller? I guess there's a simple answer to that question, too: It makes Isaiah Thomas mad, and not much good comes from antagonizing your best player.