Bill Simmons's website and podcast have been a bit ... Casey Wasserman-y this year, haven't they?
Wasserman, for those unfamiliar, is the 43-year-old founder and CEO of, well, Wasserman (formerly Wasserman Media Group), an L.A.-based sports agency and marketing firm. Its clients include Pepsi, Microsoft, American Express, and a number of pro athletes, including those it absorbed when it purchased famed sports agent Arn Tellem's business in 2006. Wasserman (the person) has had a higher public profile than usual of late—including a grossly fawning puff piece in USA Today that read like an advertising insert—as the spearhead of the campaign to bring the Summer Olympics to Los Angeles. Both parties deny that Wasserman or his company have any formal relationship with The Ringer, the L.A.-based sports, pop culture, and tech website founded by Simmons and funded by parties unknown. But they sure seem to be getting along pretty well!
Here are some examples of Wasserman, Wasserman-adjacent, and/or conspicuously Wasserman-friendly content on The Ringer and other Simmons-affiliated entities.
ITEM: In February, the Ringer profiled Senegalese forward Gorgui Dieng of the Minnesota Timberwolves, heralding this mostly unremarkable role player as the breakthrough signal of the rise of West African basketball. Dieng, a Wasserman client, had signed a four-year, $64-million contract extension with the Timberwolves a few months prior; his agency tweeted out a link to the article a few hours after its publication.
G/O Media may get a commission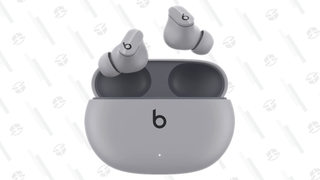 ITEM: Later that month, the Ringer published a deeply strange article by staff writer Rodger Sherman, in which he strongly criticized the modern Olympic games, describing the ruin and havoc they've brought to prior host cities and labeling them "the world's most internationally revered money-laundering scam"... and then made the case for Los Angeles as the perfect host city for the Olympics. The following two paragraphs read, in retrospect, like propaganda for the city's hosting bid:
The plan for hosting the 2024 Olympics shouldn't wreak the same havoc as Rio's. It would use a ton of preexisting venues: Staples Center; the Rose Bowl; the Los Angeles Memorial Coliseum; the Stubhub Center, where the L.A. Galaxy (and temporarily, the Chargers) play, as well as its adjoining tennis center; the basketball arenas of both USC and UCLA, as well as USC's baseball stadium; L.A.'s convention center; the Microsoft Theater; the Riviera golf course; and Long Beach Arena. There's one enormous venue that doesn't exist yet, the new Rams and Chargers stadium, but that's getting built regardless of whether the Olympics happen. While many of these will need renovations or refurbishments to host Olympic events and other infrastructure will need to be built, the city's already-existing venues should make the cost of hosting small in comparison with other cities. The most awkward part might be referring to Staples Center by a temporary, nonsponsored name, as the IOC doesn't permit buildings named after companies.

Only a few cities are capable of hosting a 25-sport mega-festival, and yet the IOC chooses to do it in a different city every four years. Los Angeles can pull it off, but when cities like Rio or Athens — or Budapest — sign up, they are dooming themselves.
ITEM: On the last day of July, after the International Olympic Committee accepted L.A.'s bid for the 2028 games, the Ringer published a bizarre and uncomfortable sequel to the above article, titled "Los Angeles Will Survive the 2028 Games Despite the Olympics' Destructive Powers." In it, Sherman recapitulates all the myriad ways in which the Olympics are an elementally dreadful proposition for their host cities—"It's an equation nobody in their right mind would want to be a part of"; "just about every other city on the planet is turned off to the prospect of hosting"; "The Olympics will probably not be good for L.A."—but somehow arrives at the conclusion that it's okay because it probably won't result in the literal destruction of Los Angeles. Neither Wasserman the guy nor Wasserman the company receive any explicit mention in either of these delightfully awkward blogs, but, taken together, they read very much like the work of a skeptical writer given a mandate to launder the city's Olympics bid at all costs or see his children fed to piranhas.
ITEM: On Aug. 1, Wasserman (the guy) and L.A. mayor Eric Garcetti appeared on Simmons's podcast to discuss the city's successful Olympics bid. Double-check for yourself if you don't want to take my word for it, but the overall tone of the discussion is celebratory, bordering on triumphal. Simmons, who once posed "I believe that billionaires should pay for their own fucking football stadiums" as the climactic take of an excruciating ad for his since-canceled HBO show, never seriously challenges Wasserman's or Garcetti's assertions that hosting the notoriously expensive and unprofitable spectacle will benefit the city of Los Angeles. (Wasserman also appeared on Simmons's podcast about a year ago, without Garcetti, to promote the city's Olympics bid.)
ITEM: Two days later, Jason Stein, founder and CEO of a "distributed media company" called Cycle Media, appeared on a "Smart Guy Friday" edition of Simmons's podcast to talk about "the evolution of branded content." Cycle Media launched this past June; Business Insider has reported that it is shopping for digital publishers to acquire. Its parent company is Wasserman.
ITEM: Last week, on Aug. 9, The Ringer published an extensive and flattering profile of basketball skills trainer and shot doctor Rob McClanahan. McClanahan worked for Wasserman from 2007 to 2013; the website for his independent sports training and consulting company, Rob Mac Basketball, prominently features glowing testimonials from Wasserman clients Russell Westbrook and Derrick Rose on its front page. The article extensively quotes Wasserman employee B.J. Armstrong; Armstrong, and by extension Wasserman, are portrayed as having foreseen the demand for offseason skills training and gotten ahead of it with the recruitment of McClanahan. McClanahan's brand of skills development is portrayed as the defining behind-the-scenes trend in high-level basketball today.
Now, to be sure, Wasserman is a big company that represents many famous athletes and has its tentacles in lots of shit; any publication that covers sports and sports business is going to cover some of the comings and goings of Wasserman's clients, and would of course cover the Olympic hosting bid. The generally enjoyable Dieng and McClanahan pieces wouldn't seem all that conspicuous on their own, but the rest of it is extremely weird. Why is Bill Simmons interviewing the founder of a two-month-old branded content company? Why does The Ringer seem to have positioned itself as the (occasionally grudging) cheerleader for L.A.'s Olympics misadventure? That's strange, right?
The Ringer publishes lots and lots of stuff, much of it good, and plenty of it about things other than Casey Wasserman and his business ventures. Perhaps Simmons is so firmly ensconced in the orbit of rich California sports assholes now that Wasserman, a fellow rich California sports asshole, functions as one of his assignment editors just by virtue of them talking to each other a lot. That's not entirely implausible! Remember Simmons's inexplicable fascination with former NFL personnel doofus Michael Lombardi? That's a friendship that delivers mindbogglingly terrible football blogs to this very day. But it still all seems kind of odd.

Know anything? Get at our tips line.