The Warriors are plenty easy to dislike. There's Draymond. There's the techno-libertarian scum that's (unfairly) come to represent them. There are the moving screens. There's Kevin Draper. There's all the winning, which, in an NBA postseason that really hasn't had more than a handful of entertaining games, is getting boring. But for all this hateability, it takes someone remarkably far up his own ass to argue that this isn't a great team. And here he is!
Jokic? Embiid? The NBA MVP is obvious... right? | Keep it a Buck(et)
Not to pick on Prisco (OK, definitely to pick on Prisco), since this is a disturbingly common argument against the Warriors being "worthy" of their all-time best record. It's an implication that Golden State is somehow winning cheap, that they can't beat teams the legitimate way, so they resort to the hack of, um...shooting the basketball well? As if they've discovered the unmissable corner three in Double Dribble for NES.
The two counter-arguments to this feel pretty strong. The first is a tautology, that denigrating them for being good at jumpers is actually denigrating their greatness because they're better at jumpers than any team, ever. The second is that it's false. They've got a killer defense, and quality rim protection, and even their death lineup succeeds not only because of perimeter shooting but because of speed and spacing and switching. The Warriors have seen their shooting desert them more than nine times this year, obviously, and yet only had nine losses because they've been able to pick up the slack.
G/O Media may get a commission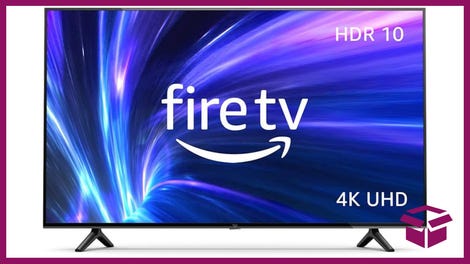 42% Off
Amazon Fire TV 50" 4K Smart TV
Sometimes a few things desert you at once, though. Sometimes, very rarely, the shots don't fall and the defense sags and they can't hang on to the ball and they come out immediately and obviously toast.
"We weren't ready to play," said Warriors coach Steve Kerr. "Obviously they just punched us in the mouth right in the beginning. We're turning the ball over like crazy.

"Soft. We were extremely soft to start the game and then they set the tone with their intensity. I think it was 9-0 and we had to call a timeout. Steph got beat backdoor, couple of turnovers. Just a horrible way to start."
From one angle, it might be more efficient to get these myriad failings out of the way in a single game—better for the mind and legs to be up 2-1 having barfed away one game while cruising in the other two than to be up 2-1 having fought down to the buzzer in all three.
Any maybe this isn't an accident; three of Golden State's six losses this postseason have come by 24 points or more. In the grind of their regular season, individual players certainly took off-nights while in uniform, and these blowout losses have felt like team-wide off-nights. Another point: the Warriors have lost every Game 3 this year, and two of four last season. My unproven theory is that an inordinate amount of 4-1 series involve the losing team winning Game 3, that first game at home, when emotion and desperation are at their highest. Aside from the Thunder series, the Warriors have been able to drop Game 3 without feeling like they're in any real danger.
If there's any cause for alarm this time, it's that the Cavaliers' perimeter D seems consistently capable, and Klay Thompson and Steph Curry were once again kept in check. (The two have combined for 84 points through three games.) Curry, especially, has been quiet this series. In the second quarter, presumably as an attempt to shake things up, Steve Kerr took Curry out of the game. It was for just 28 seconds, but microphones caught Kerr asking Curry if he's OK.
"I'm fine," Curry told reporters after the game, denying that his knee and/or ankle are bothering him. And maybe he is! Or maybe he's closer to the "70 percent" that was reported at the low point of the OKC series. It shouldn't, in the end, matter. The Warriors have too many good players who are good at too many things for everything to go wrong three more times in the next four games. (The converse is true. If the Cavs could shoot like that on demand, they'd have at least 73 wins of their own.)
Cleveland stole two games from a vastly superior team last year. They've gotten one so far this year, and hell, maybe they'll get another. But let's not let this one game, the commonest in-series momentum swing there is, distract from the fact that the Cavs are relatively butt and the Warriors are objectively all-time greats. This is an execution deferred, not one commuted.