Another week, another fast and furious beginning. We've got nine games kicking off in just a few minutes, so for those of you who shelled out for RedZone, well played. For the rest of us, Game Breaks, sponsored by State Farm Or Whatever!
New England at St. Louis (CBS): I imagine Londoners will be quite torn on this one. On one side of the field—it is a field—you have a team named in honor of the upstart American rascals that told the King of England to go fuck himself in the most eloquent of ways—instead of say, on a napkin in all abbreviations—hailing from one of the more vocal colonies in the rebellion. On the other side, a team from a city named in honor of a French King. Maybe they'll just go with The Meteor.
Carolina at Chicago (FOX): The Panthers are in a state that could generously be described as "of flux." Or, more realistically, "of garbage," if "state of garbage" were a phrase people commonly used. The team just fired its GM. The quarterback leads the team in rushing yards, turnovers, sad faces and Monday-morning-paternalism. It's a telling sign just how far the last son of Krypton has fallen when you're playing Jay Cutler and all the media wants to talk about is the immaturity of the other quarterback. But, maybe there's Cam's hope. All he needs to do is knock up some C-list reality show has-been and Rick Reilly will be falling all over himself to make some law of gravitation puns on whatever that Monday Night Football post-game served by Sabrett is called.
San Diego at Cleveland (CBS): Scott Fujita will be an honorary captain after he was placed on injured reserve related to on-going neck issues and it could be the end of the road for the veteran linebacker. Luckily for the Browns, they are young, and they're this close to putting it all together.
This season for the Browns has been a variety of injuries and missed opportunities. What do you chalk that up to? Youth? Bad Luck?
G/O Media may get a commission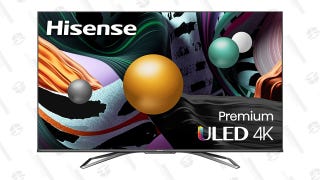 Save $350
Hisense ULED 65" Android 4K HDR Smart TV
Cleveland?
With youth, comes growing pains. The Browns are one of the youngest teams in the NFL and are reminded each and every week.
For serious?
"It's a good sign for a young team like us, It means we are in ballgames and we are not getting blown out. we are not a gimme. No team has come in here and thought we are going to lay down," said Weeden.
There you go, Cleveland. "Sure, we're stinking out the joint, but it's not blowout-level stinking out the joint."
Seattle at Detroit (FOX): As so often happens, the rookie quarterback gets all the attention, but it's the defense and Marshawn Lynch (and replacement referees, natch) that have the Seattle above .500. Lynch has the third most yards in the league with 652 and the defense is giving up 15 points per game. Those two things and a quarterback not being god-awful is a recipe for a 4-3 record. The Lions, are too good on offense to be this inept for this long, so maybe Seattle starts giving up a few more points today.
Miami at New York Jets (CBS): There is some cooked up controversy over Reggie Bush being happy Darrelle Revis got hurt because Rex Ryan said something about hot sauce and that is apparently Jets defensive playbook code for "injure Reggie Bush." The lesson here is to never say a bad word about Darrelle Revis when Rex Ryan is around because Revis is the talented cornerback son he never had. I believe Revis could spit in Buddy Ryan's eye and Rex would think it's because Revis noticed Buddy's eye was red and itchy and there was no Clear Eyes around. Aaron Maybin said the Jets would be looking to knock out Bush, "legally," so if you're looking for some nonsensical drama between a couple mediocre-to-not-good football teams, here's your jackpot.
Indianapolis At Tennessee (CBS): If you are a psychopath fan of either the Colts or the Titans, you can find this game on CBS.
Atlanta at Philadelphia (FOX): Atlanta, it would seem, is what the Eagles aspire to be—not counting that whole undefeated thing, obviously. Michael Turner, the Falcons wrecking ball running back, carries the ball a mere 14 times a game and Atlanta somehow finds success. Sure the Falcons play a high-wire-come-from-behind act, but they are still in a position to even do that and Andy Reid should look and point to Atlanta, squealing "See?!" Of course, Matt Ryan doesn't turn the ball over every other possession and look like he's one hit away from becoming a distressed marionette, only held together by those annoying twisty things you get on the Store Brand version of hamburger rolls. So, maybe Andy should still try to get McCoy the ball.
Washington at Pittsburgh (FOX): I just was not ready for this. Not ready at all:
In a highly anticipated and touted game against the Washington Redskins on Sunday, the Pittsburgh Steelers will be facing the top offense of the Washington Redskins at Heinz Field.
"Highly anticipated," "touted" and "top offense" are things I did not think I would be hearing alongside "the Washington Redskins" for, like, three years. Maybe two. But here we are. A long dormant and terrible fanbase will soon rise and resume its rightful place among the Steelers and Cowboys fans of the world. It's no coincidence that the worst storm in the history of the world is all of a sudden bearing down on the mid-atlantic.
Jacksonville at Green Bay (FOX): Blaine Gabbert will be playing today with a torn labrum in his non-throwing shoulder. His teammates should rally around the effort and make a pact to not get embarrassed in a 40-point rout. Before the torn labrum, the Jacksonville offense averaged 144 yard passing which is the worst in the league. So torn labrum or not, there's nowhere to go but up. Maurice Jones-Drew will not play because of a sprained foot. This...this will not be a good game.
What You're Watching
Go here to see if you're getting screwed this week.
Via The 506. CBS:

FOX:

Image via Jim Cooke