Welcome to the Deadspin 25, a college football poll that strives to be more democratic and less useless than every other preseason poll. Leading up to the college football season kickoff, we will give you previews of the 25 teams that you, the readers, voted to be most worthy of writing about. Now, No. 13 Miami.

It's been said many times by many people, but I must admit it, too: The U is back.
Under the leadership of former Georgia coach Mark Richt, 2017 marked the first time in 14 seasons that Miami hit double-digits in the win column. The Hurricanes looked like they were about to run the damn table before the end of November arrived; with it came a puzzling loss to an average Pittsburgh team that preceded a scrubbing at the hands of Clemson in the ACC title game and a 10-point loss to Wisconsin in the Orange Bowl.
Any three-game skid to end the season will leave a team with regrets, but 2017 was nothing but a success for Richt and The U, because for the first time in a long, long time, Miami fun to watch, and the Hurricanes knew they were fun to watch. Through a combination of sheer talent, some lucky breaks, and one absolutely genius motivational tool, Miami was a swaggering, bullying force in the ACC Coastal and nation at-large (see: the 41-8 thumping they gave Notre Dame.) Over the course of 10 games, the defense transformed from an underperforming 2016 bunch into one of the loudest, most efficient, sticky-fingered defenses in all of college football.
While the performance was pitched as a turnaround, it was really just Miami taking the next step as a program, back to a place where it had previously grown too comfortable. That didn't make it any less fun to watch Paul Finebaum's takes blow up in his face, of course.
The biggest shift came on defense, where coordinator Manny Diaz was hired by Richt to fix what had become an inconsistent and sloppy squad. Diaz's first defense in 2016 was adept at keeping teams out of the end zone, holding opponents to 18.5 points per game. By that measure, the Hurricanes actually regressed last year, when they allowed teams to average 21.0 points.
G/O Media may get a commission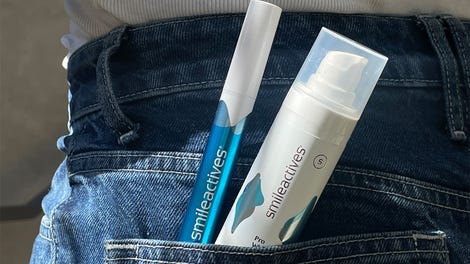 58% off
Whitening Powerhouse Pen & Gel Duo
But in setting up their offense to score at crucial points in the game, there was little doubt that this bunch was an improvement. Over the course of a single year, Miami went from forcing 19 turnovers to 31, hence the spotlight granted to the turnover chain all of last year.
Though the chain regularly went to the corners and safeties, the big men up front did their part by both being exceptionally talented at getting to the quarterback and knowing just when to paw at the ball to send it to the ground—the Hurricanes finished the year with 44 sacks and 14 forced fumbles. This year's bunch will be talented and capable, but the faces look very different. Standout tackles Kendrick Norton and R.J. McIntosh took their talents to the NFL, while ends Trent Harris and Chad Thomas and tackle Anthony Moten were all lost to graduation.
Senior Gerald Willis and junior Pat Bethel will step up at tackle—neither were particularly impressive during the spring, with Bethel having to fight for his starting spot. They have a lot to live up to in a defense that prides itself on being aggressive and will be joined on the ends by Joe Jackson and Jonathan Garvin. That said, look for defensive end Demetrius Jackson to push Garvin, while Illinois graduate transfer Tito Odenigbo and sophomore Jon Ford creep up right behind Bethel. Behind them, the core of starting linebackers from a year ago is back, with Shaquille Quarterman, Michael Pinckney, and Zach McCloud ready to pick up where they left off.
Safeties Jaquan Johnson and Sheldrick Redwine are back after great individual seasons—Redwine was good for six passes defended and two picks while Johnson tied for the team lead in interceptions with four. They'll pair with standout corner Michael Jackson and corner Gilbert Frierson, while Trajan Bandy holds down the nickelback spot. This group is hungry, but last year's bunch set the bar high. Also, just as a note, it fucking sucks how randomly vicious this sport is, because the fact that Miami's star corner Malek Young will never play football again because of a neck injury suffered in the Orange Bowl is just plain depressing.
On the other side of the ball, the offensive core that was so good through 10 games last year is mostly intact, including quarterback Malik Rosier. The offensive core that was so bad through the final three games is also mostly intact. How Rosier plays this year will determine whether or not the Canes are a playoff team. If the late-season ghosts that doomed the Hurricanes and their playoff dreams can stay in 2017, Miami will be just fine. If not, well, it's going to get messy.
Rosier had a wonderful year for his first year as the full-time starter—he even played the hero against the vile Florida State—but his performances in those final three losses were dreadful. With injuries ravaging the receivers, Rosier struggled to do much of anything, combining to complete just 44.9 percent of his passes and throwing five picks to three touchdowns. The reason I'm focusing on this is because Miami noticed, too.
This spring has been a semi-competition, mainly between Rosier and true freshman Jarren Williams, who Miami got to flip from Kentucky late in the class of 2018 recruiting session. It was not a competition in the sense that Williams could have jumped him before the start of the season, but one that was carried out so that Rosier understands there's a man behind him if he starts playing like he did last winter. Williams enrolled early to be a part of spring practices, and while he's currently sitting with an abdominal strain, the Hurricanes are expecting him to be their guy by 2019.
The receivers on this team are going to be among the most explosive in the nation (again, if Rosier shows up.) Ahmmon Richards is poised to be the star of the bunch and is back after rehabbing from a nagging hamstring injury that popped up a couple times last year. He'll line up alongside 6-foot-5 redshirt junior Lawrence Cager and sophomore slot receivers Jeff Thomas and Mike Harley, both of whom are speedy as they come.
The running back position will be held down by Travis Homer. In his first full year of action, the then-sophomore carried the load for the running game. Homer ran for 966 yards, managing 5.9 yard per rush. A shifty runner with the bulk to shed linebackers, getting Homer back will go a long way for Rosier. It'll also help that Homer enters the season as the far-and-away No. 1 back, though he'll have DeeJay Dallas to provide backup when he needs a breather. Dallas, a former receiver, packed on weight and reportedly had a great spring—as the loss of Mark Walton early in 2017 showed, quality depth at this position is a must.
A Guy To Know
If there is one thing I love more than anything else in the sport of football, it's a great safety. The position doesn't necessarily pull stars towards it, as it requires you to be able to do a little bit of everything—it makes sense that a coverage corner or a hit-sticking linebacker might take the spotlight. But man, when a safety sticks a slot receiver across the middle, or comes sprinting through the line to take down a running back on a sweep, that is my shit. And so it makes sense that the play of Jaquan Johnson would be, too.
Johnson is a do-everything Guy To Know. Last year, he led Miami in tackles with 96, interceptions with four, and forced fumbles with three. He took one of those picks to the house and recovered two of his fumbles. Returning for his senior season when he could be in an NFL training camp right now, Johnson's knowledge of ACC offenses and his natural nose for the ball make him one of the most dangerous safeties in the sport. If you're like me, this year is going to be very fun to watch.
The Assistant Coach Tweet Of The Day

For a safeties coach, this is honestly a pretty good pitch.
Can They Make The Playoff?
With this schedule, yes, Miami can definitely make the playoff. The Hurricanes have a date with LSU in Arlington to kick the season of, then the next toughest matchup comes five weeks later, when the Hurricanes get Florida State at home. That's a lot of time for Rosier to get any leftover yips out of his system. Consecutive road trips to Virginia and Boston College won't be easy, but running the table with this schedule is doable for a team with talent like Miami. Again, the key to this season will be which Rosier shows up, but unless there are unexpected backslides on defense, the Hurricanes should absolutely plan on meeting Clemson in the conference championship game come December.
Schedule
Sept. 2: LSU (Neutral field)
Sept. 8: Savannah State
Sept. 15: @ Toledo
Sept. 22: FIU
Sept. 29: UNC
Oct. 6: Florida State
Oct. 13: @ Virginia
Oct. 26: @ Boston College
Nov. 3: Duke
Nov. 10: @ Georgia Tech
Nov. 17: @ Virginia Tech
Nov. 24: Pitt