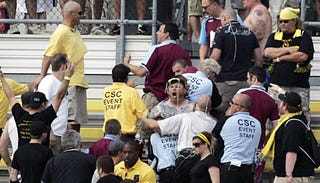 A friendly? I think not. It was only a matter of time before British soccer hooligans met MLS fans on the field of battle. Columbus, Ohio, represent! There may be paperboys, cheerful mailmen and elderly women tending flower gardens, but they're still the mean streets, yo. But now, let us focus on the screaming man in the middle of this photo. Wow.
Are those tattoos? And what's dripping from his head? Do not make soccer fan angry ... you wouldn't like him when he's angry.
A halftime brawl between more than 100 fans marred an exhibition match Sunday between West Ham United of the English Premier League club and the MLS' Columbus Crew. The fights, which overshadowed West Ham United's 3-1 win, began when a handful of West Ham supporters, some wearing the team's claret and blue colors, entered the northeast corner of the stadium where the Crew's most boisterous supporters typically gather.

Crew supporters began directing chants toward the rival fans, and fights quickly broke out between more than 100 Crew fans and at least 30 West Ham fans. Columbus police officers and Crew Stadium security staff eventually separated the groups.
This is the only way soccer is going to catch on in the U.S.: Having Europe export their hooligans. Perhaps we could work out some sort of lend-lease deal?
Crew-West Ham United Friendly Marred By Brawl Between Fans [USA Today]