In Game 1 of the NBA Finals, neither the Warriors nor Cavaliers were able to perform for more than a couple of minutes at a time. That can partially be attributed to the rust from a week off, but each team also executed a successful defensive scheme. The Warriors didn't double LeBron James, letting him get his 44 but daring anybody else to beat them, and they couldn't. The Cavaliers got back after missed shots and prevented the Warriors from running off of made baskets, forcing them to score in the half-court.

And then we got to overtime. Curiously, the Warriors started backup center Festus Ezeli, and left him in the game for almost two minutes. Afterwards Steve Kerr explained that Ezeli was in the game solely to win the tip—he didn't—but there were no stoppages of play to pull him out. Finally, after the two teams traded some missed baskets, Stephen Curry drew a foul on Tristan Thompson with 3:16 left, and Ezeli came out for Harrison Barnes. Curry, Klay Thompson, Andre Iguodala, Barnes, and Draymond Green were in the game.
All season long, going small has been the Warriors not-so-secret weapon. They don't bust it out for shits and giggles—their traditional lineup is good enough most of the time—but when they really wanted to win a game. Needless to say, they really wanted to win this game.
Longtime Warriors fans grew up watching a lot of smallball, as Don Nelson was pathologically devoted to it, and for 20 years the best center they saw was Andris Biedrins. (Or was it Rony Seikaly?) Smallball has always been about sacrificing defense for offense—giving up necessary size in the paint to run circles around lumbering oafs on the offensive end—and hoping for a net benefit. Al Harrington couldn't guard centers for long, but maybe he'd hit a couple of threes to make it worthwhile.
But this version of the Warriors plays smallball better than just about any team ever has, and it works because of Draymond Green. Look, I'm a Warriors fan and have spent the entire season stanning for Green, but that doesn't make it untrue. Despite being much closer in size to a small forward than a center, Green really frustrates guys with half a foot and 40 pounds on him. Their eyes light up and they try backing him down, only to find that he is strong with a low center of gravity, and rebounds well too.
G/O Media may get a commission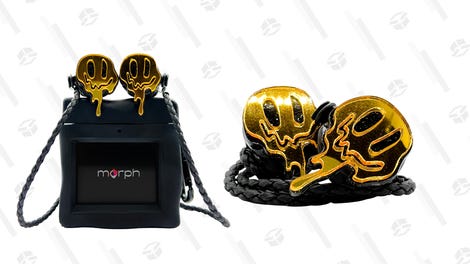 morph audio
Morph Earphones
The reason the Warriors's smallball works so well, however, is really because of how it affects pace. After an up-and-down opening to the game, things slowed as the Cavs prevented fastbreak opportunities and ran iso after iso. That's not the speed the Warriors want to play at, and going small with Green at center is a surefire way to turn the game incredibly frantic.
To help Green out—or Barnes, as he's an undersized four in the scheme—the Warriors collapse on anybody backing down in the paint, swarming and swiping at the ball, causing turnovers. But they're not collapsing with their heads cut off, so when the suddenly crowded offensive player tries to kick the ball out, the long-limbed Warriors are already recovering, sometimes tipping passes, and usually getting back in time. And when they don't get back in time it invites a seemingly wide-open drive ... into a defense that as already mentioned is great at collapsing and swiping at the ball.
Going small creates this disastrous feedback loop for the Warriors's opponents. They attack early because they see a weakness that is actually a mirage, throw too many people at the boards and get beat in transition, or just turn the ball over. The Warriors run down and jack a shot, any shot, and the cycle begins anew. The fans at Oracle feed off this chaos, growing louder and louder, encouraging faster and faster and dumber and dumber play.
When Barnes came in for Ezeli, David Blatt left Timofey Mozgov in the game. With Mozgov, LeBron James, and Tristan Thompson, the Cavaliers had the three biggest players on the court. Yet still, James got suckered into rifling a pass into a seemingly open lane, only for a deflection to result in Mozgov attempting a reverse layup:
On the next possession Curry drew another foul, and Blatt pulled Mozgov for sharpshooter James Jones. I honestly can't decide if I think it was the right move or not. You leave Mozgov in, and he's forced to chase somebody to the three-point line. Take Mozgov out, and the paint is left wide open. It's not so much a choice as a Death Or Ooga Booga joke.
In the final two minutes of the game, the Warriors generated two turnovers. One came when LeBron James held onto the ball for two long, and Curry snuck in for a steal. The other came when the Cavs tried to free up James Jones by having Tristan Thompson set a backscreen for him. Instead of fighting through it, Harrison Barnes simply switched with Draymond Green, and Green swiped the ball away. The Warriors switch, collapse, and rotate well no matter who is in the game, but it gets turned up several notches when they play small. They become this amorphous blob of a defense in perpetual motion, forming and reforming in whatever contour necessary to snuff out the threat.
The Warriors can't play small forever. It is too exhausting to sprint up and down the court, being repeatedly hammered by larger players, and eventually Green will foul out. (That being said, he did play the final 9:28 of the game with five fouls.) But when the Warriors need to win, and win in a hurry, they make a single substitution, and all of a sudden begin to conduct basketball's version of guerilla warfare. Tonight it won them a three-minute battle, and that was enough to win the game.

---
E-mail or gchat the author: kevin.draper@deadspin.com | PGP key + fingerprint | Photo via Getty