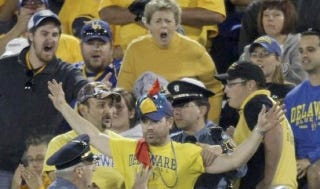 There's some trouble a'brewing down in Newark, Del., home of the mighty University of Delaware Fighting Blue Hens. Seems as if during Saturday night's game against William & Mary, some university lawmen strode all the way up to Row Q of Section J to escort trumpet-tooter Matt Delaney from the premises.
This has drawn attention for a few reasons: 1) Delaney, a 2003 grad, has been using his trumpet skills to spur spirit at Blue Hens games for 15 years, 2) after he got handcuffed, about 200 fans left in protest, 3) a 60-year-old fan ended up getting arrested for chest-bumping one of the cops and 4) the hubbub has been translated on message boards and in news stories as a case study in "how UD football games in recent years have become less appealing as administrators have made the experience more expensive and less fun."
As explained by a Wilmington News Journal story:
On Monday, UD released a statement that read: "An assessment of the activities surrounding the fan's removal from the stadium, including a review of videotape footage, was conducted by senior university officials. Based on this assessment, the actions of stadium public safety personnel were appropriate."

As for Delaney's removal, Delaware cited NCAA, Colonial Athletic Association and Delaware Stadium Fan Guide prohibitions on artificial noisemakers.

However, those rules have been applied inconsistently, several fans said. Until this year, UD sold plastic horns at games. Students have, at times, been given "thundersticks," which are elongated, inflatable plastic tubes that, when smacked together, create a considerable din.
That could easily be pigeonholed as a "they didn't have any problem with noise from products they sold or distributed" argument. It's probably a little deeper than that.
Season-ticket sales/attendance have dropped while additional ticket and parking fees have risen. It seems like they're cluelessly trying to class up a joint that probably didn't need much classing up in the first place. In the process, they're slapping up goofy new rules that end up smacking longtime supporters in the face.
Like Delaney, who — let's face it — if he's the type of guy who brings his band-guy trumpet to the stadium for years on end, does not constitute a threat to anyone but himself. This, even if he passed his instrument through the section rather than give it to cops to whom he wouldn't give his name at first.
As far as Delaney is concerned, their point was taken as Blue Hen Stadium will be short one trumpet henceforth. Here's his variation of the Bartman-toned apology:
"There was no intention for anyone to stir any trouble. The goal was to support the team in the game, as has been done for many years in our section. ... It was very unfortunate from my point of view to see so much taken away from the University of Delaware's excellent play on the field. I've had a terrible few days thinking about what happened and anything I may have done that led to that. That doesn't sit well with me."
Whether intentional or not, the trouble's been stirred. Fans on GoHens.net are contemplating protests ranging from whistles and/or kazoos to silence at this Saturday's game. Because nothing screams Fight the Power like a few hundred kazoos.
For UD fans, games now a no-fun zone [News Journal] (H/T William Bretzger photo)
UDPD steps up tailgate regulation [The Review]
Trumpetman ouster unsettles rankled Hens fans [U. Talk]
UD Students stay away from FB games for this reason! [GoHens]