There was a time, not that long ago, when the Jets were on top of the world and area fans were seriously considering an all-Jersey Super Bowl. Boy, those were the days.
Now, Eric Mangini has been issued an ultimatum by both New York papers. (Maybe they should have called each other last night.) Win, or get lost. But what about that 8-3 record? What about the rebirth of Gentleman Brett Favre? They beat the Patriots and the Titans on the road! I guess they aren't excited about the fact that the Jets have to beat the Dolphins and the quarterback they ran out of town (because, admittedly, he was useless) and get a ton of help from some other teams, just for the opportunity to lose a first-round playoff game. It's funny how those things work out.
But Mangini is not the only one hoping to win some job security this weekend. Andy Reid, Wade Phillips, Norv Turner, and Lovie Smith would all rest a little easier if their teams could show some last-minute life, although all four could keep their jobs anyway despite supremely disappointing seasons. It's also funny how some people—like that annoying secretary you hate—never seem to get fired, no matter how much they screw up.
Then there are the coaches who have already failed. A single win can't save them at this point, but the continued ineptitude of their organizations may leave them right back where they started next next fall. Guys like Romeo Crennel, Rod Marinelli, Jim Haslett, Herm Edwards, Marvin Lewis, and whoever Al Davis has running his freak show at the moment. Will any of them survive for 2009? Will someone unexpected join them on the bread lines? Will I ever stop asking questions I can't possibly answer?
There is only one request. Please keep Mike Singletary on in San Francisco. He may or may not be the guy to turn this team around next year, but at least he keeps folks like us entertained.
G/O Media may get a commission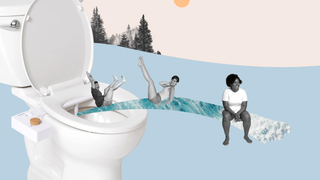 17% off
Tushy 3.0 Warm Water Spa Bidet Attachment
Bondy: Near time to Jet-tison Mangini [NY Daily News]
JETS GOTTA WIN OR IT'S TIME TO DEEP-SIX ERIC [NY Post]
Raiders' coach wants to stay [Sac Bee]
Even if Dallas Cowboys make playoffs, Wade should be gone [Star-Telegram]
Making a case for Reid to stay as Eagles' GM [Philly Inquirer]
NFL Playoff Scenarios [Yahoo]