There are two sides to every story and in the interest of fairness (and comedy) we will present as many as we can get our hands on when it comes to the Dallas-Denver spitting contest.
A Dallas season ticket holder known only as Peggy—who I'm assuming is one of ladies picture here—was sitting behind La La Vazquez at Game 4 and refutes her claims of racist taunts from Maverick fans. Peggy claims that the whole ruckus started when La La's "bodyguard" turned around and insulted her first. Then the rest of the fans in the vicinity jumped to Peggy's defense and the whole thing escalated from there.
She said the only time any Mavs fan touched Vazquez was when a girl in Peggy's group accidentally brushed against her while reaching for a purse underneath her seat.

"Don't you ever (beep) touch me again!" Vazquez responded, according to Peggy, who added that Vazquez also flicked soda on them at that point.

"If that would have been any other fan, they would have been tossed out long before that girl was," Peggy said. "That little girl needed attention. Apparently, she's a has-been whatever."
G/O Media may get a commission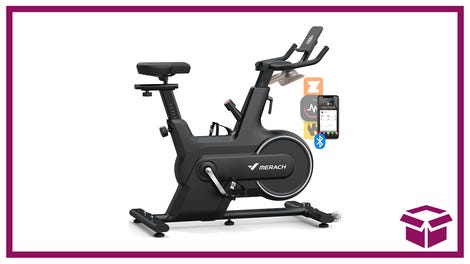 14% off + Coupon
Merach Indoor Cycling Bike
See? Totally classy. Peggy also claims she was at Game 2 in Denver and had a pleasant chat with Lydia Moore. Kenyon Martin's mom is one of the good ones ... Nuggets fans, I mean.
Game 5 is tonight back in Colorado, but Mark Cuban will not be there because he has urgent business in Las Vegas. Will Peggy take his place? Let's hope so, because this whole series is cursed. There's the Dirk "unpleasantness," Chris Anderson's food poisoning and Antoine Wright had $120,000 worth of jewelry stolen from his home. I don't own $120,000 worth of anything, so I know how that must feel.
MFFL Peggy: LaLa Vazquez and her bodyguard were the instigators [Dallas Mavericks Blog]
Denver Nuggets Upset With Treatment From Dallas Mavericks Fans [CBS 11]
Dallas Mavericks' Antoine Wright reports nearly $120,000 in jewelry stolen from condo [Dallas Morning News]
Nuggets Family Members Probably Aren't Accepting That Apology Any Time Soon
You Can't Play With My La La