So the NFL Free Agent Season officially kicked off today, and there was much rejoicing. But the really big news (for me, anyway) is still far way, apparently: Brett Favre is still in limbo, and Randy Moss isn't talking (although speculation is he's heading to the Panthers). Until there's news on either of those fronts — or the 49ers sign Tom Brady — please do not disturb me. I'll be in my Indiana bucket.
While even a humiliating loss in Super Bowl XLII might not prevent Patriots fans from remaining "chest-proud," let's not get delusional in the thought that Moss can't be tempted to go elsewhere. Any perceived allegiance to a team quickly goes away with the phrase, guaranteed money. How badly, for instance, would the Carolina Panthers break the bank for a Steve Smith-Moss combo? One NFL insider tells the Charlotte Observer: "Carolina has freed up a lot of cap space with all the guys they've cut recently. Suppose they offer Randy a 6-year, $60 million deal with $25 million guaranteed? Now, if the difference is one or two million, Moss probably gives the Patriots a discount and goes back. But $5 million extra guaranteed? These guys have egos. And he knows that Carolina has been working aggressively to get better. Who's to say he doesn't make the move?"
Other stuff of interest:
• Jonathan Vilma to the Saints. New Orleans traded an undisclosed draft pick for the Jets' middle linebacker, who had 118 tackles last season and was named AP NFL Defensive Rookie of the Year in 2004. Ah, that many tackles will be easy to make up. Meanwhile, Carolina dealt DT Kris Jenkins to the Jets for third- and fifth-round draft picks this year. Deal was for $35 million with $20 million guaranteed.
• Asante Samuel about to sign with Eagles. It'll probably happen just as you're reading this. Sorry, Patriots fans. At least Tedy Bruschi is back!
• Redskins love them some Todd Collins. Washington agreed to terms today with the quarterback, who is expected to be a backup to Jason Campbell.
G/O Media may get a commission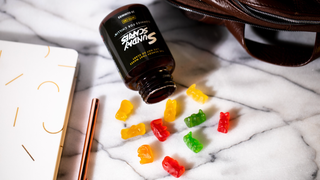 10mg CBD Gummies (22-Count)
• It's hard to believe that the Rams still had a player from their Los Angeles days, but they did: Until today. For the second time in three years, the team cut wide receiver Isaac Bruce. I smell a move to the 49ers, where new offensive coordinator Mike Martz will be waiting for him with a warm smile and a muffin basket.
Overall, it's a seller's market out there, kids. Not a lot to choose from I'm afraid. Unless you're looking for pitching.
Jets Trade Vilma, Acquire All-Pro DT Jenkins [MSNBC]
NFL Roundup: Free Agent Season Kicks Off [USA Today]
Is There A Catch With Moss? [Boston Globe]