Unless you're a huge UAB men's golf fan, chances are you didn't know who Paul Dunne was before this weekend. So let's get caught up to speed.
What?
Paul Dunne. He's an Irish amateur golfer who just graduated UAB in the spring and is now tied for 8th at -12 in the final day of play at The Open. Cool stuff, right?
No, I meant, what is UAB?
Oh. They're the college in Alabama that isn't Alabama or Auburn and also killed off its football program before bringing it back.
G/O Media may get a commission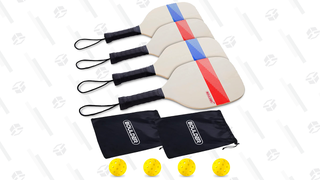 It's Pickleball
Pickleball Sets
Okay, cool. So why should I care about Dunne?
Because after heading into Saturday at -6, Dunne became the first amateur golfer since 1927 to lead The Open through three rounds. Although Dunne did finish tied for 5th in the NCAA Championships this year, the field here is much better, which goes to show just how bonkers the guy has been playing. Matter of fact, let's list all the golfers he's leading that you'd know: Martin Kaymar, Phil Mickelson, Jim Furyk, Rickie Fowler, Webb Simpson, Hunter Mahan, Dustin Johnson, Lee Westwood, Ernie Els, Jason Dufner ...
Hey, I know some of those guys!
Exactly. They're all really good at golf—and rich as a result—and he's beating them.
Wait, so if he's an amateur, he can't make money, right?
Right. Which is stupid and sucks for him, because the purse for The Open is $1.8 million. Now, at t-10th, the chances of Dunne coming back to snatch the title aren't all that outrageous, as he's currently separated from leader Zach Johnson by just three strokes. The fact that he fell from first isn't all that surprising, but the dude still shot a 66 on Sunday, which was three strokes better than each of his first two rounds. So, at least for now, it seems like Dunne's just getting better.
So should I cheer for him?
Sure. On top of being an amateur, Dunne also represents the Republic of Ireland—which is different from Northern Ireland, where Rory McIlroy is from. If he wins, he'll be just their second-ever golfer to win The Open, as Padraig Harrington won it in both 2007 and 2008. All in all, Dunne seems like a pretty chill kid and if you watch golf today, you should at least be pumped when he does stuff like the putt in this video:
He seems like a nice guy—I'll cheer for him. Hell, I might even watch golf today. Anything else I should know?
There you go. Here's another thing: His caddy is his college coach, which is cool in and of itself, and, oh yeah, he's only 22 and has never made it to the final round of a major. So strap in.
Photo: Getty