Tomorrow at 11am EDT, the IOC will announce the host city for the 2018 Winter Olympics. Seeing as how those Games may come around before we ever see the NBA or NFL again, I thought it would be instructive to examine each prospective host's bid. And I'll be doing this the right way: with no research whatsoever.
Annecy, France: This is clearly one of those picturesque little villages in the Alps that only rich people know of. "Oh, we summered in Annecy last year. You haven't been?" This seems perfect for the IOC, as Winter Olympic sports are all rich person sports. You do not become proficient in ski jumping without owning A)skis and B) a mountain. Perhaps talented kids from a hardscrabble neighborhood can become proficient with a rifle, but rarely does that translate to biathlon skills. And Doug E. Doug led us astray: there are actually very few Caribbean bobsled teams.
I would like to know what sets Annecy apart from Grenoble, Chamonix and Albertville, the other picturesque little villages in the Alps that have hosted past Olympics. Are the chalets slightly more lux? The chairlifts get some extra km/h? The fine powder extra fine, the granules so perfectly granular that only Annecy is appropriate to host the 2018 games?
Also, the name Annecy reminds me of when I played Anansi the Spider in my 2nd grade play. So I like it.
Odds of getting the Games: Yeah probably.
Pyeongchang, South Korea: As the 1998 Games taught us all, they have winter in Asia. So this might actually work.
G/O Media may get a commission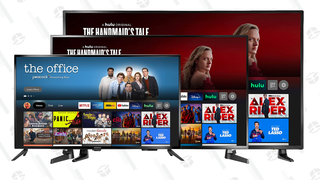 Up to 44% off
Prime Early Access - Insignia Fire TVs
I haven't heard of Pyeongchang. But I have heard of Pyongyang, and I know for a fact that Pyongyang would put on a perfectly choreographed, meticulously organized Olympiad. To any reasonable viewer, this is enough to hope for Korea (whichever one) to win the Samaranch Memorial Drawing tomorrow.
Odds of getting the Games: I actually like the biathlon.
Munich, Germany: I changed planes at Munich recently, and they have an excellent, excellent airport. The cappuccino machines are free of charges, and there are scores of local and international newspapers there for the taking. So it will be very pleasant for fans, athletes and IOC members to fly in, which is half the battle. Annecy probably doesn't even have an airport.
I've also heard of Munich, which bodes well for its Q Score.
Odds of getting the Games: Maybe, if they get better security this time.
These are the only cities vying to host the Games, a record low. Maybe that's because no one actually cares about the Winter Olympics, except for hockey, and figure skating when there's an American girl involved. So I think I'm prepared to make a prediction.
Most likely to host the 2018 Winter Olympics: Qatar