With news that Bon Jovi are set to play the first concert at the new Meadowlands Stadium, we're forced to ask: where's Bruce?
While Springsteen and the band played the final show at Giants Stadium, it's Bon Jovi that gets the honor of opening up the new arena next spring. Naturally, Bruce fans are ticket. But let's break this one down scientifically: who most deserves the highest honor the Garden State can bestow?
Geography
Bon Jovi formed in Sayreville, just 35 miles from the Meadowlands. Springsteen grew up in Freehold, a cool 45 miles from East Rutherford. Close, but no cigar.
Advantage: Bon Jovi
Perceived Geography
I've lived in both Philadelphia and New York, and I can say that there's a clear divide between the two. South Jersey is Bon Jovi territory, while North Jersey is Springsteen country. I'd put the dividing line somewhere around Metuchen, putting the Meadowlands firmly in Bruce's fiefdom.
Advantage: Springsteen
Albums
Bruce named his debut album Greetings From Asbury Park, N.J., a nostalgic nod to a fading shore town. Bon Jovi's 1988 release New Jersey, giving a shout-out to the entire state.
Advantage: Bon Jovi
G/O Media may get a commission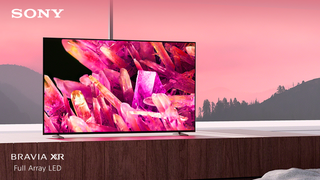 $400 off
Sony 55 Inch 4K Ultra HD TV X90K Series
Singles
In addition to "Atlantic City," Springsteen's "Tenth Avenue Freeze-Out" is thought to refer to a street in Belmar, N.J. — not incidentally, at the intersection with E Street. Bon Jovi have yet to refer to their home state in any of their hits, not even a wholly-appropriate ballad to the Cherry Hill Mall.
Advantage: Springsteen
NJ Attachment
Many of Bruce's songs are about escaping home to find a better life. In addition, Nebraska, The Rising and "Streets of Philadelphia" show a worrying proclivity to pay attention to things happening outside the state. Bon Jovi, on the other hand, show no inclination that they have any idea there's a world beyond the Hudson or Delaware rivers. Much like most of the state.
Advantage: Bon Jovi
Carl From Aqua Teen Hunger Force
Carl Brutananadilewski lists "Wanted Dead Or Alive" as one of his favorite songs. No Bruce to be seen.
Advantage: Bon Jovi
There you have it. Bruce put up a valiant fight, but the new Giants' and Jets' stadium will be rung in by Bon Jovi, as the lords and aldermen of Jersey have ordained. Springsteen will have to settle for playing the final shows at the Philly Spectrum, and for being an actual respectable musician.
Bon Jovi - Not The Boss - To Open New Stadium? [Philadelphia Inquirer]