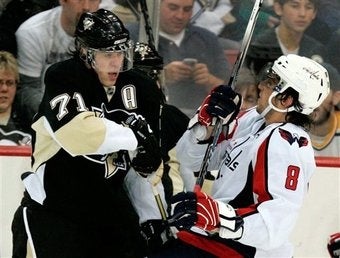 The Penguins and Capitals square off again tonight and this growing rivalry may have just the kind of storyline the NHL needs to get some buzz going—an old world Russian blood feud.
The two teams already have a crap load of star power, as they feature the top three scorers in the league, but there's also some international intrigue to spice things up a bit. Former bestest buddies Alexander Ovechkin and Evgeni Malkin were roommates at the 2006 Olympics, but for some reason that no one seems willing to talk about, the young Russian superstars are now the bitterest of enemies. In their last two meetings, at the end of last season and the beginning of this one, Ovechkin went out of his way to try and deliver some hard hits on Malkin, a dastardly strategy also known as "playing hockey." But this feud has allegedly moved beyond the rink to include—what else?—a nightclub brawl back in Russia between Ovechkin and Malkin's agent. Or did it?
"Ovechkin is a great player, but every time he hits me, I don't know why," Malkin said.
I like to imagine Malkin saying that quote while holding a teddy bear and sniffing back adorable tears. Why is he so mean?
Whatever the case, the league's top two offensive studs hate each other and that makes for good ratings—or it would if these games were televised. Throw in Alex Semin's old comments about Sidney Crosby's punk-like abilities ("I think that if you take any player, even if he is 'dead wood,' and start promoting him, you'll get a star.") and you've got the makings a rough, hotly-contested game. One that the Penguins desperately need to win after losing seven of their last nine. Let's see some of that Mudbug intensity!
CAPITALS, PENGUINS SET TO CARRY HOSTILITIES ON TO THE ICE [TSN]
Capitals-Penguins Preview [Yahoo]