Anybody wondering how Lance Armstrong got away with what he got away with for so long need look no further than the editorial offices of Indianapolis Monthly magazine.
On Thursday afternoon, the magazine posted a story on its website by Alex Wren about a sickbed doping confession that Armstrong may or may not have made in 1996 at Indiana University Hospital in Indianapolis.
It was there, just weeks after revealing he had testicular and abdominal cancer and just days after undergoing brain surgery, that Armstrong is said to have admitted before a roomful of friends and medical professionals that he'd taken growth hormone, cortisone, EPO, steroids, and testosterone. Former Armstrong teammate Frankie Andreu and his wife, Betsy Andreu, testified in a 2005 arbitration case between Armstrong and SCA Promotions that they were present and heard the confession. Armstrong, under oath in the same proceedings, denied ever saying any such things and ever taking any performance-enhancing drugs. He won the case. Nobody else present in the room has backed up while under oath the Andreus' version of events, though another former friend of the couple who was in the Indy hospital room that day, Stephanie McIlvain, was surreptitiously taped before that lawsuit appearing to admit that she had also heard Armstrong's confession. But come deposition time, McIlvain denied being aware of any such conversation. SCA ended up having to pay Armstrong $7.5 million.
The alleged Indy confession is an important piece of the story, figuring as it does in both the Lance legend and the legend's undoing. There's still money at stake, too. The hospital stay came up again just two weeks ago, when SCA Promotions sued Armstrong for $12.1 million, alleging fraud in the wake of his admission to Oprah Winfrey that he'd used PEDs at least since the mid-1990s. More broadly, there's the outside possibility—fervently clung to by Betsy Andreu ever since that day in the hospital room—that Armstrong's allegedly near-fatal testicular disease was caused by his use of synthetic testosterone and the rest of his PED smorgasboard. (There is no scientific literature establishing a link between steroid use and testicular cancer.)
Wren's original Indianapolis Monthly piece began:
Former Lance Armstrong teammate Frankie Andreu tells IM that Dr. Larry Einhorn, esteemed oncologist with the IU School of Medicine and Lance Armstrong Foundation, was not present in the Indianapolis hospital room where Armstrong allegedly admitted to doping in 1996. But he wants to know the identities of the doctors who were.
G/O Media may get a commission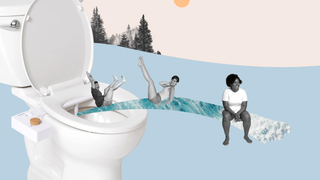 17% off
Tushy 3.0 Warm Water Spa Bidet Attachment
Wren's story was pulled by Indianapolis Monthly within hours of publication. Searches for "Armstrong" on the site after its removal garnered a link that brought the message that "The requested blog entry does not exist." A tweet about the story from editor Amanda Heckert—"Contributing editor @adamwren has nice @IndyMonthly scoop here about Indy's ties to Lance Armstrong investigation"—was deleted from her Twitter page. So was this tweet from Indianapolis Monthly executive editor Evan West: "My pal @AdamWren is all over #LanceArmstrong's alleged 1996 doping chat with #Indy doctors."
Even Wren's tweet thanking Heckert for her apparent kudos disappeared. The Google cache version of Wren's piece was wordless.
After the story vanished, I emailed Indianapolis Monthly publisher Keith Phillips and asked what had happened. "The article was posted earlier than intended and a new posting will go up in its place once fully vetted," Phillips responded.
A new version of Wren's piece reappeared late Friday afternoon. (You can still find traces of the original post elsewhere on the internet.) But, by my count, only 304 of Wren's original 759 words remained. Frankie's request that folks who could back up his story still led off. But gone from the article were portions of the 2005 case's transcript that are particularly unflattering both to Armstrong and to the IU hospital. In the deleted passages, SCA attorney Jeff Tillotson grills Armstrong about a $1.5 million donation from Armstrong's foundation to IU's medical school just two days after Betsy Andreu's testimony, which the hospital did not corroborate.
Tillotson: "You're not attempting to buy silence from someone at the Indiana University Hospital with your donation, because there's nothing to keep silent. Right?"

Armstrong: "Well, I'm sure you would love to paint that."

Tillotson: "Why did you say that?"

Armstrong: "Because that's—that's the—that's the tone of this entire case, the speculation and innuendo and rumor and second and third and fourth-hand information."
Also gone were quotes that Wren recently got from Tillotson about Armstrong having "never completely or sufficiently explained" his massive and peculiarly timed 2005 IU donation, and about what the lawyer called the "troubling pattern" of Armstrong donating to institutions run by people "who were getting ready to be asked questions about his illegal activities." Wren's mulligan also lacked quotes from Betsy calling the hospital room incident "the foundation on which the whole Lance lie was built" and saying she expected that she'll be asked to repeat the hospital-room story in the new fraud case against Armstrong.
Wren declined to respond to questions about the story. But Heckert, via email, offered up an unsolicited account of what took place. Wren's story, she said, "was published earlier than it should have been."
Heckert, who later refused to answer questions about whether the retraction of Wren's story was her call or anything else about her statement, went on: "While all of Adam's information was documented or from quoted sources, we made the call that there were elements that were unfair to include at this point. I'm sure you're wondering if we were contacted by any third party, and the answer is no, we haven't been."
OK, so Wren's initial story was accurate—full of "documented" information and "quoted sources"—and any objective reader would say it was more interesting before the editors performed their bris on the thing. But now Heckert is saying all that accurate, interesting stuff was "unfair to include"? This excuse does nothing to counter the general perception that city glossies like Indianapolis Monthly serve as little more than stroke mags for the local fancy folk—for doctors in particular ("Top 15 Cosmetic Proctologists in Houston!").
If no third party contacted the magazine, who made the call to pull the story? And what was Indianapolis Monthly so worried about? Maybe there's a hint at the end of the first paragraph. Where Wren had written "identities of the doctors," the post now reads "identities of the people."
Armstrong spokesman Mark Fabiani says he did not contact anybody from Indianapolis Monthly, nor did the magazine contact him, and that he was unaware that the publication had recently run a story about the vintage hospital room banter.
Tillotson says he wasn't aware that the story had been published. (Full disclosure: Tillotson represented Sean Salisbury in his lawsuit against us, which Salisbury eventually dropped.) When told that the article had been scrubbed of his comments and the deposition transcripts, Tillotson laughed.
"That's very strange," Tillotson says, "because there aren't any Lance apologists left. I'm surprised to see that it's still going on."
Tillotson, who says the version Betsy Andreu gave under oath was "100 percent truthful," believes the alleged confession and its aftermath are among the most momentous chapters of the entire Armstrong saga. All the storylines either converged in that hospital room (cancer, doping) or emerged from it (people bought or bullied into silence). "This is the only instance where other people lied under oath to help Lance," he said.
Betsy Andreu, for her part, is pissed about this latest example of neutered Armstrong reporting—another casualty, she figures, of Lance's trickle-down crookedness. She's seen it all before.
"Now that [Indy Monthly] story is half-assed," she says. Wren "reported facts and it got taken down anyway. One of the reasons Lance was able to get away with it for so long is journalists are scared. Why did they back down? I feel like it's 1999 all over."
Dave McKenna is a writer in Washington D.C.