After the madness of Sunday's U.S.-Portugal game, Jürgen Klinsmann was repeatedly asked whether his squad and Germany—both needing only a draw to advance—would settle matters with a handshake deal and noncompetitive match on Thursday. Klinsmann's response was pitch perfect: "The U.S. is known to give all they have in every single game, otherwise Mexico wouldn't be here."
With that said, there was a reason for those questions beyond Klinsmann's close ties to the German team he once played for and coached.
The Germans have done it before.
Journey back to Gijón, Spain, and the 1982 World Cup. It's June 25. West Germany and Austria are about to kick things off in the final match of their group, and qualification for the second round of the World Cup is on the line.
There's history here. Austria shocked the Germans in the previous World Cup to send them home early. Going into this game, both knew that a simple draw would eliminate West Germany. West Germany went into the World Cup as the defending European champions and were absolutely dominant in qualifying, winning all eight games with a ludicrous 33-3 margin. Drawn in a group with Chile, Austria and Algeria, the West Germans expected to qualify for the second round with ease.
Their first game was against Algeria, and the Germans wasted no time in mocking their North African opponents. "We will dedicate our seventh goal to our wives, and the eighth to our dogs," scoffed one of the German players. Instead, it was Algeria's Desert Foxes who romped all over the Germans. The 2-1 score line wasn't indicative of how thoroughly Algeria had outplayed West Germany. It could easily have been 3-1 or 4-1.
G/O Media may get a commission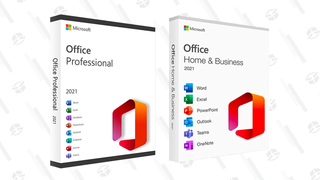 89% off
Microsoft Office Professional 2021 Lifetime License
Despite a 2-0 loss to Austria in their second game, Algeria recovered to whip Chile 3-2 in their final group game. Thanks to tiebreakers, that victory meant Algeria would become the first African team to reach the second round of a World Cup. That is, unless the group's final game, to be played the following day, ended in a one- or two-goal win for West Germany over Austria. That result would mean that both West Germany and Austria would advance, at Algeria's expense.
The whistle blows. The ball kicks off. West Germany, with only two points, badly needs the win, and so they go on the attack. In the 11th minute, Horst Hrubesch, West Germany's striker, scores on a cross from Pierre Littbarski, and just like that, both sides have the result they need in order to qualify for the second round.
Despite that, it's not immediately obvious that both sides are settling for that result. West Germany's Wolfgang Dremmler forces a fantastic save from the Austrian goalkeeper, and midfielder Paul Breitner wastes a pair of excellent goal-scoring chances. There's every indication that Germany could've gone into halftime leading 3-0.
It's not until early in the second half that it becomes clear to everyone watching, both in the stadium and on TV, that West Germany and Austria seemed to be colluding in the result. The Algerian fans in the audience start waving and burning Spanish peseta notes, while other fans scream in outrage and frustration. Meanwhile, on TV, German commentator Eberhard Stajnek declaims in frustration:
"What is happening here is disgraceful and has nothing to do with football. You can say what you like, but not every end justifies the means."
The Austrian commentator, Robert Seeger, told his viewers to turn off their televisions and literally said nothing for the remainder of the match. You can see one West German fan burning his country's flag in protest. The disgust is so universal that British commentator Hugh Johns venomously spits out:
"A few seconds on Bob Valentine's watch between us and going-home time. And what a relief that's going to be. Breitner for Briegel for Stielike, names that run off my tongue at the moment and leave a nasty, nasty taste. Stielike … quality players who should all be in the book of referee Bob Valentine for bringing the game into disrepute. This is one of the most disgraceful international matches I've ever seen."
The whistle blows. The game ends—1-0 to West Germany. Both sides win, but the game has lost.
Afterward, the outrage builds and builds in its impotent fury. Algeria protests right away, calling the result a "sinister plot" and appealing for justice. The West German press absolutely savages their team, with headlines screaming "SHAME ON YOU!" West German fans even visited their team's hotel to protest the performance.
It's an impotent fury, because apart from Austria's head coach, neither the Austrians nor the Germans feel any shame or guilt in their performance. Quite the contrary, in fact. Germany's Lothar Matthäus blandly says, "We have gone through. That's all that counts." Austria's Hans Krankl is equally unapologetic: "We made the next round. And I don't give a damn about the Germans." Meanwhile, West German players got pelted with water bombs by their own fans.
That's nothing, however, compared to the head of Austria's World Cup contingent, who responded to Algeria's protests like this:
"Naturally today's game was played tactically. But if 10,000 'sons of the desert' here in the stadium want to trigger a scandal because of this, it just goes to show that they have too few schools. Some sheikh comes out of an oasis, is allowed to get a sniff of World Cup air after 300 years, and thinks he's entitled to open his yap."
You can almost see his monocle quivering in disdain.
The worldwide outrage at this result wasn't just due to the rampant cynicism displayed by the West German and Austrian teams. It was aggravated by the shameless disdain shown after the game for people's reactions, and even more so by whom it affected. Algeria had played fearless, flamboyant soccer. They were underdogs who had refused to be intimidated by the bluster of seemingly better teams, and they had actually beaten those teams.
West Germany and Austria didn't just find Nemo and kill him; they proudly broadcasted his slaying and then rubbed their hands in glee, chortling in unabashed delight.
FIFA's response to the universal fury at the game's result was a perfect distillation of its essence. They met for three and a half hours, then vapidly announced that the game's result couldn't be altered by any outside body because, well, um, it couldn't. Afterward, they then announced that all group games would henceforth be played simultaneously—not that it was any consolation to Algeria.
The Algerians, having lost their protest, went home. On arrival, they were greeted as heroes. To this day, they have no regrets. Chabaane Merzekane, the team's left back, said in an excellent review of the scandal: "To see two big powers debasing themselves in order to eliminate us was a tribute to Algeria. They progressed with dishonor, we went out with our heads held high."
As for the West Germans and Austrians? For the Austrians, their World Cup ended in the next round. They have qualified for only two World Cups since (1990 and 1998), losing in the group stages both times. Meanwhile, West Germany made it to the final, where they lost to Italy, their perennial bogey team, 3-1.
Of greater impact, however, was the fact that, despite making the final, West Germans roundly denounced their team, which had been seen as a symbol of national pride prior to the game. As German writer Uli Hesse describes in his magisterial history of German soccer, Tor!, the team "unknowingly taught the country that there are things more important than winning." For years afterward, Germans turned their backs on the national team. It wasn't until the 1990s, after German reunification, that they began to hold the team again in some degree of esteem.
So, if you're wondering whether there's going to be repeat of that scandalous game on Thursday, don't. It won't happen.
Germans treat that episode with particular embarrassment, which might serve as motivation enough for them on Thursday, but there's even more riding on this game. For German coach Jögi Löw, it's a chance to beat Klinsmann, under whose shadow he labored for so many years. For the Bayern Munich players on Germany's squad, it's a chance to beat a man they thoroughly disdain (read Philip Lahm's memoir to get an idea of how Klinsmann is regarded).
And for the Americans? There's the potential to beat a European opponent for only the second time ever, as well as win their group for the third time ever.
Chalk it up to American values, German regret or flat-out competitiveness—just don't expect to see "The Disgrace of Recife" on Thursday.
---
Screamer is Deadspin's soccer site. We're @ScreamerDS on Twitter. We'll be partnering with our friends at Howler Magazine throughout the World Cup. Follow them on Twitter, @whatahowler.
Photo Credit: Getty Images