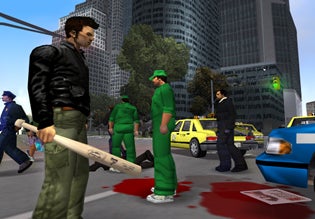 What do you do if you're a group of Red Sox fans who spot a car stopped in traffic that happens to have New York Yankees license plates? (Keep in mind that there are at least two children in the car). Answer: You surround the vehicle, vandalize it, and then beat the driver with a baseball bat. That was an easy one.
You're on a roll, Red Sox Nation!
Correia and others approached the vehicle at about 10 p.m., police said. According to police, members of the group accused the driver of supporting the New York baseball team and proceeded to attack him and vandalize his car. The victim was transported to Falmouth Hospital with injuries that were not considered life threatening, police said. He sustained injuries to his head and his body, police said.
Whatever happened to simply giving the finger?
Police Say Falmouth Man Attacked Supposed Yankee Fan [Cape Cod Times]
Yankees Fan Beaten After Fireworks On The Fourth [SportsbyBrooks]