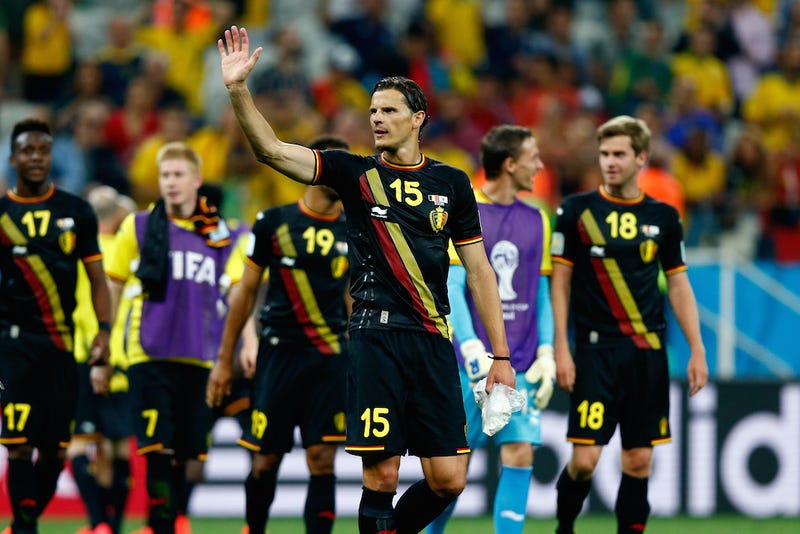 The USMNT take on Belgium today in their Round of 16 clash, and few think the Belgians are a lock to win. And there's good reason for that. Possessing a cavalcade of quality players in nearly every position, de Rode Duivels' "golden generation" boasts one of the strongest teams on paper and is considered a dark horse contender by many to win the tournament.
But as is so often the case, having better players doesn't always make for a better team. And because of this, there's a genuine case for U.S. optimism. A team where the sum is greater than its individual parts, the Yanks are the antithesis of this Belgian side that has yet to galvanize the full potential that its immense talent would suggest. The Americans are better coached, more cohesive as a unit, and have exceeded expectations by escaping a very difficult group.
The Belgians, on the other hand, still haven't quite taken off. Despite winning all three group matches, they've failed to put in any standout performances. All three of their opponents (Algeria, Russia, and South Korea) were significantly weaker sides, but they struggled to defeat each. They've scored four goals in total—the same as the U.S.—with all of those coming after the 70th minute.
Belgium coach Marc Wilmots also faces personnel issues going into this match. After struggling in the opening fixture against Algeria, Wilmots made a wide array of changes to his starting 11 in both subsequent matches. They've lacked any kind of consistency because, quite frankly, nothing that they've tried has worked particularly well. But there will be greater concern with poor performances from big-name players like Chelsea winger Eden Hazard. Short of doing well to provide the assist for the late winning goal against Russia, he has failed to make much of an impact at this tournament. Creative midfielder Kevin DeBruyne has also looked promising in portions, but he has shown a tendency to drift out of matches. This has been the general theme of Belgium's World Cup—short, intermittent bursts of quality sandwiched between long periods of toothless play.
To make matters worse, defensive linchpin and captain Vincent Kompany looks likely to miss the match with a groin injury. Thomas Vermaelen is likewise an injury doubt, further limiting their defensive options. Also missing will be midfielder Steven Defour, who picked up a red card in their last match against South Korea.
Wilmots has concerns about the central striker role, too. With usual candidate Christian Benteke injured before the tournament, his deputy, Romelu Lukaku, put in two miserable performances during the group stages and will almost surely be omitted. 19-year-old Divock Origi has been used as a substitute in all three games and has a goal to his name, but Wilmots may prefer the more experienced Kevin Mirallas, despite his natural position being out wide.
Many will feel that this consistent lack of sharpness and consistency will work in the favor of the Americans. Jürgen Klinsmann has built his squad on balance and teamwork—two qualities that the Belgians have lacked thus far. Having struggled to break down deep-lying defenses throughout the tournament, Belgium may well face their toughest challenge yet.
But despite all of this, Belgium still has reasons for optimism. Hazard & Co. know they haven't reached top gear, and they can gain confidence from the grind-it-out results that got them to this point. In comparison to the road the U.S. took to reach this stage, the Belgians have had a cakewalk. But you can only play the teams presented to you, and their results have been perfect. Defensively, they've been incredibly sound, conceding only one goal—a penalty against Algeria.
This trip to Salvador will be Belgium's first match in the heat of northern Brazil, whereas the Americans have played all three of their previous matches in scorching weather. The relative ease of Belgium's travel schedule, in addition to being able to rest multiple players in their last match, means that they will be the fresher of the two teams.
The U.S. will be underdogs, without a doubt, but Klinsmann's men are familiar with this role. There's a strong belief—among the team and fans alike—that victory on Tuesday is not only possible, but perhaps even probable.
Klinsmann certainly agrees. "We have absolutely no fear at all," he said. "We're in position to challenge them. We have the foundation to beat them. Can we do it? Yes we can."
---
Screamer is Deadspin's soccer site. We're @ScreamerDS on Twitter. We'll be partnering with our friends at Howler Magazine throughout the World Cup. Follow them on Twitter,@whatahowler.
Devon Gray is a contributor to Howler. Follow him on Twitter, @Devon_Gray.
Photo Credit: Getty