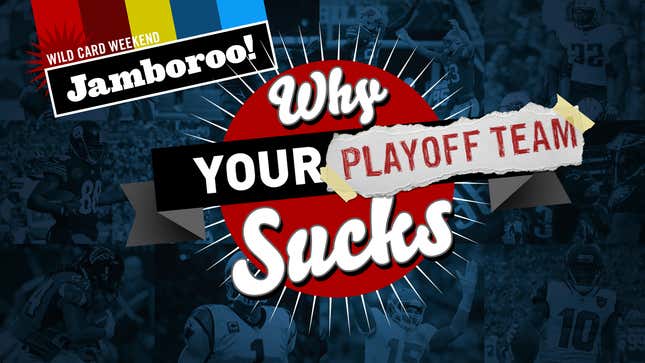 Drew Magary's Thursday Afternoon NFL Dick Joke Jamboroo runs every Thursday during the NFL season. Email Drew here. Buy his book here. 

In theory, this is the payoff. This is what you, the football fan, get after a four-month slog of horrific injuries, unlimited penalty flags, and Jerry Jones whipping his liver-spotted dick out any time a camera comes within 50 yards of him. This was the year fans of other sports could point at NFL fanboys like me and cry out, "Hey, your regular season is worthless too." And I'm hard-pressed to argue. The most memorable game of the regular season came when the refs undid a catch in Pittsburgh. Everything else is a forgettable blur. More and more, the NFL must pray every January for a historic postseason to render all of their previous misdeeds forgiven. They need 28-3. They need Jared Cook deep down the sideline. They need (ugh) Blair Walsh to shank a kick in subarctic temperatures. The playoffs are pretty much the only time that the NFL gets to stick to football now, and even then they usually need a classic Super Bowl to really redeem the whole enterprise.
So let us, for one brief moment, stick to football and rank these playoff teams by how sympathetic they are to the neutral fan. Eight of these teams didn't to go the playoffs last year. Seven of them have never won a Super Bowl. That's a nice little shot of fresh blood to the proceedings, until the Patriots swoop in and suckle every last drop of it. I'm aggravated already.
1. Bills
WHY YOU SHOULD ROOT FOR THEM: Because this:
Just to refresh your memory, the Bills rested Doug Flutie and played Rob Johnson in a meaningless Week 17 game against the Colts at the end of that season, and Johnson played so well in that de facto exhibition that ownership forced Wade Phillips to give him the start in the playoffs. As long as I live, I don't think I will ever see a quarterback steal another quarterback's job quite that way. It remains utterly unique in the history of Enormous QB Fuckups. The Bills still haven't won a playoff game in 23 years. Get one monkey off your back and another larger, angrier monkey takes its place.
WHY THEY STILL SUCK: Because this:
Also, head coach Sean McDermott made a big show of having his players gather in a kumbaya circle and tell each other their life stories… then he benched Tyrod Taylor for Nathan Peterman. You can be a touchy-feely coach, or you can be an autocrat dressed to hang out in a deer stand, but you can't be both.
Oh, and fuck Richie Incognito. Nothing takes the shine of this playoff berth like seeing that enormous meatbaby happy.
2. Vikings
WHY YOU SHOULD ROOT FOR THEM: If you are an obnoxious football purist who still writes "Defense wins championships" in the comments section of PFT like that's a new and valuable insight, this is your team. This defense suffocates opposing offenses to the point where Case Keenum only has to make one play per game for the Vikings to win. He got MVP support for this while Harrison Smith missed the Pro Bowl.
WHY THEY STILL SUCK: This is the part where I again disclose that I am a Vikings fan, therefore I should recuse myself from ranking them here at all. Frankly, I deserve the suffering this team has heaped upon me, body and soul. I am the troll who has been trolled. That Blair Walsh miss is either tragic or hilarious depending upon your mileage, and I can take a guess at yours. The Bills lost four Super Bowls, but at least their run of conference dominance happened after the advent of electricity. My team's ultimate failures are so distant that I have to sit here and hope they make it to the Super Bowl just so that I can have the privilege of personally witnessing them lose it. At home. Fuck me with a power saw.
3. Eagles
WHY YOU SHOULD ROOT FOR THEM: They just had their best season in over a decade ruined by an injury to their franchise quarterback. Have a heart.
WHY THEY STILL SUCK: Or don't, because Philly fans suck huge balls. God lives to strike down Philly fans just when they are at their cockiest, and I can't blame Him. Even when Philly teams lose, their fans still try to circumvent such pesky facts by inventing their own unofficial honors. That time Allen Iverson stepped over Ty Lue? Philly fans think that's an actual championship. It gets irritating. Also, the sooner Nick Foles is out of these playoffs, the better. The playoffs officially start only when all the bad QBs have been weeded out.
4. Chiefs
WHY YOU SHOULD ROOT FOR THEM: Because they won the Super Bowl so long ago that they basically haven't won it at all. Everyone who was around during that victory is now dead. That old footage of Hank Stram demanding his team masturbate the ball down the field? That was taken in 1886. The only things people remember about the Chiefs in the playoffs now are Marty refusing to pass and Andy Reid blowing a 28-point lead to Chuck Pagano.
WHY THEY STILL SUCK: You and I both know that this team is the only hope we have of avoiding a Pittsburgh–New England AFC title game. We also both know that they'll fuck it up with a horrible divisional round loss. I don't even have to watch. I have the whole script memorized. None of their playmakers will make plays. They'll fall behind by 10 points, hang around the rest of the game, use all their timeouts to pull within three, and then fuck up the onside kick with eight seconds left. The only time Andy feels urgency is 30 minutes after eating a taco platter.
5. Jaguars
WHY YOU SHOULD ROOT FOR THEM: Because their fans have had to listen to assholes like me drone on and on about how the Jags aren't relevant and how they should relocate to Vancouver or Tulsa or pretty much anywhere else to become cool again. And really, is there a more obnoxious complaint about a football team? DURRRRR THIS TEAM DOESN'T FIT IN WITH THE MONOCULTURE! It's like asking a football team to become a Game of Thrones episode recap.
WHY THEY STILL SUCK: Blake Bortles has five picks in his last two games. It would be a hilarious indictment of the NFL if that guy somehow staggers into a Super Bowl. Also, I've spent so much time goofing on head coach and dad-negotiating-prices-at-a-car-dealership Doug Marrone for being WIDELY RESPECTED that I will be deeply unhappy if he really DOES become widely respected.
6. Rams
WHY YOU SHOULD ROOT FOR THEM: Because they're fun! They have Todd Gurley leapfrogging defenders six times a game and Sean McVay skipping around on the sideline drawing up cool passing plays and looking like discount Hawkeye. This is also the part where I declare my preference for the white horns on the helmet and not the yellow ones. Those white horns make the Rams look extremely rammy.
WHY THEY STILL SUCK: Because L.A. still doesn't give a shit. This team could be unbeaten and Gurley could literally take flight during games like Superman and Angelenos would still rather avoid the traffic. It's what Stan Kroenke and his squirrel hair deserve.
7. Saints
WHY YOU SHOULD ROOT FOR THEM: Let us pause for a moment to salute Mark Ingram and Alvin Kamara for being the first running back duo in league history to each have 1,500+ yards from the scrimmage in the same season. Is this the only RBBC in fantasy history to actually work? Without doing any research, I say yes. Unlike other heartless coaches, Sean Payton understands your fantasy needs.
WHY THEY STILL SUCK: Look at this shit:
Enough already, New Orleans. I know what happened to Saints fans the last time this team won a Super Bowl. GUMBO GUMBO GUMBO Y'ALL DON'T UNDERSTAND HOW MUCH THIS MEANS TO MAH CITY AND MAH PAWPAW. Southerners think they're the only people allowed to have food or parents.
8. Titans
WHY YOU SHOULD ROOT FOR THEM: This has been Marcus Mariota's worst season as a professional, but it sure would be nice to see him get his shit together and make some sort of miraculous, Eli-style playoff run. I can tell he's nice because he's Hawaiian!
WHY THEY STILL SUCK: Because that 1999 Titans team wasn't really all that good. Frankly, any time the Titans are good, they are still utterly underwhelming. This year's supposedly promising outfit had a net point differential of -22. They don't belong here. They belong at home and Mike Mularkey belongs in The XFL 2: The X-ening. And remember that Kerry Collins outfit that somehow went 13-3? That team was fucking awful. I'm glad the Titans have never won jack shit.
9. Panthers
WHY YOU SHOULD ROOT FOR THEM: Cam can be a clueless boob sometimes. But when he rolls out and starts throwing lasers 30 yards downfield…God, there's no one else who can do what he does. And how nice would it be for him to win a title and finally shut down the take spigot? You could also make a very convincing case that this team is the NFC's best hope to beat New England, and that more or less supersedes any other hang-ups I have about Carolina, except perhaps…
WHY THEY STILL SUCK: Imagine the Panthers winning it all and Roger Goodell handing the Lombardi Trophy to Jerry fucking Richardson, who is selling the team after this season because he couldn't stop grabbing ass. Tell me that wouldn't be the most NFL thing that has ever happened. Just a repulsive, horny old man standing triumphantly on a podium, insincerely dedicating his trophy to the fans. I know CBS isn't doing the Super Bowl, but I guarantee Jim Nantz would hop on Facebook Live just to broadcast that moment personally, he'd be so touched.
10. Falcons
WHY YOU SHOULD ROOT FOR THEM: 28-3.
WHY THEY STILL SUCK: 28-3. I'm sorry, but you guys had your chance and you blew it. I have zero interest in watching you blow it yet again. If this team gets a rematch with the Pats, they'll lose by 70. It's a lock. Go the fuck away.
11. Steelers
WHY YOU SHOULD ROOT FOR THEM: Because Todd Haley promises to ride the mechanical bull at the Tequila Cowboy if they win it all.
WHY THEY STILL SUCK: Oh god, fuck no. In a weak moment, I can picture the Steelers being a palatable alternative to the Patriots, especially with Le'Veon Bell and Antonio Brown around to liven things up. But then I remember their fans, and I listen to Big Ben talk, and I see that their offense is NEVER healthy for the playoffs, and all of that potential good will is GONE. Gone forever. The Steelers should rot in a garbage dump.
That's it. That's all the playoff teams. Now let's get to the games!
The Games
All games in the Jamboroo are evaluated for sheer watchability on a scale of 1 to 5 Throwgasms. And during the playoffs, I pick the games because Vegas clearly has NO IDEA about any of these spreads. They're giving out free money to you people and only sharps like ME know it!

Five Throwgasms
Bills (+8) 10, Jaguars 7. I know this matchup is underwhelming on paper and that the AFC playoff field is so comically shallow that we have essentially been doomed in advance to Yet Another Goddamn Steelers–Pats matchup. But these teams haven't been to the playoffs for a combined 27 years. This game is gonna be a fucking party. In fact, the city of Jacksonville should lift all open container laws and legalize weed and let traveling Bills fans fuck in the parking lot if they want to. Make it a scene. The Bills making the playoffs was the single best thing about this NFL season by far. The NFL should do everything humanly possible to foster an environment where more people are taking videos of drunken crowds suddenly bursting into cheers. That's the good sports stuff.
Rams (-6) 28, Falcons 24. Oh, and tickets to this game? They should be free. If the Rams are serious about winning over L.A., they may as well eat the gate revenue and welcome the entirety of Los Angeles into the Coliseum for this game. And they should make the parking free, too. You could win over all of Southern California by offering free parking to people. God forbid an NFL team take a short-term loss for the long-term good.
Panthers (+6.5) 30, Saints 29. It will only be noted in future Powerpoint decks, but last Sunday marked the first time that nine games simultaneously occupied the late slot on Red Zone Channel. Normally, you get three or four games in the 4 p.m. window, and at least one of them is some god-awful matchup featuring Blaine Gabbert playing against Blaine Gabbert. But just this once, they flooded the zone with more 4 p.m. games than 1 p.m. games, and the result was a trayload of bad football that was greasy, thoroughly unhealthy, and absolutely fucking delicious. 'Twas a garbage plate of football. Week 17 was the best proof we have yet that Thursday Night Football needs to fuck off forever. The more games you play at the same time, the less flawed the games appears to be. I'm ruined for Red Zone any other way now.

Four Throwgasms
None.

Three Throwgasms
Chiefs (-8) 45, Titans 6. I don't know if I buy that Mike Mularkey was coaching for his job against the Jaguars, but if he was, that's fucking stupid. Please note that I'm not defending Mike Mularkey here. He should be jailed for what he's done to Marcus Mariota this season. But for an owner to sit there and be like, "Let's see how this ONE game plays out" to decide on a coach's fate is insane. You gotta judge Mike Mularkey for his whole BODY of failure, not just one game that happens to come at the end of the schedule. And yet, teams do this with coaches all the time! I still remember Rex Ryan saving his job just because he won some dead games at the end. Now Mularkey's won that one Week 17 game and Titans fans are stuck with a whole other year of him. They should file a class action suit.
Now, since we've run out of game capsules to fill, it's time for some random crap:
•I already regret setting this plan into motion, but I am supposedly going to Minnesota for Super Bowl week, whether the Vikings make it there or not. This'll be my first time back in my home state since 1991, and I plan on doing a great many Minnesotan things once I land: eating lutefisk, being nice to people and not really meaning it, and, of course, ice fishing. If you have room in your frigid ice shanty for one more that week, or you got a snowmobile for me to commandeer, do let me know. I am game for anything cold and miserable. Let's go shoot a loon.
• I'm genuinely happy for Niners fans that the Jimmy Garoppolo trade worked out and the team finished this season on a tear. But, uh, maybe this is going overboard:
All he's doing is yelling "Let's go out there and execute!" at people. I mean, I could do that. You wanna pay me to do that to random players on the Niners sideline? I can help out. That doesn't take a lot of wordsmithing. But Pizza Boy here does it and beat writers are like MY GOD! THIS MAN COULD BE THE NEXT PATTON. Everyone calm the fuck down. Matt Cassel had a nice opening run in Kansas City too, you know.
• Speaking of Patriots going elsewhere, I am firmly of the belief that Matt Patricia will make a much better head coach than Josh McDaniels will. I know Belichick disciples always fail out in the wild, but why hire one that's ALREADY done so? I may goof on Silicon Valley and Gregg Easterbrook's eternal boner for small school grads, but I definitely heard about Patricia going to RPI and majoring in rocket science and was like, "Damn, that guy might have the GOODS." I'm a rube.
• Jon Gruden went 57-55 in Tampa and got shitcanned because he spent five years cycling through quarterbacks and couldn't ever settle on one. And Oakland is gonna hand him $10 million a year now? What if he decides he doesn't like Derek Carr and wants to draft a Simms grandchild instead? The only NFL coach to thrive after an extended absence away from the game was Dick Vermeil. And unlike Jon Gruden, Dick Vermeil was not a grimacing tape-bot with a fake John Wayne voice and a Hooters loyalty card. He was an actual human person. I look forward to Gruden cashing out his equity in two years and spending it all on bad flip flops.
• I know I'm on record as being against tweetstorms but I wanna make a special exception here for Spencer Hall's ongoing SNF theme thread, which started over a year and a half ago:
Any amateur Russian scandal expert can shit out a 156-part tweetstorm, but the REAL heroes are guys like Spencer who update threads just once a week. That takes GUMPTION. I salute him. OOOOHHHHHHH SUNDAAAAYYY NIIIIGHT.

Two Throwgasms
None.

One Throwgasm
None.
Pregame Song That Makes Me Want To Run Through A Goddamn Brick Wall 
"Puddle of Blood" by Hard Girls! Tell 'em, Jake:
Hard Girls are a ridiculous looking hipster-punk band from San Jose. Don't let their looks fool you, they will absolutely rock your dick off. For example, take the early-album standout "Puddle Of Blood"—a delightful song about thinking your friend got beaten to death at a bar, but it turns out that actually he's OK. Plus, it's a brisk 240 seconds long. More songs should be shorter!
They really should. If they had a Sirius Channel that was entirely made of songs clocking in under 2:30, I would totally… consider subscribing before eventually deciding against it. I mean, I could just make a playlist, too.
Gregg Easterbrook Memorial Haughty Dipshit Of The Week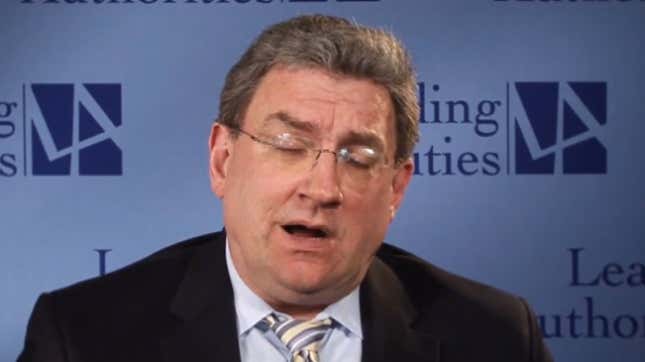 From reader Eric comes this inevitable article about Silicon Valley morons selling unfiltered water for $60 a pop. Is the Juicero guy involved? You know he is:
The most prominent proponent of raw water is Doug Evans, a Silicon Valley entrepreneur. After his juicing company, Juicero, collapsed in September, he went on a 10-day cleanse, drinking nothing but Live Water. "I haven't tasted tap water in a long time," he said.
You know, I almost admire this man's unrelenting determination to embody every possible new-age shithead stereotype. Let's hear more about this sewer water from a licensed sales person.
"It has a vaguely mild sweetness…
Uh huh.
…a nice smooth mouth feel…
Gotta have that mouth feel. It's like I always wonder: why can't water be more like milk chocolate?
…nothing that overwhelms the flavor profile," said Kevin Freeman, a shift manager at the store.
Yes, because there's no more overpowering flavor in the world than that of tap water.
"Bottled water's controversial. We've curtailed our water selection. But this is totally outside that whole realm."
OMG IT IS SO OUT THERE IT'S FUCKING INSANE LOOK AT ME DRINK FROM A PUDDLE.
What adherents share is a wariness of tap water, particularly the fluoride added to it and the lead pipes that some of it passes through.
Not to mention the communists have gotten into it. OUR PRECIOUS BODILY FLUIDS!
They contend that the wrong kind of filtration removes beneficial minerals. Even traditional bottled spring water is treated with ultraviolet light or ozone gas and passed through filters to remove algae. That, they say, kills healthful bacteria — "probiotics" in raw-water parlance.
Because really, water should be more like yogurt.
Before he could order raw water on demand, Mr. Evans went "spring hunting" with friends. This has become more challenging lately: The closest spring around San Francisco has recently been cut off by landslides, so reaching it means crossing private property, which he does under cover of night.
This is the stupidest man alive. Imagine trespassing in the dead of night all so you could drink unsafe, illegal water. Whatever worms end up eating the inside of this man's colon deserve a medal.
"You have to be agile and tactile, and be available to experiment," he said. "Literally, you have to carry bottles of water through the dark."
LITERALLY. Literally, you have to cut through a chain link fence, tip OVER a port-a-potty, and then lick the runoff. I haven't eaten solid food in a YEAR. I feel great. What a reset this poop juice gives me.
Mr. Singh believes that public water has been poisoned. "Tap water? You're drinking toilet water with birth control drugs in them," he said.
AND THE GOBLINS! THE GOBLINS CONTROL ITS FLOW!
"Chloramine, and on top of that they're putting in fluoride. Call me a conspiracy theorist…
You are very much a conspiracy theorist.
…but it's a mind-control drug that has no benefit to our dental health." (There is no scientific evidence that fluoride is a mind-control drug, but plenty to show that it aids dental health.)
You know, I blame Malcolm Gladwell for all this. There is an entire cottage industry out there of otherwise smart people putting on a Bluetooth mic and declaring, "What if everything we know about something is wrong?!" People are so obsessed with the idea of radically improving things that probably only need to be improved by like, two percent. Improving any utility by two percent would be a remarkable and substantial thing. But these entrepreneurs need to reinvent everything entirely. And that's how you end up with a bunch of deranged Stanford grads sneaking out at night and drinking straight mercury because it's just SO OUTSIDE THE NORM. Vaccines and running water are two of the greatest feats of mankind and these BREATHTAKING FUCKHEADS want to destroy both.
"I don't like 'raw water' because it sort of makes people think of raw sewage," Mr. Vitalis said.
Because it is. They should probably just call it poop water.
"When you say 'live water,' that's going to trigger a lot of people who are into physics and biology. Is it alive?"
No, and soon you won't be either.
Rex Ryan's Lock Of The Week: Saints -6.5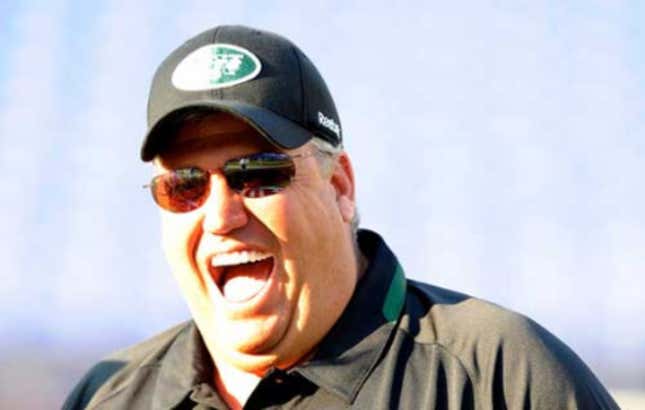 "Men, it's like I tell my boys every time we go to the playoffs, it is WIN OR GO HOME. Now, home is nice, and it has a comfy bed, and a good dog, and tons of liquor, and some real solid footie mags stashed in the attic. Actually, home sounds pretty great right now. Just realizing what a shit argument I made! No wonder Sanchez was never worth a crap against the Steelers. WHERE DID I LEAVE THOSE MAGS I'M HARDER THAN THE MOON NOW."

Ryan 2017 record: 10-5-1
Fantasy Player Who Deserves To Die A Slow, Painful Death
I have no fantasy gripes this week because, for the first time in my existence, I won my fantasy league. That's right. It took four decades but, at long last, I am an Official Fantasy Football Champion And Football Knower (Actually, my team tied in the championship game and I only won because of weird tiebreakers, but fuck all that I WON). Please kneel at my feet and beseech me to impart my fantasy knowledge upon thee.
I even got a trophy from my brother's league for it. FACT: Cheap trophies make any fantasy league 500 times more fun. Winning money is a temporary thrill. But a trophy… IS FOREVER. I'm gonna mount it on the hood of my Kia. If I can finally win a title, maybe the Vikings can too! LOL JK THEY'RE FUCKING DOOMED.
Fire This Asshole!
Is there anything more exciting than a coach losing his job? All year long, we'll keep track of which coaches will almost certainly get fired at year's end or sooner. And now, your potential 2017 chopping block:
Ben McAdoo-FIRED!!!
Chuck Pagano-FIRED!
John Fox-FIRED!
Hue Jackson-NOT FIRED!
Jim Caldwell-FIRED!
Bruce Arians-RETIRED!
Jack Del Rio-FIRED!
Marvin Lewis-WTF?!
Ted Thompson-KICKED EVEN FURTHER UPSTAIRS!
I am obviously discouraged that Hue, Dirk Koetter, Jay Gruden, Todd Bowles, Vance Joseph, and even Marvin (MARVIN!) all somehow managed to escape Black Monday unscathed, but that just means the NEXT Black Monday is assured of being well-stocked. And Beav!
Yes, no need to worry about TOO much upheaval, Packers fans. Your team did the CLASSY thing by quietly condemning you to at least another year of running the ball on third and five. You just don't change horses midstream, gang!
Great Moments In Poop History
Reader Michael sends in this story I call INSIDE THE ACTOR'S TOILET:
So, as an aspiring actor, at the start of your career, you perform in some pretty dingy places that are generously given the title of a theater, when warehouse basement would probably be a more apt description. I was just out of college and working with a theater company that I respected and wanted to make a good impression. We were performing a pretty avant garde piece of theater that I won't name by name since it would out me pretty quickly as the culprit in my story. But, to give you an idea, I wore not much more than a frilly neck cuff as my costume and everyone spoke in paragraphs to no one in particular. For this particular show, I spent the entirety of Act II under a set piece, for the sake of ART. We got our theatrical rocks off.

So, this particular theater did not have what you call 'dressing rooms' but rather electrical closets where the actors were stored when they were not on stage. The exit to the theater lobby (and only bathroom) was off stage left. After spending the entirety of Act II underneath a platform, I was to spend all of Act III on stage and then in the storage area, off stage right.

The shakes, sweats and gut bubble shit me while I was lying underneath the makeshift bridge or whatever the fuck the planks of wood were supposed to represent, and because I was a dedicated performer, I did my best not to make a sound, clenching every muscle in my body so the 13 people in attendance were not disturbed by my flatulence or gastrointestinal knots. After I white knuckled my way through Act II, I popped out of the trap door to make my brief entrance and mustering what I could remember of my monologue to the audience before exiting stage right.

Now, could I have exited stage left, ran to the bathroom, and made it back in time for my next entrance from the opposite side of the stage? Absolutely. Did I? Heavens No - that was not the way in which the scene was blocked and who was I, young apprentice actor, to make such a rash decision to throw off the carefully and delicately directed scene by entering from the wrong side of the stage. My reputation as a serious actor would be stained.

Instead, I looked for a container, any container in the storage close stage right. I found an empty plastic CVS bag, and let loose my bowels into that bag as quickly and quietly as possible - wiping myself down with a discarded paper towel and discreetly hiding the bag in the corner of the storage closet under a bunch of rags before I had to go back on stage. I made my entrance, fearing wholeheartedly that everyone in the small room could smell the guilt and fecal matter on me, rushing my lines through a sweaty brow to get to the end of the show.

After we bowed, I ran to the closet, grabbed the bag and disposed of it in the only bathroom in the theater. I then got changed, went home and showered as soon as possible, not speaking a word of my shame to anyone ever again.

Now, here's the twist. I've worked at this particular theater many times since this day, and that storage locker stage right? It's located right beneath the sewage vents of the restaurant upstairs, with very little ventilation. So - basically it smells like shit all the time. I'm convinced that I haunted that storage closet with the ghost of my shameful poo.
[Jon Lovitz voice] ACTING!
Gametime Snack Of The Week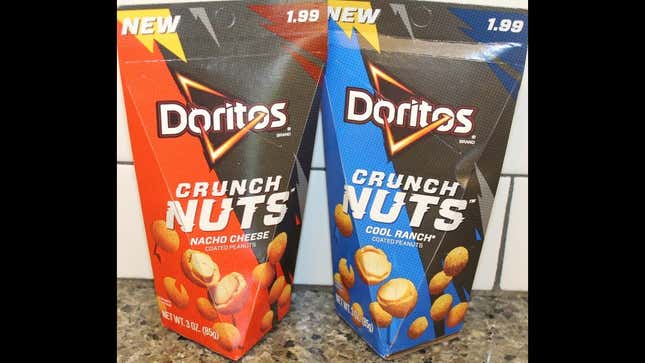 Doritos Crunch nuts, which are an actual thing. These were lying around the Deadspin offices last month, so I grabbed a handful. And then another. And then another. Within three minutes, I was tipping the pouch directly into my mouth and mainlining straight maltodextrin. These things are dangerous. I love them, and yet I fear them.
Gametime Cheap Beer Of The Week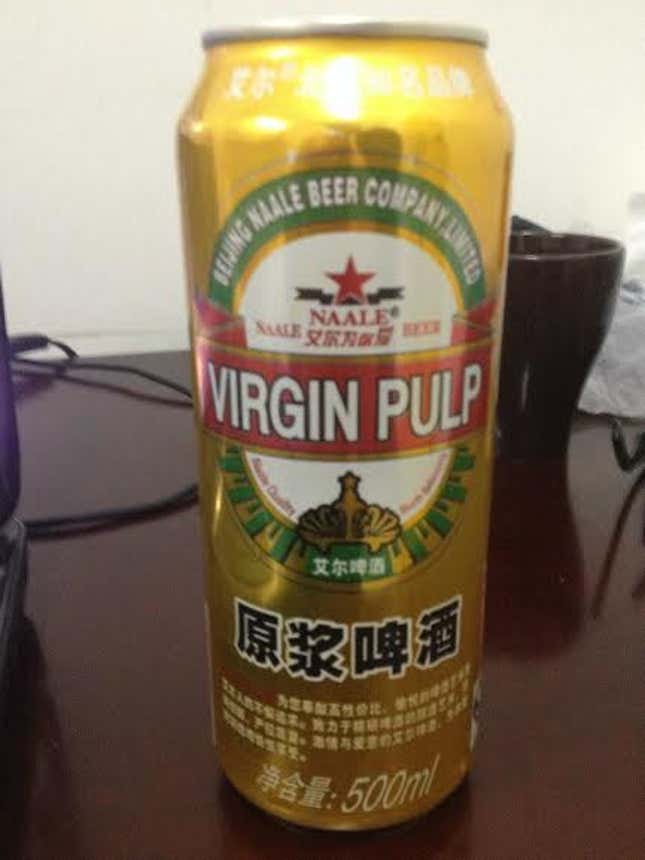 VIRGIN PULP! Here's reader Devin with a can of straight Beijing poison:
I found this delight while living in a suburb of one of the many big-ass Chinese cities 99.9% of Americans have never heard of. Strangely enough, I only saw it stocked on one trip to a neighborhood grocery store, despite living in the city for two years and the country for four. As far as the taste goes, I don't remember being terrible or terribly good, just very watery and definitely not pulpy.
Pretty disappointing this beer doesn't contain REAL, juicy bits of virgin in it. I don't see where Chinese manufacturing regulations forbid such a thing.
Jim Tomsula's Lifehack Of The Week!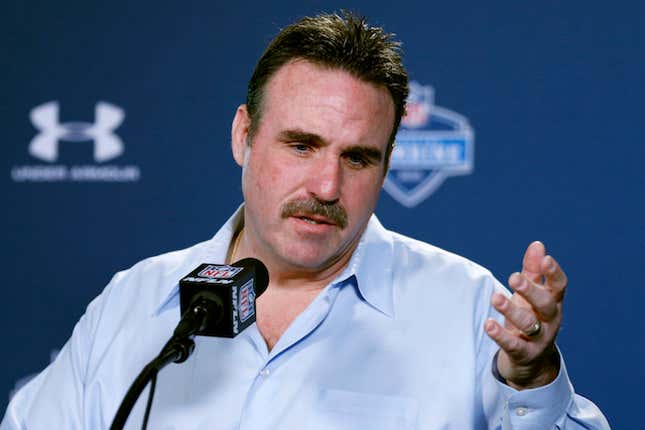 "People rag on beans for being some kind of tramp food, but beans are great, okay? Kings eat beans. And you got all kinds. You got your pinto beans, okay? But you also got your black beans, and your red beans, and your white beans, and your lima beans, and your jelly beans, and your navy beans, and your army beans, and your soy beans, and your meat beans, and Pennsylvania Jack's smothered mystery beans, and your mung beans, and your dung beans, and your refried beans, and your double refried beans, and your nipple beans. Nipple beans are only available in Nashua, all right? But you stew 'em in orange juice to get the pink out. Restaurants would charge ya 15 bucks for that kind of bean."
Sunday Afternoon Movie Of The Week For Browns Fans 
Dunkirk. You know how every movie ripped off Hans Zimmer's Inception theme after that movie came out? That's gonna happen with Zimmer again. Instead of BRAAAM! in every trailer, you're gonna get a bunch of violins going SQUEEEEEEEEEE!!! like someone parked an air raid siren inside your ear canal. Don't say I didn't warn you. This movie is fantastic, by the way. The part where the two guys dunk themselves in the water to look like they were fleeing a sunken boat? That's just perfect. I hope I'm that resourceful when I gotta weasel my way out of getting bombed into oblivion.
Gratuitous Simpsons Quote
"I'm going to shave you bald, young man, until you learn that hair is not a right: it's a privilege!"
Enjoy the playoffs, everyone.