Some people are fans of the Atlanta Falcons. But many, many more people are NOT fans of the Atlanta Falcons. This 2013 Deadspin NFL team preview is for those in the latter group. Read all the 2013 NFL previews so far right here.
Your team: Atlanta Falcons
Your 2012 record: 13-3. No one makes a 13-3 record look thoroughly underwhelming quite like the Falcons.
Your coach: Mike Smith, who is a good coach 95% of the time. He can assemble a very good staff. He can nurture a young passer like Matt Ryan and help turn him into a top-tier quarterback. He can concoct defensive schemes that help cover up glaring deficiencies in the secondary. He can bestow upon the Falcons an atmosphere of professionalism and levelheadedness that every NFL team aspires to but few actually achieve. He can do all that, and then PISS IT AWAY in one single, breathtaking moment of frantic idiocy. "Well, we were trying to execute an ill-advised squib kick when we executed an even more ill-advised onside kick instead!" When it matters most, Mike Smith suddenly morphs into Barry Switzer. It's astonishing. He must study game tape of Andy Reid or something.
Your quarterback: Matt Ryan, who just pocketed $59 million in guaranteed money. Hoooooly shit. If I had $59 million in guaranteed money, I would spread it out in cash on my bedroom floor and then masturbate on it.
G/O Media may get a commission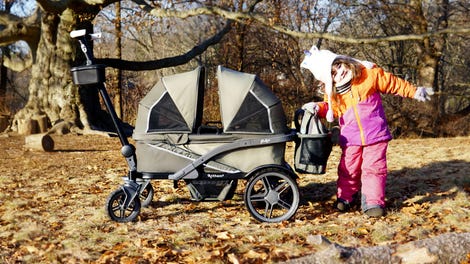 30% off
The Anthem All-Terrain Stroller Wagon Adventure Bundle
Go everywhere with your kids
This must-have bundle nets you either of Gladly's award-winning Anthem2 or Anthem4 All-Terrain Stroller Wagons as well as must-have accessories like a parent cupholder, a removable storage basket, extra-large canopies, a nap system, quilted comfort seats, a cooler bag with a padded shoulder strap, and a travel bag.
Your one fantasy player everyone will hate: Jacquizz Rodgers, who has awesome taste in shirts but is the kind of annoying fantasy player who gets talked up before the start of the season ("He's the next Jamaal Charles!") before getting stuck in a timeshare. This season, Quizz will be splitting the rock with Steven Jackson just enough to render both men useless for fantasy purposes. HOORAY!
Why your team sucks: Falling behind 17-0 against this team means you have them exactly where you want them. Between Smith's glaring clock management errors, the listless crowd at the Georgia Dome (some of whom STILL haven't gotten over Mike Vick being cut), and a horrific pass defense (which lost its best pass rusher and two best corners in the offseason!), this is a team custom-made for blowing big leads in important games.
And you know what? That's fine by me. Anything that keeps the Falcons away from the Super Bowl is a good thing. This is an exciting team with a excellent QB and a kickass receiving corps, and yet I'm completely and utterly repelled by them. They're like the Spurs if the Spurs played football and were relocated to a city with 10 times more traffic and 20 times more stupid people. Atlanta is a toxic mix of Southern bro culture, indifferent sports fans, sous-chefs with pork cut diagram tattoos, meth-addled rednecks, overworked Tyler Perry production assistants, and overrated, shitty, minor league hip-hop. I know that sports talk radio is a cesspool of bad ideas, but I promise you that Atlanta sports talk radio somehow manages to bring the discourse even lower.
I have an inexplicable distaste for the Falcons, to the point that I'm happy to see any other team but them in important primetime and/or playoff games. Thankfully, the only big move they made this offseason was to bring in Osi Umenyiora to get hurt for 12 games. And now that Ryan has Joe Flacco money, the team will never be able to afford a decent supporting cast.
Not that this matters at all to Arthur Blank. Blank just got $200 million in public funds to tear down the Georgia Dome (only 21 years old and in perfectly good condition) to build a luxury stadium that looks like a pile of Magformers my kid dropped on the floor. Because Falcons fans just weren't QUIET enough before! Let's pacify them a little more with bigger TV screens and soundproof lounges! What the fuck does Arthur Blank need $200 million to build a new stadium for? He owns Home Depot. How about you drive your ass down to one of your shitty stores like the rest of us and wait nine years for a helper to cut lumber for you on the table saw, Arthur? You 1930s movie villain-looking motherfucker. I bet Blank spends his free time tying damsels to railroad tracks.
Why your team doesn't suck: Again, the Falcons have a good coach and a very good quarterback. They obviously don't suck in full. It's just that they suck a little bit more than the other good teams in the NFC. But hey, at least I'll get to watch Julio Jones get 200+ receiving yards every other week.
The six worst Falcons ever:
1. Bobby Petrino. This is a franchise with a long history of terrible coaching—Norm Van Brocklin, Dan Henning, Marion Campbell (they hired him twice!), June Jones, Norb (NORB!!) Hecker, Jim Hanifan, Little Jimmy Mora, etc. You have to work really hard to stand out as a terrible coach in that crowd. So I salute Ozark Evel Knievel for being a loser, a liar, and a complete shitbag. Such a rare triple threat.
2. Aundray Bruce
3. Michael Vick. I don't know if Vick really belongs on this list. But when you get yourself cut for dog genocide, it kind of forces my hand.
4. Bruce Pickens
5. Jammi German. Still the weirdest name ever. Sounds like a package of terrible candy.
6. Chris Miller. God, they tried so hard for so long to make Chris Miller happen. Imagine if Blaine Gabbert stayed with the Jaguars for five more years. That's Chris Miller's career. So much time wasted.
Emails from Falcons fans:
Corey:
I've been a lifelong Falcons fan and I feel I can give you multiple reasons why the Falcons suck:
1. The Falcons are at best the 6th most popular football team in the Atlanta area. The exact order is 1. UGA. 2. Local HS team 3. Auburn 4. Alabama 5. Ga. Southern 6. Falcons. The reason our slogan is "Rise up" is because everyone in Atlanta is too hung over from the previous two days of rooting for their favorite teams to actually notice the Falcons exist without the Samuel L. Jackson screaming, "Rise Up" in their face on a Sunday morning.

2. When Matt Ryan was selected to be the first and only true franchise QB in Falcons history, there were nearly race riots all over Atlanta. Keep in mind, Vick was serving a prison sentence for ruthlessly murdering dogs... and there were still Vick fans who thought it was ok and that Vick should return to the team after his prison sentence! Why? Because he makes "sick moves and gets on highlight reels".

3. The Falcons once gave a career .500 QB $120+ million dollars to be the primary puppy killer on teams coached by Jim Mora and Bobby Petrino. The same guy who brought a water bottle bong onto an airplane.

4. We let Joey Harrington be the face of the post-vick Falcons for one season.

5. Pat Yasinskas of ESPN has spent the last three years exploiting the promise of Harry Douglas. Well, when given his one big opportunity to become a Falcons legend, Harry Douglas falls down on a freaking wheel route with no one on him and a clear path to the end zone for the lead and in all likelihood a SB birth. Everyone keeps saying, "Err we were 10 yards away from a Super Bowl". False, we were one professional athlete who gets paid to be athletic and not fall down on a play that is run to perfection by seven-year-olds away from going to the Super Bowl.

6. We have the all-time best red zone tight end in history and on the aforementioned "10 yards away play" he literally stands by himself in the endzone while Matt Ryan jams it into Roddy White.

7. Matt Ryan looks like a chipmunk.
David:
People shit on Atlanta fans for being terrible, and while to some degree we are, it's difficult to explain how soul-rottingly painful it is to cheer for these teams. You see, our teams no longer have the courtesy to just suck and get it over with. No no, all three have to tease you with a decent regular season and make you think "Wow, this team might actually put it together this year," then they see that playoff banner and BAM! they're slipping over the leftover spaghetti they kept in their pockets. The Braves managed to win one World Series in fourteen consecutive postseason appearances. FOURTEEN! The Hawks have been to the playoffs like five years in a row, which is easy to forget since I don't think they've won a series in that time.

People flipped their shit because Matt Ryan won one playoff game last year. Let me repeat that: people were beside themselves because the number-one seeded Falcons found it within themselves to win ONE FUCKING GAME. Even our college teams are chokers. Georgia is the only team in history that could be on the goal line, one touchdown away from the national title game, run a successful pass play, AND STILL LOSE. This city is aneurysm-inducing.
Brian:
Asante Samuel will swagger and crush a play or two and then he'll get looked at the wrong way and his shoulder dislocates for the rest of the week.
Ira:
I wrote in last year with a pretty pessimistic view on the Falcons, but I think I've come to realize something more depressing: the Atlanta Falcons are the 2004-2007 San Diego Chargers. Stacked with offensive talent, they regularly have good, if unconvincing seasons and then promptly shit the bed in the playoffs. Mike Smith is the 20-Teens version of Marty Schottenheimer; a defensive-mind head coach who cannot properly coach or oversee a defense. Depressing, indeed.
Dave:
The good thing about Osi is that he fits perfectly into the space of "former incredible DL player who now gets hurt all the time but when he's healthy makes you think Holy Shit he's awesome" spot vacated by the corpse of John Abraham.

The defense will still give up 30 ppg in the playoffs and the media will still crucify Matt Ryan for being unable to win in the postseason. Yeah, too bad he couldn't cover the Seahawks TE and Vernon Davis who combined for something like 975 yards and 13 touchdowns in the playoffs against Atlanta. I'd much prefer to go 4-12 and blow out Cam Newton's ACL than 12-4 and get curb stomped by Seattle in January.

Also, the Smith family can die in a herpes tornado.

PS, when Morton Andersen booted the Falcons into the Super Bowl over your beloved Vikings I was 22 years old and wept tears of joy.
[Editor's note: Fuck you, Dave.]
Adam:
We have an egotistical owner who played the typical "We're thinking of moving the team to LA if we don't get a new stadium" card to get a brand new stadium Atlanta doesn't need to replace one that's barely 20 years old. And the Dome can be the one of the league's best atmospheres for a game when it's packed. And of course, he is using tax money that can be better spent elsewhere while tearing down neighborhoods and churches to build the new stadium. Definitely not following Home Depot's "Do it yourself" slogan.

The current Falcons are great at teasing their fans into thinking they're legit contenders only to choke epically in the playoffs against the Cardinals, Packers, Giants and now the Niners. The Giants and Packers games were pathetic and there's no excuse for blowing a 17-0 halftime lead against San Francisco. And the only playoff win for Ryan was a fucking heart attack-inducing squeaker at home to the Seahawks - again blowing a massive lead.

Fuck the Falcons and fuck Blank.
Brent:
The Falcons suck because I've watched every game the past 3 years, I've read all about the drafted players and off-season additions, and I still can't name more than 3 starters on their defense. The Falcons will make to the playoffs and then watch Aaron Rodgers throw laser shot over their heads as they lose 52-30 or some shit.
Mike:
Several days ago I ordered take-out Chinese food. As of this morning, my car still smells like chicken lo mein. This is the effect that Michael Vick has on the city of Atlanta - only the stench hasn't lasted for three or four days, but rather seven years. Just yesterday, I'm listening to the local talk radio jocks and someone calls in and says, "Matt Ryan didn't deserve his new contract because he hasn't embraced the city like Michael Vick who was PART OF THE COMMUNITY." The fascination with Vick will always hang over this city. A few other reasons we suck. . .

(1) We can't yet build our (unnecessary) $1 billion stadium because a single "historic" church won't cede it's land. We're not asking them to give up their religion, just move it a few blocks south.

(2) Roddy White will be suspended by the NFL and charged with second-degree murder mid-season after one of the Zimmerman jurors commits suicide and leaves a note attributing the idea to Roddy.

(3) Our owner, who looks like a funeral director, helped open the Georgia Aquarium a few years back. HAVE YOU SEEN BLACKFISH?
Donald:
They are Georgia sports personified: a deceptively promising machine which converts enormous potential into MASSIVE SUCK.

Seriously, 2012/2013 gave us:

1) The Braves losing MLB's inaugural Wild Card Clusterfuck™ to a team they had beaten 5 times out of 6 in the regular season, thanks to three errors and the worst call in sports history;

2) The Dawgs driving straight down the field in the final minute against the NFL's own Alabama Crimson Tide only to lose because a receiver accidentally made a heads-up instinctive play;

3) And as icing on the shit sandwich, the Falcons, our safest bet yet, blow a 17-point lead to a sophomore quarterback at home in the NFC Championship.

Much like our state, this team has been "improving" for years...you just can't really point to any goals which have been achieved that would bear that out. They won the NFC South, which includes the Panthers, the Bucs, and the Saints, which were without their head coach and feature star defensive players such as [NULL SET].

They still have people show up in Michael Vick jerseys every fucking week. We're building a new stadium for them, and the old stadium is younger than Jennifer Lawrence. Their QB is pretty good, but his nickname is MATTY ICE, which conjures images not of Canton but of a bro with his tongue stuck to the ice luge in his dorm room. This team is all hat no cattle. They will always suck.
---
Wanna be part of the Deadspin NFL previews? It's simple. Just email me and give me ample evidence of why your team sucks: personal anecdotes, encounters with fans, etc. I'll throw any good material into the post and give you proper credit. Next team up: New Orleans Saints.