Some people are fans of the Tampa Bay Buccaneers. But many, many more people are NOT fans of the Tampa Bay Buccaneers. This 2013 Deadspin NFL team preview is for those in the latter group. Read all the 2013 NFL previews so far right here.
Your team: Tampa Bay Buccaneers
Your 2012 record: 7-9. The Bucs lost five of their last six games to close out the season, and they lost the final 10 games of the 2011 season. Boy, they really know how to finish up strong, don't they? Even Tony Romo thinks you people suck at finishing things. NOBODY ALLOWS LARGE OPEN GAPS BETWEEN THE WAGONS LIKE THE TAMPA BAY BUCS.
Your coach: Greg Schiano. Greg Schiano could win 15 Super Bowls (don't worry, he won't actually do this) and the first thing people will still remember about him is that he's the meathead who likes bum rushing the victory formation.
G/O Media may get a commission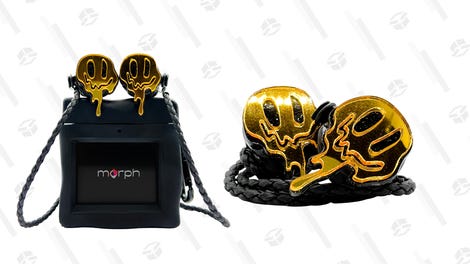 morph audio
Morph Earphones
The best part is that, when people shat all over on Schiano for attacking a defenseless quarterback, he got all huffy and was like DURRRR WELL 'ROUND HERE WE DON'T GIVE UP JUST BECAUSE WE LOST DURRRR. He's actually proud of his idiot strategizing, as if other teams are pussies for NOT doing this. He's the perfect moron coach—the kind of coach who thinks he can magically solve all of a team's problems by JACKIN' UP THE 'TUDE. I bet he has a sign up in the locker room that says PRIDE and nothing else. Never say die! Swarm to the ball! Hit someone in the mouth! MASTER YOUR ASS. Greg Schiano is the kind of sap who thinks that's a novel way of approaching his profession. I look forward to one of his players shitting in his car trunk.
Your quarterback: Josh Freeman. Russell Wilson is everything Josh Freeman should be but is not: polished, accurate, DREAMY. You should never be happy when people think your quarterback will improve strictly because he's in a contract year. NFL quarterbacks need to be just a bit more consistent than that. Freeman experienced a massive dip in his completion percentage last fall AND he turned the ball over 19 times. He threw NINE picks in his final three games. JESUS. But he didn't shoot himself last year, so at least he's got that part of his game in check.
Your one fantasy player everyone will hate: Peyton Hillis, who will steal four touchdowns away from Doug Martin this year for absolutely no reason at all. I can see it coming, clear as day: Hillis will run for 3.2 yards per carry, fumble 87 times, and yet still manage to get spot goal-line duty, single-handedly devaluing a top-three fantasy back who easily could have scored those touchdowns himself. Why is Hillis even IN the league anymore? Why would you give this asshole a job? Goddamn Bucs.
Why your team sucks: When I first got married, my in-laws got themselves a new dog. My wife and I loved that dog. We played with it and napped with it and scratched its belly. IT WAS A GOOD DOGGIE! Then we had kids and never paid attention to the poor dog again. In fact, whenever the dog is around now, we're like Hey! This dog's in the way of our precious children!
The Tampa Bay Bucs are that dog. They are the neglected pet that the Glazer family kicks out of the way so that they can dote on their beloved Manchester United. At least Jerry Jones cares enough about his team to run it into the ground. The Bucs could fall into a giant sinkhole (FLORIDA!) and the Glazers would hardly notice. They know they barely have to lift a finger for the Bucs to rake in impossible profits, so they cut costs on things like competent coaching and front-office management while watching the money pour into their coffers. If they need to blindly spend on the occasional free agent to make it LOOK as if they care, then fine. And if they happen to win along the way, goody. If not, MONEY. The Glazers are so utterly indifferent to the Bucs that they care more about whatever team happens to be playing in London—be it a real team or an imaginary future London-based franchise—than the NFL team they actually own. Like their fans, the Bucs have been left on their own to get fat, develop a severe case of ringworm, and die in agony.
We make fun of the Jaguars all the time for having a tiny, nonexistent fanbase, but the fact is that the Jags sell 10,000 more tickets per game than the Bucs do. And the Bucs won a fucking Super Bowl! It's not just the fact that this is the worst team in the NFC South; it's that everyone involved seems content to let them stay that way. Oh, but Greg Schiano has a brilliant plan to leg whip the opposing team's punter in Week 1. REFUSE TO LOSE, GUYS.
By the way, I've been to the Tampa area. It's nothing but strip malls and lizards. You could die in Tampa and no one would notice. It's where life goes to evaporate.
Why your team doesn't suck: Hey, it's Darrelle Revis! He's pretty good, provided that he stays healthy and the Bucs don't trade him to Patriots at midseason for nothing at all!
The 12 worst Bucs ever:
1. Eric Curry. Did you know he's still alive? I totally thought he wasn't alive anymore.
2. Jacquez Green/Riedel Anthony/Ike Hilliard. Why didn't they sign Chris Doering to complete the shitheap?
5. Gaines Adams.
6. Keith McCants
7. Vinny Testaverde
8. Alvin Harper. To this day, Alvin Harper remains the poster child for Free Agent Wideouts Who Benefited From Playing With A Good QB And Went Somewhere New To Suck. If only the Dolphins had thought of Alvin before signing Mike Wallace.
9. Trent Dilfer
10. Steve Spurrier
11. Jerramy Stevens
12. Mike Alstott. Oh god, nothing would engorge Chris Berman like watching big dumb Mike Alstott bogart a touchdown from Warrick Dunn, thereby allowing Boomer to make bashing sound effects and scream out that stupid fucking nickname. Fuck Mike Alstott.
Emails from Bucs fans:
Justin:
Imagine rooting for a team that's just good enough to never get excited about. Another 6-10 or 8-8 season? I can't even get the masochistic satisfaction of being truly awful. Vincent Jackson and Doug Martin well get your fantasy team meaningful stats, but it won't matter because the Saints or Falcons will already be up by 18. The high point for the franchise was a Super Bowl win that whenever it gets mentioned by anyone (it doesn't), it's usually to note that Bill Callahan wasn't changing the audibles that Jon Gruden knew than anything the Bucs accomplished on the field.
Shannon:
Every fucking decision the Glazers make is about money. The Glazers have been the lowest spenders in the league 7 different times since 2002.

During The Great Recession the Glazers couldn't even afford the shitty team they had in 2008, so they fired Gruden and Bruce Allen, cut every solid veteran on the team, and by 2010 the Bucs had 10 starters who were either drafted in 2010 or signed off the street in 2010. During one point of the "Raheem Morris Era", a rival NFC South Scout said the only starting caliber NFL players we had on our entire roster were: Davin Joseph, Donald Penn, and Adrian Clayborn. The Bucs gave away home field advantage in London in both 2009 and 2011 because Wembley Stadium was a more profitable place to play a Bucs game than Raymond James Stadium (our fans suck too). When it became apparent, in 2011, that Raheem Morris was the worst coach in the NFL by far they fired him. It could have been because his slogan, "Youngry" (a word he made up) translated into "we're a bunch of guys signed of the street for league minimum who are literally hungry."
Kyle:
I wasn't born a Bucs fan, because nobody is. But people like me choose to follow this team because we: A. Live in Florida; B. Like the team because OH WOW BUCCANEERS WE'RE LIKE THE RAIDERS BUT FAMILY-FRIENDLY NOW PASS THE FRIED MAYO STICK; or C. That's about it.

This team is terrible in the worst kind of way. We're not "we deserve to be good by now" bad like the Browns, not "why haven't we moved yet" bad like the Jaguars, and not "we're on the upswing, oh wait, nope" bad like the Lions. The Bucs are just irrelevant bad. They'll open the season at 5-3, winning against equally terrible teams like the Carolina and Kansas City, then once any sort of national attention is cast on a player that's not shitting his pants all season (Doug Martin, Josh Freeman, LeGarrette Blount), the team loses 6 straight and nobody cares again.

Fortunately we can finally rid ourselves of Freeman this year after he throws another 20 interceptions in the last three games of the season.
Charlie:
Josh Freeman will always be good enough to prevent you from going 2-14 and drafting a stud, but bad enough keep you from winning a Super Bowl. We will weasel our way into a wild card this year and he will be heralded as a franchise quarterback (despite the fact that he sucks), and signed to a four-year extension, every year of which we can expect extreme mediocrity, and no more trips to the playoffs due to some bloated contract Dominik throws his way.

It's unbelievable to see all the talented players Schiano has cut or traded over the past two years because of "character issues". Kellen Winslow got cut even though he was our best TE in franchise history, now we have Luke Nobody Stocker as our starting TE. Last year we traded our best cover corner, Aqib Talib, for a fourth round pick. We promptly went on to have the worst pass defense in the league. And we have released Eric Wright, our second best CB, and brought in Peyton Hillis.

The only thing that makes the games bearable is the unbelievable MILF density inside RayJay Stadium and the prospect of feeding Mike Glennon giraffe food. Seriously, Google Mike Glennon's neck.
Edog:
Back in the 90's when the Bucs were just brutal, I used to go to a Ticketmaster by my house the night before the game and pick up tickets to a game, usually in the end zone, 4 or 5 rows up. They ran about 28 bucks. Our fucking fan base is the worst. We suck again, and now every game is a blackout.

I feel like we are definitely going 6-10, after starting 4-2. Fuck.
Cole:
They fired two of the best coaches the NFL has seen in Dungy and Gruden. And they haven't had a draft pick pan out since fucking Ronde Barber in '97. I'm not kidding, look at this list of scrubs. At least when they wore creamsicle unis, everyone expected them to be bad.
Kyle:
I root for the Bucs. Yes, we've upgraded our secondary with Revis and Gholston. Yes, our running game and wide receivers are a vast improvement from a few years ago. But we're still fucked because we are in the hardest division in the league. Brees/Matty Ice/Cam?? Fuck me, man.
Craig:
This team can't figure out what its identity is. At least under Gruden we knew we would see a geriatric QB, a west coast offense, and the Tampa 2. Sometimes that worked, sometimes it didn't. Then they canned him, and team was going to build through the draft around a solid core of young players. Free Agents? Don't need 'em. Then that became a flaming shitwreck, and so no more of this young energetic crap! Go get an ornery white coach and spend spend spend!

We now have a WR getting top-10 money, a left tackle getting top-10 money, two (!) guards getting top-10 money, a DT getting top-5 money, a safety getting top-5 money, the top paid CB, a punter getting top-5 money, and a (injured) kicker who is getting $2.3 million. Jesus! I'm sure those contracts won't bite the team in the ass down the road. Already this year, the team known for managing it's salary cap so prudently (by spending no money for three years) had to rework the contracts of last year's free agents. Five percent of this year's salary cap is tied up between the punter and kicker, or it would have been if that kicker didn't tear his Achilles playing basketball this summer.

The team has lowered ticket prices to as low as $30, and will knock another $10 off if you've bought a Pizza Hut pizza recently, and yet probably still won't sell out all their games.
Gabe:
Tampa is basically a convalescent home with strip clubs. The marquee player on our roster, Gerald McCoy, has spent 2/3 of his NFL seasons on IR. Highest-Paid-Guard-in-NFL Carl Nicks made it three games as a Buc before IR. Davin Joseph? First pre-season game last season. Adrian Clayborn made it two games before joining them. Connor Barth got a $13+ million deal as a kicker and tore his Achilles playing basketball this month. This is the crack medical team that's going to get Revis's knee in game shape? They might as well have had Tonya Harding waiting for him as he got off the plane. Also, Greg Schiano looks like he hits his kids.
---
Wanna be part of the Deadspin NFL previews? It's simple. Just email me and give me ample evidence of why your team sucks: personal anecdotes, encounters with fans, etc. I'll throw any good material into the post and give you proper credit. Next team up: Carolina Panthers.