Some people are fans of the Cleveland Browns. But many, many more people are NOT fans of the Cleveland Browns. This 2016 Deadspin NFL team preview is for those in the latter group. Read all the previews so far here. And buy Drew's new book here.

Your team: Cleveland Browns
Your 2015 record: 3-13. But truthfully, every Browns season ends with an 0-16 record in spirit. It ends with you throwing up your hands and saying to yourself, "Jesus fucking Christ, what was the point of all that?" We do these previews every year, and every year the Browns manage to out-sad themselves. It brings me no joy to show you this again:
Or this:
Or this. Or this. Or this. It's all part of the same progressively numbing existence. This team is a gulag. Its fans have been stripped of their clothing, and their freedom, and their dignity... issued drab brown correctional uniforms and forced to walk the yard until they die, their lifeless bodies thrown into an unmarked, mass grave.
G/O Media may get a commission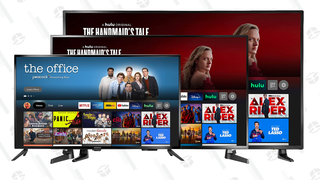 Up to 44% off
Prime Early Access - Insignia Fire TVs
Christ, I haven't even gotten to the Johnny Manziel shit yet.
As always, you only need to state the facts about the Browns in order to damn them. Last season, the GM was fired after getting suspended for texting. The head coach was fired. The former offensive line coach was charged with beating his fiancée. They tried to trade away their best lineman and failed. Josh Gordon smoked his drug test results. Dwayne Bowe was exiled to Keyshawn Island. Their former first-round pick got busted throwing dip spit at another car, and that wasn't even Manziel. That was the OTHER guy they drafted that year (yes, he is also a bust). Concession workers (wisely) rooted for the Steelers. Two players were arrested on Christmas. Oh, and they lost on a kick-six at the gun to the team they once were: a glorious and successful franchise that not only stole the Browns from Cleveland, but stole their rivalry with Pittsburgh AND their football credibility as well.
And then there is Football Bieber. Do you know what the worst part of the whole Manziel shitwreck is? It lasted just two years. You couldn't pack that much disaster into a two-year stretch if you tried. I shouldn't be surprised that it all fell apart so quickly—that tends to happen when you draft an undersized prospect with a known alcohol problem (or known to everyone except Cleveland). And yet… JESUS. Jesus Jesus Jesus. In the past year alone, Manziel was indicted for beating his girlfriend and threatening to kill her. He also showed up drunk to team headquarters, and dry-humped every visible TMZ camera lens. And the Browns themselves were accused of covering for Manziel being shitfaced by pretending he was concussed (I elect to believe he was both).
He's gone now, looking like a hungover redneck Alan Cumming everywhere he goes. And the only highlight of being a Browns fan these days is the small moment of relief that comes between putting one disaster behind you and the next disaster making itself known. This is your respite, Browns fans. This is your jailhouse ice cream day.
Your coach: Hue Jackson. HUE!
You might remember Hue from his brief stint as head coach of the Raiders, in which he staged a power grab and then dealt away first- and second-round picks to the Bengals in exchange for Carson Palmer. I do not find it encouraging that Hue paid that much for Palmer and failed to revive his career, when Bruce Arians managed to pull it off for FREE. That is not a good sign, especially given that the presumptive No. 1 starter in Cleveland is… oh God… is it?... Did they really?... NO.
Your quarterback: YES. It is. It's really RG3. Oh god.
[puts head between knees]
I'm not here. This isn't happening. Take a look at this photo…
Now make that photo sixteen games long. By the end of this season, RG3 will be wandering around the stadium before games in street clothes, triply deactivated, wondering how he managed to tear the same knee ligament in eight places while tweeting out a logo redesign.

Football-wise, I can tell you that RG3 can no longer play. In a tragic bit of irony, his forever-compromised mobility has forced him to become more of a pocket passer, which is something he and his father always wanted, but also something he desperately sucks at. His game is now as phony as he is. He's ruined. The Browns have traded one QB who fell from grace for one that has had an even GREATER fall from grace. Join us next season when they decide to play O.J. Simpson at the position.
RG3 is the presumed starter until, oh, let's call it Week 3 of the preseason. After that, it's another season hanging at the the Josh McCown Memorial Turnpike Stop And Rest Area. McCown, shown here…
…should help you win just enough games to miss out on the top spot in the draft. Behind McCown is rookie Cody Kessler, who continues the illustrious tradition of USC quarterbacks who start off their collegiate careers Highly Touted, only to fall eight levels down to Formerly Touted status (John David Booty, Matt Barkley, that one other guy, etc.)
What's new that sucks: ANALYTICS! People of Cleveland, prepare to have your shit be thoroughly disrupted. You won't be needing those flammable rivers or abandoned factories anymore, because the team has hired former baseball (yes, baseball) executive Paul DePodesta to help run things. And really, if you're the Browns, why NOT hire this man? It's not like football people have been much help. Hire a fucking Uber driver while you're at it.
You may remember the time when DePodesta, a Billy Beane protégé, was hired to run the Dodgers and was summarily fired after just two seasons. And I gotta include this snippet from Wikipedia about his undoing:
Some have speculated that McCourt fired DePodesta in response to media criticism from Los Angeles Times sports columnists T.J. Simers and Bill Plaschke, who were vehemently "anti-Moneyball" and referred to DePodesta pejoratively as "Google Boy," and is frequently referred to as "The Fifth Highwayman."
Holy shit. GOOGLE BOY. Imagine old man McCourt sitting there between divorce hearings and being like, "My God, they called him Google Boy! We can't have this." This is the exact same reason that owner and gasoline siphoner Jimmy Haslam will fire DePodesta three months from now. The Browns remain the perfect avatar of Cleveland, a sad city where the only decent lakefront property has been blocked off and used as a private jetport.
What has always sucked: Between Google Boy and newly installed Sashi Brown, you can see the beginnings of a Process in Cleveland. They traded away the second overall pick in order to stockpile more picks, which is never a bad idea. Then they elected to roll with a three-man shit sandwich at QB this year hoping that A) One guy will stand out for cheap, or B) They will suck enough to land a top QB prospect in next year's draft. This is all highly pragmatic and reasonable, so long as it doesn't veer out of control…
Oh, who the fuck am I kidding? This is Cleveland. Best case scenario is that Haslam fires everyone—again—after one season. And the worst case is that the Browns become the beta model of the NFL version of the Philadelphia 76ers, wrapping their suckage in a bunch of shitty technobabble and token nods to analytics, drafting ill-fitting players (see current No. 1 draft pick Corey Coleman, already running a go route to nowhere) in the present in order to drop them into some utopian motherlode of perfectly timed draftees due to land sometime around 2038.
As bad as the Browns have been, this is currently, against all odds, the WORST roster the gritty reboot Browns have ever had. The line is worse than last season. The defense is also worse. And yet, I get the terrible sense that this new regime will find a way to sell the present as irrelevant. They will suck, but they will suck for some vague-but-lofty future purpose that will remain both obscure and forever unrealized. Meanwhile, you will die of lead poisoning. WELCOME TO THE FUTURE.
What might not suck: GREATEST COMEBACK IN THE HISTORY OF PROFESSIONAL BASKETBALL, BITCH.
Also: Gary Barnidge! Holy shit, do I love Gary Barnidge. I won two whole dollars in daily fantasy last season thanks to drafting this promising young scamp. I then lost a great deal MORE money over the course of the season. Still, I cherish the times I've had with Gary. Even after he gets eight concussions this season and becomes a shell of the player he once was, we'll always have Week 5 of the 2015 season. I adore you, Gary. COME AWAY WITH ME.
Let's remember some Browns:
William Green

Courtney Brown

Kevin Mack

Steve Everitt

Michael Dean Perry

Hear it from Browns fans!
Jim:
It's going to be pretty ironic in 2020 when Johnny Manziel is the homeless drunk guy giving advice to Jimmy Haslam on which QB we should draft that year.
Paul:
I went through this year's schedule the day it came out and could not find a single game that I thought we had a chance of winning.
Vanessa:
Because the league just reinstated Josh Gordon, which means we are three weeks away from him testing positive for accidentally ingesting frog venom (he didn't know it was a banned substance during training camp!!) Meanwhile I have to sit through 2 months of Cleveland fans riding high off the Cavs victory making seven thousand Moneyball references every hour and elevating Hue Jackson's abilities to the level of Paul Brown. Jesus Christ.
Colin:
The Browns have a Chief Strategy Officer they poached from the Mets. The Mets aren't even a football team.

The Chief Strategy Officer used PFF to make all of his draft picks. Harambe could have done this.
Jonathan:
Here's a list of Cleveland Browns jerseys I have acquired since I became a fan in 2002 (jumped around as a kid between teams before settling on the Browns because my dad has been a lifelong fan):

- Courtney Brown (two, one being a knockoff one I bought at Modells that was brown on one side and orange on the other)

- Brady Quinn

- Braylon Edwards

- Tim Couch (I also had two of those jerseys — one brown and one white)

- Josh Cribbs

- Colt McCoy

- Reuben Droughns

- Lee Suggs

- Trent Richardson

- Terrance West

- Jeff Garcia

Just this weekend, I recently dumped a trash bag full of those jerseys into one of those big yellow clothing donation bins outside of a Target.

Fuck Greg Little, Tramon Williams, Barkevious Mingo and Kellen Winslow Jr.
Chris:
FUCK literally EVERY SINGLE HAND THAT HAS TOUCHED THIS FRANCHISE SINCE 1999. From Chris Palmer to Phil Savage to Johnny Fuckboy. It's because of you talentless dullards that this city has to wipe the everlasting shame of TWO Baltimore Ravens Super Bowls off its face every time we go out in public.
Paul:
These are thoughts I had at various points that intended to encourage me or cheer myself up about the team. Remember, these were my most positive thoughts about the team over the course of the season.

Within the first month of the season:

- At least we didn't trade all those picks for RGIII

- At least Hoyer didn't sign that contract extension

- At least we didn't trade for Bradford

November:

-Bill Simmons compares the Browns to the Sacramento Kings. My initial reaction: "I wish we had as much potential as the Kings!"

-At least we didn't sign Chip Kelly

December

Paxton Lynch is an awesome name for a quarterback
Quinn:
When the Ravens returned a blocked field goal for a touchdown on Monday Night Football I immediately turned on the Xbox and deleted my Browns madden franchise. I picked a new team at random and it gave me the Redskins. Somehow I feel infinitely better off.

Fuck Brandon Weeden always.
Chris:
The best part about being a Browns fan while living in Illinois is that none of the games are ever on local television. Since I'm far too cheap to spring for a fancy cable package to watch the Browns, it's a special occasion when the Browns get a national game. It's like a surprise party, except by the second half it's more of a surprise funeral.

The second best part of being a remote Browns fan is that I don't have to witness up close the hordes of morons in Cleveland who will absolutely fill FirstEnergy Stadium on Sunday while ignoring the winning team at Progressive Field until the Yankees are in town (whom they always lose to). No matter how good the Indians get, they'll never have another sellout streak as long as the festering corpse of the Browns is around because, dammit, CLEVELAND IS A FOOTBAW TOWN.
Daniel:
This is the best proudest moment of being a Browns fan in my lifetime (born in 1986).
John:
The 2015 Browns missed being the worst team in the NFL by a strength-of-schedule difference of .039 and now they're even further into the void. Everywhere you look on Cleveland's roster, you see moves that give away dead-to-rights that this team has no plan to compete for anything but next year's #1 pick.

Tashaun Gipson, an undrafted free agent who was a beast from his first snap, made the Pro Bowl in 2014, and probably would have gone supernova again last season if he hadn't gotten hurt, was allowed to walk. His replacement is Rahim Moore, a complete bust who only gets work because he was a second-round pick in 2011.

Alex Mack, one of the most durable and talented human beings ever to play on any offensive line, wasn't offered a contract even though when he finally got hurt, we received painful proof every week that a truly great center like him is just not replaceable. His job goes to Cameron Erving, who was so awful last year that of course the Browns promoted him.

Mitchell Schwartz, who was terrible until his contract year, is gone. That's probably for the better except his replacement at right tackle is either Austin Pasztor or Shon Coleman, two unknown quantities who help keep up the Browns' permanent insistence on building an O-line with an invincible left side and a right side made of strictly theoretical elements.

Isaiah Crowell posted an image to his Instagram of a black man killing a white police officer and in the ensuing fury, pledged his first game check to the Dallas Fallen Officer Foundation.

They've been pretending to have a quarterback competition even though Robert Griffin III, who told Bruce Allen in 2012 that he was glad the Browns weren't able to move up to draft him if you believe this sketchball Skins fan, has the job until he trips while jogging to the field for the first preseason game and crumbles to dust.

The Cavs just won Cleveland's first big-league championship in a generation. The positive vibes were absolutely everywhere, and it was so predictable how good and mellow and just happy everybody would be that the police didn't need to round up abandoned couches. (Ahem.) And believe it or not, the Indians are actually a team to beat this year. What if they win the World Series? Would Cleveland turn into one of these cities full of constantly-victorious teams whose spoiled dipshit fans just expect trophies every year? With this strange "winning" sensation Cleveland's got all of a sudden, I find myself with a new, unfamiliar mindset: I'm unable to care about the Browns. I want to but I sincerely don't. I bet Joe Thomas feels the same way.
Gabe:
The only benefit of being a Browns fan is never having to stay up late to watch them on Sunday Night Football.
Shawn:
Fuck you Jimmy Haslem and Fuck you Johnny Football. AND SUPER FUCK YOU TO THE HOMELESS GUY WHO TOLD JIMMY HASLEM TO DRAFT HIM. I didn't re-up this year and I'm so happy I won't need to see RGIII get turned into a vegetable live and in person.

Anyway, Derek Anderson was the best quarterback the Browns have had since our return and we deserve this misery for letting him go. #LongLiveDA
Chris:
I swear, with the history we've had since 1999, you'd think that the city of Cleveland wrote a scathing letter to Ozzie Newsome in comic sans swearing to him that the Browns would win a championship before the Ravens would. Also, FUCK Romeo Crennel and his hybrid Lollipop guild/Kermit voice,
Jenni:
After some brief research I noticed that in the past 17 seasons, the Jags have finished at the bottom of their division three times, while the Browns have NOT finished last in their division four times.
Tim:
Seriously, you should hear how excited the current staff is about Scooby Wright.
Robert:
Back in 2014 the Browns blew a late game lead against the Indianapolis Colts, capped off by an interception from Brian Hoyer. As I walked out of the bar an irate Browns fan/delivery man from one of the local chicken wing joints, still in his work uniform with a delivery in-hand, sprinted into the bar, delivered a box of food to one of the customers and spent about two minutes screaming obscenities about Brian Hoyer and the team, and how Manziel needs to be the starter, to the TV sets before hopping back into his car and continuing on his route. Manziel made his first start the following week against Cincinnati and got shut out.
Ben:
We spent $100K on study that said we should take Bridgewater and our literal crook owner vetoed it to take Johnny Fucking Football. That somehow doesn't even crack our Top 25 worst moments since coming back to town.
Tom:
I'm not a Browns fan, but a couple of years ago a few buddies and I went up to Cleveland for aBrowns/Texans game and it was legitimately one of the more depressing days of my life.

For starters, with the exception of JJ Watt, the biggest star involved in the game was Ed Hochuli. I'm not even exaggerating. When you're watching Brian Hoyer throw passes to fucking Jim Dray, Ed Hochuli might as well be Magic Johnson.

The fans in Cleveland are too depressing to make fun of. They have this incredible ability to sense a lost game way before it should be possible. At half time of this game, they were down by a touchdown, yet walking around the concourse you got the idea that 60,000 people had witnessed Jim Brown fuck their mother while wearing a Ravens jersey. They just knew that there was no way for them to mount a 7 point "comeback" on the Ryan fucking Mallet led Houston Texans. You could taste the depression. It rubbed off on you like Marcus Allen at the Playboy mansion.

Also there was a guy out front selling peanuts and water. He didn't pause in between words, so it sounded like he was selling "Penis Water". My friend pointing this out was the highlight of the game.
Devon:
Because even though the Browns seem to finally have a coherent and synchronized staff and front office, the team is still owned by felon carpetbagger Jimmy Haslam, whose wife had to step in during the recent head coach search to unfuck the process. My hopes are not up.

Because we just signed a once-exciting retread young quarterback whose one year of NFL excellence was due to his utilization of a skillset not suitable to the NFL, which he no longer has because of injuries. This was the best option available to the team.

Because I just bought a Johnny Manziel caricature t-shirt at a thrift store while visiting Cleveland as a joke, but when I wear it where I live outside DC people assume I'm being serious, and engage me in long conversations about JFF's lost potential and the sadness of addiction. They always end the talk with a pitying "well, we'll see how RG3 does this year!"

Though I'm still high from the Cavs title, and even if the Tribe could pull off a World Series win capping an amazing and historic year of sports anywhere, let alone for Cleveland, I know that come football season I will still be a miserable fuck every Sunday through Thursday, giving me (and really, my wife) only 2.5 days of relative happiness a week for a third of the year.

The Browns just drafted five wide receivers under 5'8 to replace the five veteran receivers they let go under 5'8.
Peter:
The Cleveland Browns ended their 2015 on January 3, 2016. There has not been a single moment since when we have been given any reason to think that the 2016 product would be an improvement from last year's team, which went 3-13. But it does not matter, because right now Cleveland is the city with the shortest drought in major sports championships.
Joshua:
The highlight of my Browns fandom was a terrible game in year two of the "New Browns".

They won 19-11 against New England. Doug Pederson had arguably his best game as a professional QB (1 TD, no picks if I remember correctly.) The Browns spent the entire 4th quarter in Prevent defense and almost gave the game away twice. We sat 10 or so rows behind the NE bench. Mostly, though, I remember my brother whipping up our section in a "Belichick Sucks" chant for most of the second half. He turned around about the 2 minute warning and flipped off our section. Good times.
DJ:
It's the last week of July, and I'm already dreading the transition to fall Sundays where I'm overly drunk, shirtless, and acting problematic for the police.
Robert:
Jim Brown will mentor Josh Gordon in his return.

Jim Brown went to prison for beating his wife.

Go Browns.
Tom:
Cleveland has been bitching and moaning that we haven't won a championship for 50 years. All consuming thoughts of woe inform everything Cleveland sports fans think about. Finally, Cleveland is blessed with the greatest basketball player of all time, who came home and put the city on his back to win a championship. People we're pretty loud about it for the first few days, but a month on, hell, even a week on, nobody cared much anymore. You know why? Because Lebron doesn't play for the Browns. There's a ridiculous hierarchy in this godforsaken city, and the Cavs are at the bottom, and so Cleveland fans feel a little hollow with this victory, a little unfulfilled. And it's great too, because the Browns ain't winning shit for the foreseeable future. So in the minds of a large chunk of the city, the title drought will go on until either the Browns win a title, or Baltimore is forced to return Art Modell's bones to the city. Whichever comes first.
Steve:
Theoretically, the Browns will eventually run out of ways to stun, disappoint, dismiss, mock and destroy their fans and the very concept of football. After that, theoretically, there's nothing left for them to do but to be good at the sport. But they're so damn creative and efficient in their fuckups that I and everyone I know will be long dead by the time they sleep through the draft while pissing their pants on live TV, finally exhausting all possible shittiness.
Nick:
The Browns suck because.....ah fuck it. I'm tired.
Drez:
Fuck Jimmy Haslam. If I'm going to give my money to a crook he at least better not be a goddamned asshole.
Submissions for Deadspin NFL previews are now closed. Next up: San Diego Chargers.