Some people are fans of the New York Giants. But many, many more people are NOT fans of the New York Giants. This 2016 Deadspin NFL team preview is for those in the latter group. Read all the previews so far here. And buy Drew's new book here.

Your team: New York Giants
Your 2015 record: 6-10. It takes a year of extraordinary shame and degradation in order to purge yourself of Tom Coughlin forever. Thankfully, the 2015 Giants were up to the task. When this team fucks up, they REALLY make a scene of it. Let's recap!
•Their best defensive player blew up his hand and played half the season with a lobster claw.
G/O Media may get a commission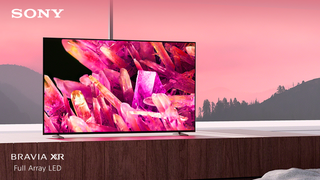 $400 off
Sony 55 Inch 4K Ultra HD TV X90K Series
•Their tight end nearly had his foot amputated.
•They gifted Dallas a Week 1 victory by leaving 40 extra seconds on the clock.
•They lost six of their last seven games.
•They scored 49 points against New Orleans. And lost. Look at Willie Snead get behind this sorry-ass defense:
Keep in mind the architect of this 32nd-ranked D, Steve Spagnuolo, is still here. So that's nice.
•They gifted New England a last-second victory by AGAIN passing when they had to bleed the clock. Their goal-line play-calling was so predictable that Bill Belichick was like, "Oh yeah, we knew they were gonna do that," in the postgame.
•A fanboy priest pulled a gun on a child.
•Their only good player committed one of the absolute worst, cheapest headshots in league history, in a game where they made up a 35-7 deficit and still lost to Carolina. [Correction: I originally wrote that the Giants blew the lead.]
•This happened:
•Their defensive tackle failed at the rudimentary task of escort identification.
•FIGHT IN THE SHITTER!
What a year. It's fitting that Roger Goodell's pet franchise would be just as clumsy and phony and officious as the man himself. Thankfully, Father Coughlin was shown the door (but not before giving John Mara the highest of hats) and replaced with…
Your coach: Yup. It's offensive coordinator Ben McAdoo, master of the tight end fade route. You younger Giant fans who missed out on the Ray Handley era are in for a real treat. Essentially, the Giants rid themselves of Coughlin but kept the majority of their coaching staff intact… the exact OPPOSITE of what they probably should have done.
As such, this team retains all of the strategic boobery from a year ago, only now it will operate without the occasionally competent guiding hand of Coughlin. At some point this season, when McAdoo has kept Eli in the game despite throwing nine picks to the same defensive back, your local asshole Giants fan will turn and scream and lie, "I TOLD YOU THEY SHOULDA KEPT COUGHLIN!" It's a lock. You thought another season of staring at Coughlin with his hands on his artificial, Medicare-funded hips was your worst nightmare. And yet, somehow, everything is about to get worse. This is a nightmare of continuity.
Your quarterback:
If you're gonna get rid of the old man, you may as well get rid of Little Johnny Hayseed here. I don't like my rebuilding projects to be half-assed. That's how you end up creating the Football Knicks.
Anyway, the Giants just handed Eli Manning $65 million in guaranteed money this offseason, enough to buy him all the Airheads and tinker toys he could ever want. Has there ever been a more accomplished yet less respected athlete in history? No one fears Eli. Even his own fans clown him. This man has won two Super Bowls, has thrown for a bazillion yards, has been the most durable quarterback since Brett Favre, and has sired children. And yet… WIDDLE EWI NEEDS HIS BINKY! The Bennett brothers just openly thrashed him without any fear of reprisal.
Martellus: "Eli? He's cool. He's like a normal white guy you see at the park trying to teach his kids how to play soccer and you know he can't really play soccer himself."
Somewhere under that dopey exterior is the black heart of a bloodthirsty competitor… a man driven by perceived disrespect and sibling non-rivalry. But I can't see that man. All I see is the dumbest kid at your seven-year-old's birthday party. He is an inexplicable laughingstock. You'd think he was walking around with Tebow's passing stats.
What's new that sucks: Holy shit, did they pay Olivier Vernon bank. That's over $50 million in guarantees for a defensive end. Goddamn, he must have been a sack machine last season, eh?
(does token amount of research)
(7.5 sacks in 2015)
(PFF: "Vernon was PFF's 47th-ranked edge defender, 38 places below teammate Cameron Wake. He had 24 total pressures on the season, which ranked 25th among edge rushers.")
WHAT THE FUCK IS THIS TEAM DOING?
It gets worse. They also handed out fat contracts to Janoris Jenkins (PFF verdict: "He is obviously not completely useless") and designated Team Fat Kid Damon "Snacks" Harrison, and reached in the draft for Eli Apple (his mom's numbers at the Sass Combine were off the charts). By law, that counts as a "spree," all to fix what was the worst defense in football last season.
But it won't! This defense is still SHIT. Spagnuolo has been coasting on whatever is left of his reputation for over a decade now. And they extended JPP! I'll never get over that. He can't fucking tackle anymore! LOOK!
How on Earth did this team get roped into perpetuating JPP's delusions about his compromised ability? This isn't how you rebuild a defense. You do it with shrewd draft choices and under-the-radar free agent hits. You don't do it the Snyder Way, investing a potential $200 million in slightly above average players who have every reason to start sucking, and then leaving Spags—who carries all the authority of a prep school basketball coach—in charge. This is insane. This is the Hindenburg poised for takeoff, its cabin filled with uptight corporate stooges and meatfaced Francesa callers. It's an expensive dump, just as Manhattan itself has become. For real, I can smell 14th Street from my house these days.
Also, they brought in Martin Mayhew. What better way to signal to fans that you've ushered in a new era of football dominance than by dragging in Matt Millen's protégé? Martin Mayhew is a failure-scented car freshener.
What has always sucked: The line! The line is still god awful, forcing Little Eli to scramble around in desperate search of either an open wideout or his mawmaw's warm embrace. Combine that line with McAdoo's offense, along with a running game destined to average 0.0003 yards per carry, and Manning is gonna get his throat ripped open. There will be SweeTarts inside.
This organization's saving grace is the fact that they possess the most dynamic wideout in football, and even he's been tarnished thanks to his stupid beef with Josh Norman. After just two seasons, Odell Beckham has already become takebait, attracting fans and detractors in equal numbers thanks to his determination to re-enact The Catch on every single goddamn play. All I know is that the Giants are on the verge of imploding yet again, and somehow Beckham will be in the center of it, with the tightass Mara family looking on in horror like they just witnessed the caddies taking over the club pool for an afternoon.
What might not suck: This is the part where I joke around about the Giants finding a way every few years to stumble ass backwards into a Super Bowl title. But you know what? That's gone. That's not happening. That scant amount of blind luck has been sealed up in Coughlin's mausoleum. This is gonna be the worst 8-8 team you've ever seen.
Let's remember some Giants:
Bob Kratch

Jim Finn

Chris Calloway

Tito Wooten

Brad Daluiso

Hear it from Giants fans!
Ryan:
There were five games last year in which we could've won if we didn't somehow miraculously shit the bed in spectacular fashion in the last two minutes. Not that we deserved to win them anyway. It's basically the opposite of those years when we won Super Bowls. I eagerly await to see the new and innovative ways we find to choke away games.

Honestly, the only thing that keeps me watching (aside from masochism) is Odell, and we don't deserve someone that cool or talented.

Also, our stadium on gamely has the liveliness and energy of DMV, and our new head coach looks like a used car salesman.

As to why the fans suck: I vocally expressed belief in the "four-year prophecy", and Eli is my favorite athlete. I am the reason why people hate the Giants.

Fuck Preston Parker, Jason Witten, Josh Norman, Jerry Reese and whoever the hell is in charge of conditioning on this team with one of JPP's lit fireworks.
Dan:
Ben McAdoo's huge suits are the most interesting thing about him. And he looks like Donal Logue, which means even his celebrity look alike is a nobody.

Fuck Ron Dayne always.
Kevin:
The guy who implemented the "Put a different RB in each series, and whoever gets the most yards plays in the second half" strategy is now our head coach.
Ian:
Know what's way worse than being a bad to mediocre team? Being a bad to mediocre in a major market. Because once again the fucking G Men have six prime time games. Oh fucking boy. There's nothing I like better than starting up all night watching Eli shit his pants so we can once again lose to Dallas or Philly with the whole country watching (Please note that the Dallas game will always be an upset ruined by allowing Romo to squeak by on the last drive, while Philly will be a game they should have won all game, just to watch them fall apart gloriously). Every week I see people in my city going to sports bars, having a genuinely wonderful time getting daytime drunk, secure in the knowledge that they'll have 18 hours to sober up before work. It's a big party that I'm not invited to. Meanwhile I'm working the equivalent of an NFL fans third shift for a third of the fucking season. All so I can watch my team get destroyed by Minnesota. Fuck everything.
Ryan:
Our defensive coordinator orchestrated the worst defense in the NFL last season. We kept him for sentimental reasons.
Mike:
Last season's Giants were basically the opposite of the 2011 team that won the Super Bowl. A less incompetent defense or some better clock management here and there and we are proud owners of a 10-6 record, which would have been enough to win the division and either make a surprise run to the Super Bowl or shit our pants entirely against the Packers in the Wild Card round.

Our defense allowed the most total yards,the most points, the most passing yards, the fifth most passing TDs, the ninth most rushing yards, the sixth most rushing TDs, and committed the fifth most penalty yards. About the only thing we didn't suck at on defense was takeaways, we had 31 of them which was sixth best in the league. Our defense was such a garbage dump of practice squad players that JPP, even though he had exploded half of his hand during the offseason and had to wear a huge cast over it, was welcomed back with open arms. He was also the best defensive player in the second half of the season. Dude only has like six fingers!

For all our defensive woes we decided it would be a sweet idea to keep around Steve Spagnuolo as our defensive coordinator. This is the same guy who was DC for a historically bad Saints defense and as coach of the Rams was so bad that he made Jeff "Fuck It, 8-8 Is Fine" Fisher seem like an upgrade. It's fine though, we signed a bunch of high priced free agents for our defense! That usually works out, right? I'm sure... uh, who is Olivier Vernon, exactly? Well, whatever, we're paying him a shitload so he'll probably be good.

The majority of our success comes from Eli just winging it at Odell Beckham and assuming he'll catch it. At least Coughlin still hangs out at the practice facility all the time and uses the gym. I'm sure that won't be awkward in any way. Totally healthy separation.

I don't know what to do about this team. It probably doesn't matter anyway since everyone will get injured and they'll go 6-10 again. I'll just watch Super Bowl 42 on YouTube again every Sunday instead.
Justin:
This is entirely superficial, but our coach is Ben McAdoo. The last name alone just sounds like he has a low IQ. Ben McAdoo from Homer City, Pennsylvania. That's his actual home town.

God damn, we are fucked. We should have resurrected Coughlin from the dead for one more season.
Jared:
The Giants suck because Jerry Reese is the worst. Reese has been living off of one great draft class in 2007 for a decade now (forget the fact the Giants drafted the core of their championship teams when Ernie Accorsi was the GM). The Giantsare generally known as one of the top franchises in the NFL, if not all of professional sports, and they completely scapegoated Tom Coughlin when Jerry Reese has just as much to do with why they've sucked the last few years.

The Giants haven't drafted a linebacker worth a damn since Jessie Armstead, which was 23 years ago and in the 8th round, which no longer exists. They got completely caught with their pants down during this past April's draft when guys like Ronnie Stanley, Jack Conklin, and Leonard Floyd were off the board and reached for Eli Apple, who will be better known for being a momma's boy than anything he does in the NFL. At least the Giants could've taken Tunsil and sold the fanbase on the fact he was the best offensive lineman in the draft but just happens to like smoking weed, but god forbid the Giantstake someone with "questionable character". By the way, the right side of our offensive line still has John Jerry and Marshall Newhouse penciled in as starters, for some reason.

Our roster is so shitty, we had to overpay for guys like Olivier Vernon just to reach respectability on defense. We'll probably still be bad on that side of the ball and fail to make a stop with a game on the line. I wonder who's fault it's going to be when the Giants go 6-10 again and Coughlin isn't there anymore.

Seriously, fuck Jerry Reese.
Dave:
There's no point in being a Giants fan anymore. Nothing they do in the next 50 years will be as exciting as the 2008 Super Bowl. Nothing any team does will be that exciting. When they got stomped in the 2001 Super Bowl, I was gutted – but if they had lost in 2012, I would've shrugged. And it's not because I've matured as a person (obviously, since I read this site). In 2008, I knew that literally everyone who wasn't a Patriots fan was rooting for my team, I knew that theGiants were the biggest underdogs in the history of molecules, I knew that the idiot quarterback needed to be possessed simultaneously by the ghosts of Brett Favre, Joe Montana and Y.A. Tittle in order to win – and somehow that all happened! The Giants could win the next 10 Super Bowls now, and I think at most I could muster an apologetic grin. I'm too zen about the Giants now to possibly live and die with them the way I used to. So the Giants are bad now, huh? Gee, that's a bummer. Oh well.
Luke:
Each Giants team that won Super Bowls in 2007 and 2011 against the superior Patriots also lost to Tarvaris Jackson led teams (Vikings and Seahawks) in each respective year.

Fuck Danny Kanell. Fuck Jesse Palmer. FUCK Phil Simms.
Mike:
I can almost hear Phil Simms now, "You know Jeem, spending big in the offseason doesn't always translate to success on sundee." I fucking hate Phil Simms.

Some of the names are different, but the soul of the team is still our ding-dong quarterback who keeps sticking his fork in the electrical outlet. We mercifully took Tom Coughlin out to the pine barrens this offseason, but don't think for a second this team will be managed any better. Our new head coach is the same guy who's been calling four straight fade routes to Larry Donnell every time we get inside the 2, so expect more of that since he is returning from injury just in time to make my life a living hell again.

Also over the offseason our best player probably hooked up with a Kardashian (the one who's already put one famous athlete in a coma) and threw his teammates under the bus in a GQ interview for not having his back after he nearly decapitated Josh Norman. The last time we let a talented wide receiver run around this unchecked he shot himself in the leg. I'm sure Odell will be fine though, just fine.

The one thing to fall back on is that we cannot possibly have a more painful season than we had last year when we were not just bad, we were bad in the most aneurysm-inducing way possible. We lost six (6!) times after leading or being tied with under two minutes left to go in the game. That's how you let the Redskins win the division with Kirk fucking Cousins.

I don't like that. And something tells me I won't like this season much better.

Fuck Preston Parker with a wine opener.
Liam:
Every Giants fan's favorite contrarian sports argument is based around Eli being the superior Manning. Now that Peyton's won that second ring, we no longer have a leg to stand on. My pride in being a Giants fan is now almost as low as it was when Jesse Palmer was picking up Kerry Collins' starts. In short, fuck Peyton Manning with a broken-off arm from Tom Coughlin's pointiest wire-rims.
Gary:
The perennial, eternal, never-ending best case scenario for this team is 10-6 and wild card.

Eli's reaction to throwing a pick looks like his mom just told him she's taking him Bloomingdales.

I love Odell but the moment he asks for the money he rightfully deserves the management HARUMPH meter is going to hit 11. He's as good as gone.

Bonehead calls, defensive ineptitude, and Eli picks somehow shitting out 8-8. I know we spent a lot of money. It isn't going to matter. Count on it.

And lest we forget, fuck Tiki Barber.
Christopher:
Before they moved in to the charm-less industrial shit hole known as Met Life Stadium, the waiting list for season tickets was 25 years. Upon announcing the move, and the PSLs that were required, I got called to buy tickets approximately 8 days after putting my name on the list.

Our coach gets fired instead on our inept GM, and what does he do? He refuses to leave the building, preferring to "work out" at the facility because this is a normal response.

Our best defensive player in his contract year blows off half of his dominant hand and then goes rogue, refusing to meet with team officials and medical staff.

We lost games to the Patriots, Panthers and the fucking Jets on last minute drives because our defense couldn't stop anyone.

Our quarterback is the holy grail for dick-faced memes.
Patrick:
There is so much to complain about when it comes to our quarterback, but I have to predicate every statement with "Now, obviously I wouldn't trade the two Super Bowls he gave us, but..." and then usually end that statement with, "He once lost a game because he forgot how to slide."
Erik:
Beloved turnip Tom Coughlin has been replaced by Ben McAdoo, continuing the trend of filling prominent team roles with Peanuts cartoon characters. Our first round draft pick, Annie Apple's son, is fitting right in, looking like he's covering receivers on a frozen lake accompanied by the Vince Guaraldi Trio.

Somehow, Odell Beckham Jr. is on this team. He has single handedly ensured Jerry Reese's job for the next five years, a guy who has drafted just two players that are still on the team out of everyone taken from 2007 to 2012 (a long snapper and a guy with half a hand) and just one Pro Bowler EVER from rounds 3 to 7 (Zak DeOssie really is one hell of a long snapper).

This team is 1-15 without Odell (God bless you, Buffalo). The Vikings got to see what the Giants were like without Odell in week 16 and got fooled into thinking they could win a playoff game by scoring touchdowns instead of leaning on their kicker for four quarters until he was too exhausted to hit a chip shot. Sorry Drew.

Either way, Odell is quickly blossoming into his rightful role as a Kardashian douchebag. It's only a matter of time until he signs with Miami so he can put out a half-decent reality show and line up opposite Josh Gordon or a somehow re-signed Mike Wallace. Fuck.
Jim:
The high speed EZ pass lanes on the Garden State Parkway would do a better job of slowing down a pass rush than Marshall Newhouse and John Jerry. Their names are better suited for post-Hamptons beach party DWI offenders than NFL Offensive linemen, and their play backs that statement up.
DrawPlayDave:
The Giants got rid of one of the best coaches in their history after a few down years, but that's not the dumb part. The dumb part was keeping Spags. You know, the guy who ran a historically bad defense that lost pretty much every game in the final 2 minutes like clockwork.

Spags is trash and he led the 2015 Giants to their worst defense in history, but what's worse is that Giants fans still absolve him of any blame because he got us a ring once. Perry Fewell got us a ring too, with lesser talent, and we gladly pitchforked him out of town. But Spags? Spags is an American hero who can do no wrong because he had 3 all-pros (Tuck, Strahan, Osi) on a line once and got a championship out of it because Tom Brady doesn't like high amounts of pressure.

Giants fans rationalize it away by blaming injury and Jerry Reese, saying no one could do anything with the roster he had to work with. Yet Vic Fangio of the Bears had nothing either and made something mediocre out of it, because that's what good defensive coordinators can do.

So Jerry Reese went out and grabbed an overrated CB, an overrated DE, and a fat guy named for how much he likes to eat and we get JPP for a full year. If the defense improves, Spags will get all the credit despite the fact that Reese got the players. If the defense doesn't really improve the fanbase will then blame Reese for getting shit players.

Thanks for 2007 Spags, but get the fuck out.
Zachary:
-Because our quarterback is the luckiest person to ever win TWO (!!) Super Bowls, but if you ask Giants fans he's basically the second coming of Joe Montana.

-Because we are incapable of holding any kind of lead in any game, against any team.

-Because Eli Apple? This is who we draft?! Not Tunsil (he smoked pot! How dare he!), not Rankins or Taylor Decker.... God forbid the Giants actually address the glaring deficiencies on both the O-Line and D-Line, even though the two recent Giants Super Bowls were won on the strength of the goddamn defensive line

-Because Coughlin was starting to veer into full Jerry Jones senile old-man autopilot.... and I'm still not sure whether dropping him was a good idea or not.

Fun story: This is the first year I've ever really followed college football, and a large part of why I did was so that I could see who the Giants can take- I have been of the opinion recently that the Giants are not as far off from relevancy as people think, all they need are a couple key pieces. I learned juuuust enough about the players to be outraged at the Giants' terrible drafting abilities.
Mike:
Steve Spagnuolo is the biggest fraud in American sports. Giants fans were PUMPED when Spags came back because many of us assumed he'd pick up where he left off in 2008 while simultaneously ignoring his disastrous stops since he left. It turns out having Osi, Tuck and Strahan on the same defensive line MIGHT cover up glaring deficiencies in your linebacker and defensive back corps.

To put it another way, the Giants have the most exciting offensive player in football but I still ignore their games because the architect of the two worst defenses in NFL history ensures his superhuman efforts are all for naught.
Patrick:
Our QB is a mouth-breathing hillbilly whose face is frozen in a permanent fear-grimace, likely due to PTSD from getting too many wedgies as a kid. When he is gone we will look back fondly on the glory days of his 6-10 seasons somehow keeping us in contention for the NFC East until mid-December.
Todd:
What was the Giants' big plan to replace the guy who won the same number of Super Bowls for us as Bill Parcells? First, we held an icy press conference to announce we were shipping our grandfatherly coach to the glue factory. Then we promoted the architect of our boring offense to ensure the Eagles couldn't poach him to make him coach, GM, team president, owner and mayor of Philadelphia. We followed that up by spending the GDP of Dubai on free-agent defensive players. Thank God we have a front office that's focused on being classy, instead of nit-picky concerns like "winning" or "drafting well."
Josiah:
Our new coach looks like he buys all his clothes at gas stations.
Greg:
I moved to Germany before last season for work. We were coming off a 6-10 season and I was hoping no primetime games, (you know, 6 hour difference).

In 2015: 5 primetime games, and then we got flexed into the Vikings week 16. Among the highlights.

Week 1- Dallas chokejob with 1 minute remaining. (Thanks refs)

Week 6- destroyed by Philly on Monday night (repeat of last year)

Week 16- our only good player got suspended and we lost by more than 30 to Minnesota.

We went 6-10.

In 2016 we will play 5 primetime games, among them Dallas, Philly, Minnesota.

I tell myself I won't stay up, but we both know that's a lie and the Germans will just think I'm hungover the next day. (We have that understanding at this point).
Willie:
Clock management is still somehow a mythical subject with the coaching staff, and our 800 year-old coach got thrown under the bus and fired as a result of it.

I honestly think it was done to prevent him from finally having a heart attack on the field.
Justin:
If Ben McAdoo was a provider of any professional service — healthcare, law, accountancy, ANYTHING — I wouldn't do business with him based solely on his bangs.
Submissions for the Deadspin NFL previews are now closed. Next up: Chicago Bears.