Wigan Athletic courted controversy this week by hiring Malky Mackay, who is under investigation by the FA for assorted bigoted and offensive text messages that were sent more than a year ago but came to light over the summer. Wigan owner Dave Whelan spoke with the Guardian today, and offered a defense of, essentially, "Mackay was spot-on." I don't think anyone expected that!
Let's take each in turn. Mackay, who was Cardiff City manager at the time he sent the texts, referred to agent Phil Smith with this:
"Nothing like a Jew that sees money slipping through his fingers."
So here's Whelan, today, basically going full Easterbrook:
Asked whether he did not think what Mackay said was offensive, because the claim that Jews "love money" has been used as a negative stereotype, Whelan said: "Do you think Jewish people chase money a little bit more than we do? I think they are very shrewd people." Asked if he himself believed that, Whelan, the multimillionaire former owner of JJB Sports, said yes: "I think Jewish people do chase money more than everybody else. I don't think that's offensive at all."
OK! But what about Mackay's text about the signing of South Korean Kim Bo-kyung:
Fkn chinkys. Fk it. There's enough dogs in Cardiff for us all to go around.
Or repeated texts referring to Cardiff's Malaysian owner Vicent Tan as "the chink?" Here's what Whelan thought would defuse the situation:
[H]e said the word "chink" is not offensive, and that he used to say it of Chinese people when he was young. "If any Englishman said he has never called a Chinaman a chink he is lying," Whelan said. "There is nothing bad about doing that. It is like calling the British Brits, or the Irish paddies."
G/O Media may get a commission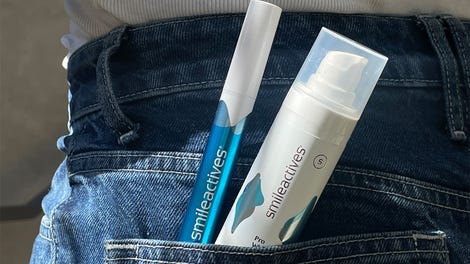 58% off
Whitening Powerhouse Pen & Gel Duo
Holy shit, man!
Anyway, I don't think there's a more simpatico pairing of owner and manager than Dave Whelan and Malky Mackay, just toasting Thatcher and being racist and having a grand old time together.
Wigan's Dave Whelan accused of antisemitism in new controversy [Guardian]