Towards the upper end of a sliding scale measuring sports fanaticism—past painting your chest with your team's logo on the day of the big game; in the range of meticulously pre-arranging the particulars of your burial, to serve as a final and eternal tribute to your team—there's committing felony identity theft so that you can watch your team play on television at a bar in a town you're visiting for a weekend.
The finance manager of an Illinois car dealership has been accused of pretending to be a Lake Delton restaurant employee in phone calls with a cable company.

His aim, police say, was to change the restaurant's cable package so he could watch a basketball game when he visited the area for the weekend.

The best sports movies according to Toheeb Jimoh
Kevin M. Cayton is accused of making 11 different phone calls to the cable provider of the charmingly-named Buffalo Phil's in Lake Delton, Wisconsin, in order to add the Pac-12 Network to their service so that he could watch Arizona Wildcats basketball in their establishment. This delightful Baraboo News Republic report is rich with details of the surprisingly extensive police investigation that finally zeroed in on Cayton. A close listening of the recorded phone calls revealed a series of clues, which police discovered and followed with a level of diligence and professionalism that would make Lennie Briscoe proud:

In one of the recordings, the caller allegedly stepped away from the phone and spoke with someone else in the background, saying "Hey it's Kevin." In another call, police say, someone can be overheard purchasing a vehicle in the background and explaining that they work a second job at a health care facility in Illinois.

The officer called the health care facility and asked if they had an employee who recently bought a car. The facility put the officer in touch with a female employee, who said she recently purchased a vehicle at the Howard Buick-GMC dealership in Elmhurst, Illinois.

Officers followed what they had to (where else) social media, where they were able to establish that Cayton was the finance manager at the dealership, and was the dealership's only "Kevin," and that Cayton had visited Lake Delton around the time of the calls, and that he was an Arizona Wildcats fan. A solid tip for anyone looking to commit felony identity theft in order to rig a pub's cable package to show your favorite basketball team: Maybe don't leave such an impressive trail of breadcrumbs on your personal Twitter account!
Cayton is charged with felony identity theft for financial gain and unauthorized use of an entity's identifying information, and faces up to 12 years in prison if convicted. A hell of a price to pay to avoid streaming the game on your damn laptop.
G/O Media may get a commission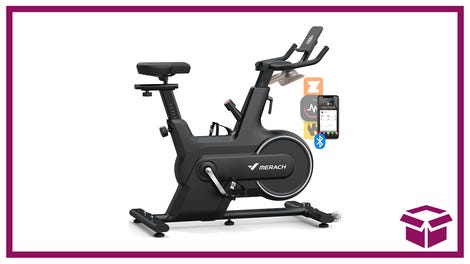 14% off + Coupon
Merach Indoor Cycling Bike
H/t Joe