The stage is set. Fresh off of their best-ever result in a major tournament (a bronze in the 2012 London Olympics) that climaxed with probably the sport's greatest-ever game, Canada enter this summer's World Cup on home soil turf with, as Beatrix Kiddo would say, some unfinished business. Unfortunately for the Reds, revenge is still a dish best served American.
The best sports movies according to Toheeb Jimoh
The Canadian women's national team is the most Canadian of Canada's sporting institutions. Like Canada itself, the team is pretty damn good, with a couple of bona fide attractions that could rival the best of any other country in the world. Also like Canada, pretty much everything the team has ever done has been overshadowed by their vastly superior neighbors to the south.
Historically, the Reds haven't been very good at all at soccer on the international stage. Of the six World Cups before this one, they've failed to qualify once, finished rock-bottom of the entire tournament twice, and only made it out of the group stage once, for 2003's fourth-placed finish. (And even that was in the 16-team edition, when only one win in the knockout rounds would get you into the semifinal.)
Their Olympic record is even worse; of the five times women's soccer was a sport in those tourneys, Canada only qualified twice, the most impressive result being the bronze of 2012. And to add insult to injury, every single time Canada has made it out of the group stage of any given tournament, it has been the good ol' USWNT who stymied their advancement. In the 2003 World Cup, it was an American victory in the third-place game; in the 2008 Olympics, it was a win in the first knockout round; and the 2012 Olympics was, well, it was this:

Even at home, Canada know all roads to glory will inevitably pass through the U.S.
G/O Media may get a commission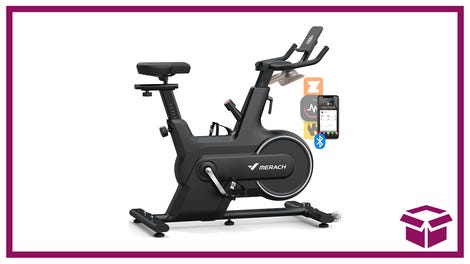 14% off + Coupon
Merach Indoor Cycling Bike
So just how realistic is glory for this team, anyway? That's hard to say. In their own minds, the country believes that if things break right, they could potentially win the whole thing. Their coach, Englishman John Herdman, has set his sights on a finals appearance, and the whole thing is being sold as a great opportunity to build on that Olympic bronze with an even better showing here.
However, Canada aren't in that top tier of huge favorites alongside the U.S. and Germany, nor are they among that slightly lower group with Japan, France, and Brazil—teams which will surprise no one if they wind up lifting the trophy at the end. Despite their home advantage, it would still be a fairly big shock if the Canadians managed to make their World Cup-winning dreams a reality. With two large exceptions, the Canadians are a workmanlike bunch of solid, unspectacular players who've struggled to find goals that don't directly involve their superstar striker Christine Sinclair.
The reality of their talent level combined with the pressure to overachieve could just as likely weigh the team down over the course of the tournament as it could lift them up, at least in matches they will be perceived to be favorites in. They find themselves in a tough but winnable group, and should make their way to the knockout rounds barring a collapse. Despite their relative talent shortcomings compared to the best of the best, as host nations have shown before (and this very team has in recent years), a pumped-up home team isn't anything any of the favorites will relish enduring. Let's hope we get that Canada-America rematch everyone wants. Because it will be fun to break those Canuck hearts again.
Roster
Goalkeepers: Stephanie Labbé (No club), Karina LeBlanc (Chicago Red Stars), Erin McLeod (Houston Dash).
Defenders: Kadeisha Buchanan (West Virginia University), Allysha Chapman (Houston Dash), Robyn Gayle (No club), Carmelina Moscato (No club), Marie-Ève Nault (No club), Lauren Sesselmann (Houston Dash), Rhian Wilkinson (Portland Thorns).
Midfielders: Kaylyn Kyle (Portland Thorns), Diana Matheson (Washington Spirit), Sophie Schmidt (No club), Jessie Fleming (Nor'West SC), Selenia Iacchelli (No club), Ashley Lawrence (West Virginia University).
Forwards: Josée Bélanger (No club), Desiree Scott (Notts County), Christine Sinclair (Portland Thorns), Melissa Tancredi (Chicago Red Stars), Jonelle Filigno (Sky Blue), Adriana Leon (Chicago Red Stars).
Nickname
The Reds
FIFA World Ranking
8th
Manager
John Herdman
How They Play
Befitting their overlooked stature in the sport, Canada play in the scrappy, physical style common to most underdogs. This is mainly because of the depth of their squad, which is heavy in defensive quality but light in creativity going forward.
Their back line is packed with young talent and veteran experience, exemplified by their likely starting center back pairing of the 19-year-old West Virginia University student Kadeisha Buchanan and the 31-year-old Lauren Sesselmann. Those two, combined with Canada's assortment of quick and strong full backs and central midfielders, will set the tone for the team as a whole, staying compact and hounding after opponents trying to break them down. It's not a coincidence the team has only conceded six goals in their last 10 matches, while never allowing any of their opponents more than one score in any match. Canada are good enough defensively to keep themselves in the game against anyone.
Where they struggle, though, is in attack. Often varying formation depending on personnel and opponent, Canada nevertheless tend to rely almost solely one the individual ability of their two best players—Christine Sinclair and Sophie Schmidt—to create that moment of inspiration to get themselves on the scoreboard.
Sinclair is widely regarded as one of the best players of her time, and any time for that matter. (Her 153 goals in 219 international matches—an average of about 0.7 goals per game—is good for third all-time behind leader Abby Wambach. A strong tournament showing of five goals or more would see her tie or surpass the woman in second, Mia Hamm.) Far from the straightforward poacher, Sinclair can score in any which way and is versitile and crafty enough with her passing to be just as deadly with the ball at her feet, running at defenders, scoping out the killer pass to set up a teammate. She'd almost certainly be the fulcrum of any national team in the world's attack, and that's especially true with Canada.
Supporting Sinclair in the creative department will be Sophie Schmidt. Schmidt is just entering her prime but has already seen her place on the team increase dramatically. Traditionally a deep playmaker in central midfield, the lack of proven goal scorers on the roster has meant Schmidt now takes up more advanced roles in the midfield to use some of her undeniable nose for goal. Fielded as a number 10 or even a support striker, Schmidt likes to hover around the top of the box during attacks, keeping the defense who'd prefer to concentrate solely on the movement of Sinclair honest by forcing someone to mark her. Leave Schmidt too much space, and she'll hit you with one of these:
Besides those two, Canada will struggle to create chances. The Reds don't have the best selection of natural wide players and often play fairly narrowly, so getting the full backs forward to provide Sinclair with the service she needs will be critical if Canada hope to make some noise this summer. It's not entirely as simple as Shut Down Sinclair, Shut Down Canada, but if a team does a good enough job of the former, they'll probably feel good about their chances doing the latter.
Fixtures
June 6, 6 p.m.: Canada vs. China at Commonwealth Stadium
June 11, 9 p.m.: Canada vs. New Zealand at Commonwealth Stadium
June 15, 7:30 p.m.: Canada vs. Netherlands at Olympic Stadium
All times Eastern