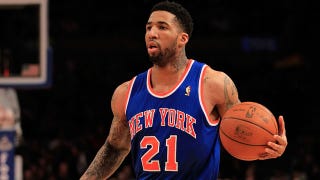 Wilson Chandler almost made history last night. You'll recognize that this seems impossible—the NBA is locked out, and Wilson Chandler is probably not skilled enough to make NBA history, except as the league's Swingmanniest Swingman, even when the pros are in session.
Anyway, for a few minutes, Chandler, the former Knick who went to the Nuggets in the Carmelo Anthony trade, was the first active NBA player to come out of the closet, and presumably the first professional athlete to come out on Twitter.
From last night, circa 12:40 a.m. EDT:
@wilsonchandler I'm coming out today hello world
@wilsonchandler #teamgaypower
@wilsonchandler lol that's what we on 2night stealin phone lmao good one tho
@wilsonchandler lmao oomf eating coco puffs
(Chandler's since deleted the first two tweets.)
But let's be real for a second—Wilson Chandler may just have been unready to be a gay icon. Perhaps the alleged phone stealer, DJ Clue?, was just trying to force Chandler to embrace his burden. And, I mean, Cocoa Puffs? Cocoa Puffs?!? Whom do you think you're fooling, Chandler?
Wilson Chandler [Twitter, h/t to Fritz]