Your morning roundup for July 12, the day we said goodbye to Stoner Avenue. Photo via BlackSportsOnline.
Jokic? Embiid? The NBA MVP is obvious... right? | Keep it a Buck(et)
What we watched: It is, I think, one of the largest misconceptions in sports that we enjoy baseball's All-Star break on its own merits, rather than tuning in only because it's the only pseudosporting event for three days. I've no great desire to finally see Jordin Sparks play right field in the celebrity softball game, nor to see if Rickie Weeks is capable of hitting a single home run. But I've got even less desire to watch Rizzoli & Isles, or whatever non-sports crap is on against it.
The MLB All-Star Game is the best of the four major sports, but that's by default. We can toss out the Pro Bowl, because it's a giant joke and isn't even superficially designed for the fans. When it's NHL All-Star Weekend, there's actual, competitive basketball on, and when it's NBA All-Star Weekend, there's actual, competitive hockey on. But last night and tonight, there's nothing even close to competitive anything, anywhere else on TV. MLB is important simply because it's the only game in town. So we watch, and we enjoy it like we always do, and we'll know it's about to get much worse: tomorrow night, all we've got are the ESPYs. (Barry Petchesky)
G/O Media may get a commission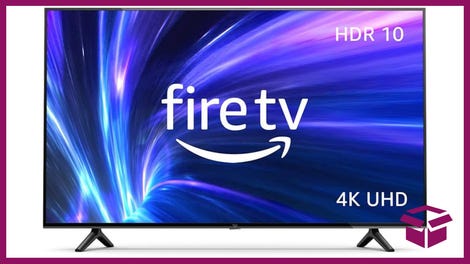 42% Off
Amazon Fire TV 50" 4K Smart TV
What we're watching: The MLB All-Star Game, we suppose. Because, you know, it counts! There were no reports overnight of additional players opting out of making the trip to Phoenix, thereby joining the 16 to have already begged off, though who knows whether that changed in the time it took to read this sentence. Our favorite among those who sent his regrets was Aramis Ramirez, who said he'd have taken Bruce Bochy up on the offer to come on out and play had it come Saturday, rather than Sunday. Because — oh, look at that — Ramirez had gone ahead and planned a family jaunt to the Dominican in the meantime. So sorry. MLB's grand exhibition has the advantage of being the only option on the calendar, to say nothing of the banter that still ensues over snubs, replacements and guys that just don't want to go. It matters because it has to. And besides, Andrew McCutchen apparently had to get his hair done to get ready, which has to count for something. (Dom Cosentino)

Elsewhere
Even Derek Jeter is tired of this shit: "Yankees shortstop Derek Jeter will not attend the All-Star Game due to 'emotional and physical exhaustion' from his pursuit of 3,000 hits, according to two people with knowledge of his thinking." [FoxSports]
Christian Lopez may have to pay the piper: "The tickets to the 32 remaining home games (after Sunday) have a combined face value of $44,800 to $73,600, according to the team's Web site. The tickets could be worth a lot more if the Yankees play deep into October. Steven Bandini, a tax partner at the accounting firm Zapken & Loeb, said that if the items were valued modestly at $50,000, they would probably carry a tax burden of about $14,000." [NY Times]
The USWNT has it pretty good, compared to Afghanistan: "It's only on rare days they practice outside-the large field is usually reserved for men-but when they do, the players sense the ghosts of the women who died there, most of them shot execution-style in front of thousands of men for crimes such as adultery. 'There was a lady in a burka who they stoned to death there when I was a child, and when we go to play, I think about her body under the grass,' said Sabra Azizi, 20, who plays midfield." [Women's Health]
The guy Rick Majerus used to call a "cunt extraordinaire" wrote another book: Lance Allred's Basketball Gods: The Transformation of the Enlightened Jock, sequel to Longshot (which was your typical 6-foot-11-deaf-OCD-polygamist-raised-Mormon memoir), can be ordered here. USA Today has an interview with him.
Drink your haterade: "How could merely rinsing the mouth with Gatorade make us perform better? After all, we've been trained by decades of sports drink commercials to assume that we actually need to swallow the stuff, that the benefits depend on getting those precious electrolytes into our bloodstream. But the commercials are lying: a series of follow-up experiments demonstrated that the cyclists actually performed better when they just gargled with the sugary drink. (Apparently, having several ounces of liquid sloshing around the belly isn't ideal for intense physical activities.) Tasting energy was more important than ingesting energy." [Wired]
Everyone wants a piece of Tressel: "ESPN sued Ohio State University today, requesting that the state Supreme Court order the school to release emails among former coach Jim Tressel and others regarding Ted Sarniak, the mentor to former quarterback Terrelle Pryor. OSU denied the public records request by citing FERPA, a federal law designed to protect the privacy of students. ESPN lawyer John Greiner, based in Cincinnati, said in the court filing that the events surrounding OSU football are sad.
'But that sadness does not mean that the events should be secret,' the filing says. [Columbus Dispatch]
Freestyle Dog Surfing Interlude:
We are all Dave McKenna CXLIII: Here's your daily link to Dave McKenna's brilliant "Cranky Redskins Fan's Guide to Dan Snyder," which we'll be posting every day until Snyder's dumbass libel lawsuit chokes on small parts not meant for children under 3.
A song of Vogelsong: "Nicole kept assuring him that the phone would ring but, she admits now, she wasn't so sure. 'I'd sit there and think, 'Why isn't someone calling? Isn't someone going to call?''
In hindsight, Vogelsong's wait looks preposterous. With a fastball in the low-90 mph range and a terrific curveball, change-up and cutter, Vogelsong ranks among the major league's best pitchers this season. Only three major league starters have a better ERA than his 2.17. It is the lowest ERA by a Giants pitcher at the All-Star Break since 1983." [Mercury News]
Scare quotes, the Olympics, and you: "Britain is planning for the terror threat to be 'severe' during the 2012 London Olympics despite the level being downgraded by the government this week, Olympics Minister Hugh Robertson said Tuesday. Home Secretary Theresa May announced Monday that the overall assessment of a terrorist attack for the current period had been lowered from 'severe' to 'substantial.' The new alert level means that the risk of an attack is considered a 'strong possibility' and could occur 'without further warning.'" [AP]