Wisconsin junior receiver Quintez Cephus has been charged with second- and third-degree sexual assault after two women said he raped them in his apartment on the same night in April, while they were both intoxicated to the point of incapacitation, per a Wisconsin State Journal report.
Cephus announced Saturday that he'd be taking a leave of absence from the team to deal with "unspecified charges against me for an incident that occurred in April of this year." The charges were filed Monday by the Dane County District Attorney's Office, and Cephus was immediately suspended by the Badgers, "for violating the Student-Athlete Discipline Policy."
Cephus reportedly met up with the two women at a campus-area bar in Madison, where by all accounts—including Cephus's—the women were extremely drunk. Cephus then apparently drove the women to his apartment, where he is accused of assaulting them while they were unconscious. One of the women described her condition as "dying" drunk; the other woman said she was so drunk before the group left the bar that she doesn't even remember being introduced to Cephus. By Cephus's own description of the night, the two women were "were very drunk;" one of them so drunk that she "sat on the floor in the middle of the bar and had to be convinced to get up." During the interview with police at the hospital after the alleged rape, police say one of the women was still so intoxicated that she "was barely able to lift her head," and "had to stop to throw up."
Cephus—who was reportedly sober the entire time—nevertheless apparently did not think the women—who were too drunk to stand or form short-term memories—were too drunk to consent to sex, describing what happened that night as a "consensual relationship." A consensual relationship that includes this hideous detail:
At one point she woke up on the floor and saw Cephus and [teammate Danny Davis] taking pictures of her and laughing as she struggled to get up. She said she told Cephus how to delete photos.
G/O Media may get a commission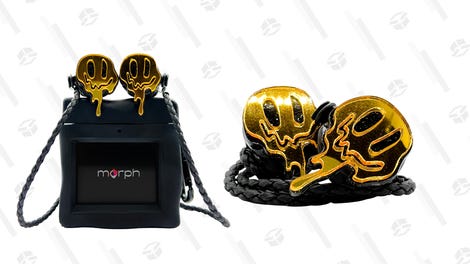 morph audio
Morph Earphones
Cephus reportedly first denied taking any photos, before finally admitting to taking and deleting at least one photo. Cephus is currently barred from participating in team practices or games, and faces up to 40 years in prison for the second-degree sexual assault charge.