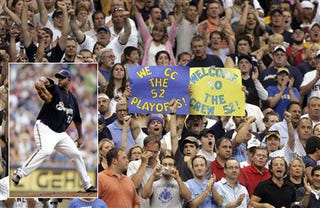 I didn't know this, but apparently a local restaurant chain dustributes discounted hamburgers each time the Brewers score five or more runs. Not surprisingly, this is causing a bigger stir in Milwaukee than the arrival of CC Sabathia from the Indians ... but CC is a close second.
Sabathia won his debut on Tuesday, the Brewers prevailing over the Rockies 7-3. From Bugs and Cranks:
This young man just flew in from Cleveland to join the team. His name is Carsten, he's from California, and he throws a 97mph fastball, apparently even in the late innings. Say it with me: "Hello Carsten." You were probably not thrilled with your five walks, but you got some big outs when you needed to, and gave up only 2 ER in 6.0 IP with what seemed to be a constantly-evolving strike zone. Here's a George Webb burger for you, Carsten. Welcome to Wisconsin. Are you going to finish those fries? Sorry…dumb question.
Yes, accoriding to many, this should make the NL Central race quite a bit more exciting. And more delicious.
And just wait until CC discovers the 12-person beer bong.
Sharing My Burgers [Bugs And Cranks]